Pione Sisto: the Uganda-born Dane who gunned down Man United and dreams of Barcelona
By Michael Yokhin published
Michael Yokhin introduces the speedy, unpredictable winger who's been linked with a move to a host of top European clubs this summer...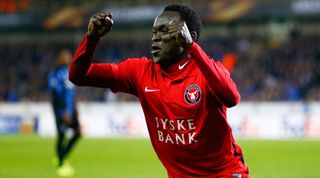 The 60-second story
FACT FILE
Date of birth: 4 February 1995
Place of birth: Uganda
Height: 5ft 7in
Position: Winger
Current club: Midtjylland (69 apps, 24 goals)
International: Denmark (2 caps)
Pione Sisto's magnificent goal against Manchester United in the first leg of Midtjylland's Europa League last 32 tie with the Premier League giants last Thursday made fans around the globe sit up and take notice. Those who follow Danish football have been aware of his talents for a couple of seasons now: the winger was voted Player of the Year in 2014 and played a very important role in Midtjylland's historic title success last term.
Scouts from across Europe have been following his progress, with West Ham close to pulling off a deal to sign him last summer. Sisto, a thrilling player to watch, is destined for stardom if everything goes to plan.
Why you need to know him
Sisto is the son of South Sudanese parents, was born in Uganda and arrived in Denmark at the age of two months. His football skills were evident when he was as young as seven, with Tjorring coach Kent Kalhoj taking him under his wing. "He should be challenged all the time because he gets bored otherwise," Kalhoj recommended, with Sisto soon taking up the challenge and playing with kids much older than him.
A move to Midtjylland's highly rated youth academy was a natural next step. Sisto made his first-debut at the age of 17, becoming a key player and regular starter almost instantly. Manager Glen Riddersholm was patient with him, tolerating a couple of costly errors as Sisto grew up in a competitive environment. "Mistakes make young players stronger," the former Midtjylland coach said, with his patience rewarded early on in the 2014/15 campaign, when the winger tore opposing defences apart with his speed and trickery on an almost weekly basis.
Injury prevented Sisto from playing at the beginning of 2015, but he was back in time for the big game against FC Copenhagen in May. Coming on as a substitute, Sisto provided an assist for the opener and then scored a brilliant goal himself to seal an all-important victory that enabled Midtjylland to celebrate the title with four weeks of the season remaining.
Sisto has proved himself as the man for the big occasion more than once. It was no surprise that he netted the crucial goal against Club Brugge on the final matchday of the Europe League group stage, a strike that ultimately saw the Danes finish above the Belgians to qualify. Midtjylland fans therefore expected Sisto to shine bright when Manchester United came to town, and he didn't disappoint. His goal was superbly taken, but it formed only part of an imperious all-round performance which he will be looking to replicate in the second leg at Old Trafford on Thursday.
Sisto scores against Manchester United
Strengths
Sisto is extremely unpredictable, which makes him very difficult to defend against. He's self-confident, always trying to invent new moves on the pitch, and is not afraid to shoot from difficult positions.
Lightning quick and possessing great dribbling skills, he regularly wreaks havoc for defenders when running forward with the ball at his feet. He has good vision, is unselfish and has managed to improve his end product and the quality of his crosses. Sisto is versatile too, able to play on both wings and in the centre, and also takes a mean free-kick.
Sisto has a positive influence off the pitch as well as on it. A popular figure in the dressing room, his positive attitude and sense of humour make him one Midtjylland's leaders, even at the age of 21. Although light-hearted and jovial, he's also very disciplined and dedicated to becoming even better.
Despite interest from bigger clubs, Sisto has remained level-headed. In fact, it was the player himself who turned down West Ham's offer in order to play another season in Denmark..
Weaknesses
Injury concerns are the biggest threat to Sisto's continued career development. The 21-year-old has been hampered by groin problems for some time now, an issue that has restricted his ability to play his natural game, which is based so much on instinct and imagination. "It's a complicated injury," he said last month. "It's difficult to know when you're fully fit."
They said...
"Dedication is the main reason for Sisto's success," said Morten Morch, a commentator at the Danish Broadcasting Corporation. "He's been training more than everyone else ever since he was a kid – and he still does. He's humble, he understands that it takes hard work to make it to the top, and he wants to win. Pione appears to have the mentality of a top player."
Former manager Riddersholm has also been extremely complimentary. "Pione is very good with the ball, which is rare in Danish football. He's evolved from an individualist to a team player to be reckoned with. We've seen his development over the last few years. He works hard and is now more flexible tactically."
Did you know...
Sisto only officially received Danish citizenship in December 2014, and was immediately called up to the under-21 national team squad. His parents then decided to crash the subsequent press conference and perform a traditional African dance to celebrate the occasion.
What happens next?
Sisto's list of suitors in the last few years is a lengthy one, featuring the likes of Manchester City, Porto, Juventus, Ajax and Valencia. Sisto is destined to move to one of Europe's major leagues sooner rather than later, with his transfer fee likely to break the Danish record.
But the player, a Barcelona fan for as long as he can remember, dreams of a move to the Camp Nou. With his talent and dedication, it may well be possible.
More features every day on FFT.com • Football's hottest prospects scouted with Talentspotter
Thank you for reading 5 articles this month* Join now for unlimited access
Enjoy your first month for just £1 / $1 / €1
*Read 5 free articles per month without a subscription
Join now for unlimited access
Try first month for just £1 / $1 / €1
Quizzes, features and footballing fun
Get the best features, fun and footballing frolics straight to your inbox every week.
Thank you for signing up to Four Four Two. You will receive a verification email shortly.
There was a problem. Please refresh the page and try again.