OWNA FC was supposed to change how football is run – but if it looks too good to be true…
By Daniel Storey published
A phone app promised to democratise club ownership and give power back to the fans. Now the company faces administration. What happened?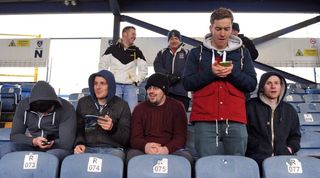 The idea, stripped back to its very basic principle, has some merit. The community model of football club ownership could consider Darlington, AFC Wimbledon, Hereford and Portsmouth among its notable success stories. Allowing supporters to have a say in the running of their club is broadly positive in a climate where football clubs have too often veered from their role as social institutions.
The use of technology could work, too. Using a mobile app to canvas opinion from supporters makes some sense when being present in person at shareholder meetings isn't possible. The age of those on boards at football clubs (both league and non-league) is skewed towards an older generation; the cliché 'men in suits' represents reality. Getting young people involved is a forward step.
And there ends the positivity.
Making history
OWNA FC was (and maybe still is) a wildly ambitious project; Football Manager brought to life. Laypersons were invited to invest £49 to buy a share in a football club post-takeover, and have the opportunity to play a role in both the day-to-day running of the club and its long-term future. The online brochure listed making new signings, hiring and firing staff, negotiating contracts, setting admission prices, selecting the squad and planning training sessions among the responsibilities users of the app would have.
"Making history" was the last on that long list, and it's clear that OWNA FC didn't scrimp on motivational messages. This was sold as the "biggest revolution in football since the dawn of the Sky Sports era in 1992". OWNA was "building the future of football", offering "gilt-edged chance to be a part of sporting history". You get the picture.
Unsurprisingly, OWNA – the brainchild of 39-year-old Stuart Harvey, gained media traction; mix football, technology and innovation together and you have online feature gold. Harvey talked up the scheme in pieces published by BBC Sport and The Sun. All noted that there may be some opposition to the proposal, but offered little scrutiny of its potential for success. A number of customers privately say that such mainstream coverage legitimised the idea for them.
Controversial concept
The idea itself was controversial because it was founded upon the notion of takeover. Forming a new club from scratch under the same strategy would allow for slow build; those investing in the project instantly creted a virtual community and supporters of this nascent club. This was not that. An existing non-league club would effectively gain a corroborative ownership which had no connection to local community, and thus be handed a great deal of uncertainty. Non-league clubs might only have 500 regular fans in a bumper home crowd, but it's still their club rather than a plaything.
If that notion of uncertainty was rejected by Harvey (his Twitter direct message conversation on this point was published by blog AgainstLeague3, as agreed by both parties), it is a difficult point to argue. You can't "build the future" and inspire a "revolution" without uncertainty. As proof, the initial claim that investors would be managing a budget of "up to £8.5m" was subsequently removed from the OWNA FC Twitter bio.
Nor too can that claim for revolution be taken seriously, given English non-league football's previous experiences of similar projects. In 2008, Ebbsfleet United were taken over by MyFootballClub, an online community that at its peak had 32,000 paying members.
MyFootballClub owned 75% of the club, did a deal with EA Sports and were consulted on a range of club decisions, not dissimilar to OWNA's model. Consultation on decisions promptly decreased and regular participation in votes dropped to 20% of the original membership within two years. The club was eventually sold in 2013 amid supporter protest and with administration a realistic prospect. There have been similar initiatives: mydalefc, The People's Club, Ownaclub and fivepoundfootballclub.
Back to basics: can it be successful?
But does the concept work? Football club ownership (often by non-experts) succeeds through delegation to people with authority and expertise. Harvey's notion of "getting rid of stuffy chairpeople" is not without merit, and nor is "replacing the boardroom nonsense we see at many clubs with the people that matter", but in those cases the fault lies with the individuals themselves rather than their roles. Handing that decision-making to a crowd of laypersons is surely not the answer – one carefully selected employee is. The wisdom of the crowd principle falls down.
In that discussion with AgainstLeague3, Harvey covered that retort: "We will be putting leading people in all positions – marketing manager, sports reporter, brand director, production manager, video producer, sports physiologist, financial advisor, commercial director and events manager to name a few."
Fair enough, but a) the initial budget would struggle to stretch that far, and b) in that case, what were the app users going to be voting on? That sounds more like they were helping a man fund a takeover rather than playing an integral role.
A proposed takeover of Hednesford Town fell through on the day that OWNA investors were supposed to vote on the issue. Both OWNA and Hednesford Town announced that a deal would not be beneficial and went their separate ways. Other potential clubs were rumoured – Harvey himself said that the BBC article had provoked a number of interested parties – but none were confirmed.
Shutdown mode
Behind the scenes, things were beginning to unravel for those who had invested their £49 (early investors had actually paid £99 before a reduction to £49 was agreed – they would receive two shares). Several people contacted this writer to inform that they hadn't received any paperwork, merely an email receipt of payment and access to the app.
One customer, David, started asking questions publicly on social media, was blocked from the mobile app and informed that he wouldn't be getting a refund for making derogatory comments on social media. At some point, the terms and conditions were altered on OWNA's website to remove a clause indicating that customers who invested before January 6, 2019 were entitled to a refund if a takeover hadn't been completed by March 1.
By Sunday evening, OWNA had gone into shutdown mode. All social media channels (Twitter, Facebook, YouTube channel) have been deleted, and the website taken down. Before the Twitter account disappeared, tweets were sent accusing a concerted smear campaign: "Sabotage will always lose to those who take on the elite. #OWNAFC allowing the working class to take on the elite and win."
A confusion regarding the exact product also formed. When speaking to The Sun, Harvey said: "We sell them the concept for £49, which includes licence fees to use the technology and a shareholding within the football club." But in the brochure on OWNA's website, it tells customers they "will have the option of buying one share within the club at the nominal value". That suggests until a takeover is completed, they have no share and therefore no actual product other than access to the app.
Liquidation and silence
On Sunday evening, users received an email to tell them that OWNA were facing two options: selling the company or liquidating it. They were told that any subsequent email replies would be deleted without being read, but that they could email on Monday to arrange a face-to-face appointment in Warrington. There was no mention of refunds.
By Monday afternoon, a user contacted me to say he had been sent information that OWNA were still trading, but that Harvey would be stepping aside after threats to his family, presumably on social media. They were also told that no refunds would be available, because a bid for a club was accepted before the cut-off date of March 1 (we can reasonably deduce that this refers to Hednesford, although there is no confirmation of that). You will note the irony that this news appears to have come as a surprise to those who were apparently invited to vote on every club decision. The OWNA website is now live again.
The question of refunds is a pertinent one. David has advised that users use their banks to ask for a chargeback for goods not provided. Another user, Matthew, says he feels a little foolish but points out that if Harvey's estimates of 3,500 members (made to The Sun) is right, there is a minimum of £171,500 invested in OWNA by its users, and likely far more. One Twitter user has shared a screenshot of a refund he had gained, but it did later transpire that he also appeared in OWNA's promotional material.
There is no suggestion that Harvey has done anything untoward or illegal, and perhaps the OWNA model will get off the ground under new leadership. But there are a growing number of customers who feel aggrieved at the process and are unable to gain refunds for what they believe has been missold.
"There is no saying where becoming an OWNA could take you," reads one line on OWNA's website. "Pretty much where we started but with slightly lighter pockets," many users reply.
NOW READ… What's it like to… have your career ruined by injuries?
Thank you for reading 5 articles this month* Join now for unlimited access
Enjoy your first month for just £1 / $1 / €1
*Read 5 free articles per month without a subscription
Join now for unlimited access
Try first month for just £1 / $1 / €1
Quizzes, features and footballing fun
Get the best features, fun and footballing frolics straight to your inbox every week.
Thank you for signing up to Four Four Two. You will receive a verification email shortly.
There was a problem. Please refresh the page and try again.