'I've never paid to go to a football match...' You Ask The Questions: Pele
In 2005, FourFourTwo readers had the chance to put their questions to one of the best footballer of all time. Here, Pele talks management, music – and who he tips to win the 2006 World Cup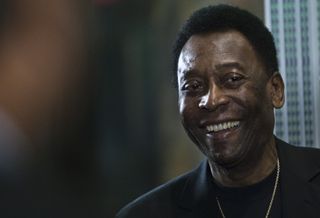 Football legend Pele has died at the age of 82. This interview was first published in 2005
The Greatest Player Of All Time is gazing wistfully at an old copy of FourFourTwo.
"How is George?" he asks, pointing at a photo of Bestie. "I saw him last year and he looked so ill. It's the same with Maradona. It's so sad. Two great players but look what's happened because of the drink and drugs."
In contrast, Pele seems ageless. The birth certificate may say that Edson Arantes do Nascimento was born on October 23 1940, but watching him jog up and down a cavernous warehouse tucked beside a Berlin underground station, lifting PR girls up for photos, grinning, joking, playing his role as Pele, you can't quite believe that he's approaching OAP status.
He's here today to unveil a new – or rather a renewed – partnership with sportswear giants Puma, whose boots he wore as he hit the very heights of footballing excellence at Mexico 1970. And he's also here to face an inquisition from FourFourTwo's readers. So without further ado…
Can you remember the first time you kicked a football?
Sam Taylor, Leeds
Of course I remember. I was six years old, and it was my birthday. At that time my father was a soccer player in a small town called Bauru, near Sao Paolo, but it was very difficult to get a leather ball because they were so expensive. Then on my birthday, one of the players from my father's team – a man called Sosa – gave me a leather ball and that was the first time I kicked a real ball. Before that, we used socks stuffed with papers or a grapefruit. It was a different time. Today you have leather balls, plastic balls, every kind of ball, so everybody can play with a real ball. I remember later – when I was 12 or 13 – we'd go training, and towards the end of the session, the players would sometimes kick the ball out of the ground so that other players could get it because we didn't have the money to buy one ourselves.
'Edson Arantes do Nascimento': was your name shortened to Pele to save time signing autographs?
David Blackburn, via e-mail
No, no – although if I had to write my whole name it would take a day. Pele's been my nickname since I was at school in Sao Paolo, I don't know why. The kids just started to call me it and I got mad at them, I fought with them. I was five years old and I was frustrated. I didn't understand why they called me Pele. I'd say, "My name is Edson" – my father gave me the name because of [prolific American inventor] Thomas Edison who was a big name at the time. So I fought with the kids and I think that's why it stayed because then they all called me it to annoy me: "Hey Pele! Pele!" [Laughs] But now I think it was good because it's an easy name – four letters – and the whole world came to know it. I think it was God who came up with it.
Was there one moment when you realised that you were going to be better than anyone else in the world?
Terry Peterson, via e-mail
Actually I never realised. I never had that moment. Because my father was a soccer player in Sao Paolo, everybody knew him, so at the beginning I was the son of Dondinho.
When I got to 12 or 13, 14, people started to say, "Oh, the son of Dondinho is a good player" not "Pele is a good player".
Then when I was 16 a friend of my father, called [Valdemar] de Brito, got me a trial at Santos and in the first week they said, "OK, we're going to sign you, you're going to stay here." That's when I started to realise that I must be quite good, because Santos was a good team.
But you have to realise what my life was like after that. I never had time to think, I've made it. At 16, I had my first game for Santos and the month after my debut, they called me up for the national team. My first game was at the Maracana and it was against Argentina! And I scored a goal.
Then when I was 17, they selected me for the World Cup, and I became the youngest player to win the World Cup. But I never stopped to say, "I'm good, I'm the best". I never stopped to compare myself with other players.
My father used to tell me: God gave you a gift to play football – you've no need to do anything because it's God's gift – but now you have to be prepared because if you're in good shape, nobody's going to be able to stop you. That was the advice I got from my father. And that's why all my life I tried to be in good shape, to prepare.
Do you remember your first World Cup in 1958? Could you take in what it meant?
Sunita Davies, via e-mail
I was 17 years old, but I remember it very, very well, first because I had a good World Cup, but also because it was the first time I'd travelled outside of Brazil. I remember that after the final, I was so excited because I'd played and Brazil had won and I desperately wanted to tell my family. I wanted to call them to find out if they knew about the game because at that time it was only on the radio. So I said to the newspaper and radio men, "Where can I find a telephone? I want to call my father." But they didn't have a telephone so I had to wait until the next day to call them. I remember saying "Hello! Champions, we're champions!" and all the other players were in a line waiting to call home. Today if a guy scores a goal, he runs to the camera and says, "Mummy, I scored a goal!" but back then it was very, very different.
My friend tells me that you didn't actually invent the bicycle kick. Is that true?
Steve Brennan, via e-mail
Yes. There was a player in Brazil long before me called Leonidas. He was a forward, he played the same way as me, and he was the first to use the bicycle. When I was young, I tried to do it and I practised it and became good, but it wasn't rare. In Brazil, all the kids were trying it when I was young.
As someone who took the World Cup by storm at an incredibly young age, have you any advice for Wayne Rooney going into next year's finals?
David Yates, Hartlepool
It's hard to give advice, but I have one thing that my father told me. He said: "When you're young and you first appear, everybody says you're the best. But if you start to think this is true, you get lost." So my advice is to forget about whether people say you're good or not. Be yourself. Be prepared, because in the World Cup you've got to be prepared, but never, never, never think you're good. Always think you can learn, that you can get better. This is my advice to Wayne Rooney.
What went through your mind when Gordon Banks pulled off the greatest save of all time from your header against England?
Michael Abrahams, London
It's amazing because it was 35 years ago, but people ask me about that save all the time – and not just in England, but all over the world. You know, I scored a lot of goals in that World Cup but people don't remember them. Sometimes I watch TV and before games they show this save. I say, "Why don't they show the goals?" [Laughs] But the other way of looking at it is that if it had been a goal, people would probably have forgotten it by now. I thought it was a goal. I don't know if you've seen, but there's one take on TV where you can see that I started to jump, to say "Gol"… then I say, "Oh…" It was a fantastic save and it shows that sometimes it's not just goals that people remember.
If you were that good, why, when you'd sold that outrageous dummy to the Uruguay goalkeeper in that World Cup game, could you not roll the ball into the empty net? I could have, and I'm rubbish...
Nick Parkin, Coventry
Well, I'm sorry Nick, but I thought the ball was inside the post – it was very close [laughs]. The dummy was a moment, just something you do. You can't plan it, it happens, it's a reaction. But I really don't know why I missed. When I went round the keeper, I thought, OK I'm going to put the ball in before the defender, to the right of the defender, but then I saw he was going very quickly and I thought, I'd better be quick before him and maybe I rushed it.
What was the lowest point of your career?
Jonathan Simpson, via e-mail
I had a lot of great times so it's hard… [long pause] I'd have to say the injury against Portugal in 1966. We'd won the World Cup in 1958 and 1962, and we had a very good team in 1966. All the players thought we could win it so when I got injured and Brazil lost the World Cup, I was very low. At that time, I thought I'd stop playing. I was so depressed. No more World Cups, three was enough. Then two years later, I started to prepare myself, playing for Santos. Then I said, OK, I'm going to play '70, and it turned out that '70 was the best World Cup. So '66 was tough, but fortunately I had the chance to come back, and that made '70 even better. And I retired at my best.
Do you ever regret not moving to Europe? Did you get any offers?
Liam Pickering, Birmingham
I had a lot of offers to come to Europe, but I was OK at Santos. The difference in those days was that the money they offered was not so big that you couldn't refuse it. Later in my career, Real Madrid made an excellent offer and [Giovanni] Agnelli from Juventus wanted to give me a share of Fiat in return for me signing – Fiat had opened a plant in Brazil and they wanted to use me to promote it.
By then, three or four players had gone to Europe –like Altafini [from Palmeiras to Milan] and Julinho Botelho [from Palmeiras to Fiorentina], then later on Didi and Vava – but life was perfect at Santos. I didn't want to change. It's funny because I tease the Brazilian players now. I see them kissing the badge on their shirt and they say, "I love Manchester, I love it."
Then the next year, they move and they say, "I love Roma, I love it." They don't love the club, they love the money, that's why they moved. That's OK, but at some point you've got to decide what you love: the team, or the money?
You scored 1,000 goals! Do you have a favourite?
Gary Johnson, via e-mail
People ask me, what was your favourite goal, what was the most beautiful goal? It's hard, but maybe the 1,000 with a bicycle kick or with a header like the one against Italy [in the 1970 World Cup final] instead of with a penalty, but I think it must have been God who decided.
He must have said, "OK, let's stop the game and make sure everybody is watching" because if it had been a bicycle kick or from open play, some guy would have been talking or eating his popcorn and he would have missed it, but with a penalty kick, everybody was watching.
I think this was important because of the emotion that went with that goal. I was there in the Maracana with 125,000 people and everybody started shouting, "Pele, Pele". My legs were shaking. When you have to take a penalty in the World Cup or in a big game, it becomes very, very difficult. The goalkeeper becomes bigger, the goal looks smaller. It was a big responsibility. I couldn't miss that penalty.
Many commentators feel your performance in Escape to Victory was worthy of the Best Actor Oscar. Were you surprised not to be nominated?
G Turrall, Reading
[Laughs] As I used to say, when you have a good coach, your performance is good, and my coach was John Huston. But we didn't expect to win an Oscar! It was just an excellent thing to do.
Who was the best defender you ever played against?
Mandy Hook, via e-mail
I couldn't say one. You see, whoever I played against, I had the best defender marking me. When I used to play against Germany, Beckenbauer was the one who came over to mark me. Beckenbauer was fantastic, very intelligent, very tough to beat. Against England, it was Bob. Bob Moore was fantastic. [Suddenly seeming to remember he's talking to a UK magazine] I think Bob was the best.
Have you ever had to pay to get into a football match?
Phil Burke, via e-mail
[Pause] Er… no [long pause] No. [Laughs] Even when I was younger, my father's team would give me tickets.
Who, in your opinion, is the greatest footballer of all-time?
Paul Jones, Cardiff
Of all-time? [Looks puzzled] Pele. No problem. I admire him, I admire him.
In print your relationship with Maradona seems very acrimonious. How do you get on when you meet face to face?
Alan Smithee, via e-mail
We don't have a problem. It's only the newspapers. Last year, I was at his farewell game. They had a big party for him and I was there. The problem is, Maradona likes to talk and sometimes the newspapers push him, then he says something, but I've never had a problem with him. We are not friends, but I was with him in October.
The truth is, I feel sorry. He was a great player, but he got lost because of the drugs. I hope now that he can recover, that he can have a normal life. That's what I pray for.
Why have you never gone into football management?
Sarah Fowler, Manchester
First of all because I played for 35 years. When I retired, after I went to New York Cosmos to promote soccer in the United States, I stopped and thought, Almost all my life I have been a footballer. If I become coach, I will get a lot of offers, but it's going to be just like being a player – no life – or worse, because a coach's job is worse than a player's.
Still now I get offers from Brazilian teams, European teams, African teams, but I never wanted to be a coach, for the same reason why I never wanted to be FIFA president, because I would never have had any time.
Away from football, what do you like to do? What are your hobbies?
Si Gibson, Folkestone
My pastime is writing songs for children, samba songs. Or I go fishing. In Brazil we have rivers, sea, lakes, we have all kinds of places you can go. I have a farm near Sao Paolo with a big lake where you can fish trout, Brazilian fish called Pacú and Jaú. When I was with the Brazilian team, we used to travel a lot and the other players would play snooker, sometimes cards, but my pastime was to sit with my guitar and write songs. In the past, I have released some songs for children, and now I am working to produce a CD of my own songs.
I went to the studio with a friend of mine, a young maestro called El Julia, and he's going to produce a CD of my own songs. Maybe I will finish in October, then I want to distribute it.
I'm considering a visit to Brazil in the near future. What one place should I make sure I go?
Louis Johns, Leeds
Brazil is so big that it depends what you want. But for Europeans – because Europeans have almost everything – I think to go to the Amazon is something special, something beautiful. You have Manaus, a big city there, and it's lovely. It's a new thing to see.
You once said an African team would win the World Cup by the year 2000. How much closer are African nations to breaking South America and Europe's stranglehold? And do you think Asian teams have an even better chance of future success?
Tim Crooks, via e-mail
I never said that, the newspaper said that. I said that Africa produced a lot of good players and that as they went to Europe and learned more, they would get stronger. I said the African teams were already talented, and that they could have a chance.
I said Africa has the potential, but I didn't say they were going to win.
I still believe that the African teams are closer than the Asian teams, and the USA is at the same level. At the last World Cup, they did very well. In Korea, if they'd beaten Germany they would have got to the semi-final, and they were unlucky to lose. The advantage they have over Africa is that they are very well organised off the pitch. In Africa, the domestic leagues are not strong and they are not organised, but the teams are always good. Nigeria has an excellent national team, but they don't win.
Motorsport News voted the moment when you didn't wave the chequered flag at the 2002 Brazilian Grand Prix winner Michael Schumacher the 27th most embarrassing motorsport moment ever. What happened?
Tim Redmayne, Teddington
[Giggling throughout his answer] The director of the track said to me, "Listen, when the car is approaching, 800 metres away, I'm going to touch you, so just relax, you don't have to worry." So the end of the race came, and I saw Schumacher and his brother appear but the director hadn't touched me. It was getting late so I got ready to wave the flag, but just before I waved it, he touched me.
I looked at him to say, "What?" and when I looked back, Schumacher had passed. I said, "Why are you touching me now? You were supposed to touch me before." He said, "I'm sorry, I'm sorry." Then I put the flag up. People tease me, but when I waved the flag, he had only just passed. It was between first and second.
If you could pick one player from the 2002 Brazil World Cup-winning side to play in the 1970 side, who would it be, and why?
Barney Geddes, via e-mail
Let's see. They had two or three good players, no doubt, but '70 was Brazil's best team, it was very strong. [Pauses, whispering names under his breath as he goes through the '70 team] Maybe Ronaldo. Ronaldo is a good player, but we didn't have the best goalkeeper [Felix] and Marcos was an excellent goalkeeper. So I'll go for Marcos.
Why do you think you were selected as the face of erectile dysfunction? And why did you agree to take on the job?
Tom Riley, London
When I was invited to make the commercial, I accepted because the doctors from Pfizer wanted to educate people all over the world. They wanted to demonstrate that this was not a pill to take in nightclubs, it was a medicine for the heart. A lot of the young kids had problems and the message was to see a doctor, not to take it like grapes. I wanted to do something good, to give something to the people. I don't know why, but this commercial became very famous all around the world.
Who do you rate as the best player in the world right now? I have you down as a Ronaldinho man…
Tom Ireland, Manchester
I don't like to say who is the best right now because then the newspapers say, "Pele says 'X' is the best in the world", and it puts so much pressure on that player. The best players are the ones who show consistency over many years. That's why for me Zidane has been the best player of the last 10 years. Ronaldinho is a good player, he has some nice skills and he's playing well, but let's see if he can keep it up. Let's see how he plays in three or four or five years' time.
Can you envisage a day when the Brazilian league is as strong as the European leagues?
Jody Hockley, via e-mail
No, unfortunately. Two or three years ago, I was Minister for Sport in Brazil and my big fight was with the administration of the clubs.
If Brazil had a professional administration, like in Europe, Brazil would not lose any games, but unfortunately we have the best team on the field, but not off the field. It's terrible, there's a lot of corruption, and you see now the big teams are struggling: Botafogo, Vasco da Gama, Flamengo – Flamengo has the biggest support in the world, but they are almost bankrupt.
We have to change it, we have to be more professional, but it takes time. And it will be a long time before Brazil can compete with Europe.
What do you make of Jose Mourinho?
Stuart Buckland, Fulham
He has a good personality, a strong personality, but he's never managed a big national team so it's hard to say how good he can be. I've never worked with him so I don't know, but everyone who has says he's very good.
Who do you think will contest the World Cup 2006 final and who will win?
Tim Crooks, via e-mail
It's impossible to say. Look at the last World Cup.
France and Argentina were the two best teams: France were champions of Europe, champions of the world, they had qualified easily. Argentina were the strongest team in South America. Brazil was very bad in qualifying, Germany almost went out in qualifying, but we had Germany v Brazil in the final.
So it's hard to pick the favourites because it's not about who is best in the qualifiers. Today Brazil is the best team. We can put out two teams who could win the World Cup easily, we have two or three players for every position who would make the best team in Europe.
Of the European teams, I think England and Italy have a good chance to reach the final.
But the World Cup is very complicated. The first time Brazil lost the World Cup [1950], they were the best team in the tournament, they were at home and they reached the final, but then they lost to Uruguay. That's why I don't want to pick the favourites.
Which one moment from your whole career gave you most satisfaction?
Sally Evans, via e-mail
I've been lucky to have so many good moments, but I can tell you there are two moments that stand out above everything else. My first World Cup, when I was so young, was like a dream for me. And the last World Cup, 1970, when I was already an experienced player. At that time, all of Brazil had problems, we had an armed problem [the country was under military rule] and there was enormous pressure on us to win that World Cup. But God gave me the strength and we won the World Cup. So those two moments were very different – the one when everything was a party, the other where I had all the responsibility – these were the two greatest moments of my life.
Interview: Hugh Sleight. Portraits: Daniel Reiter (opens in new tab). From the August 2005 issue of FourFourTwo.
Thank you for reading 5 articles this month* Join now for unlimited access
Enjoy your first month for just £1 / $1 / €1
*Read 5 free articles per month without a subscription
Join now for unlimited access
Try first month for just £1 / $1 / €1
Get the best features, fun and footballing quizzes, straight to your inbox every week.
Get the best features, fun and footballing quizzes, straight to your inbox every week.
Thank you for signing up to Four Four Two. You will receive a verification email shortly.
There was a problem. Please refresh the page and try again.