The Player: What it's like being a new player at a club
You don't want to get off on the wrong foot, says our man on the inside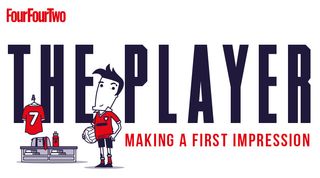 The Player has spent 15 years across all four divisions. He's played in the Premier League and for his country. (Illustration by Spencer Wilson.)
Each week we'll bring you a column from our mole... 
The new signing hadn't been at the club 24 hours when we had a night out. It was something we'd planned ahead of the pre-season tour: a get-together among the lads after a summer off.
None of us knew the new signing apart from one lad who'd played with him at youth level. Naturally, he helped him out and met him for a beer a few hours before the rest of the team. By the time we met them in a bar, they were drunk.
The new player was ultra-friendly with everyone – far too friendly, as he was hugging people. One player asked, "Is he a player or a fan who has won a night out with us?" He started dancing with girls. By midnight he was sitting on the steps vomiting. And all while he was wearing a hideous shirt (complete with wings big enough for flying), for which he was mocked.
It was an example of how not to ingratiate yourself with your new team-mates. The lad wasn't nasty or even arrogant, but he got lost in drink and made a fool of himself.
Finding the right balance
Join a new club and you need to get it right. It's like your first day at school or in a new job: you'll be weighed up from the first minute. The key is to be friendly and personable without being overly familiar; to be respectful and to ease your way in without being too shy. If you're a decent lad then it will shine through. One lad was nicknamed Snowy because he settled quicker than the white stuff. Was that a good thing? Probably.
At the opposite end to our drunk, I witnessed a player join us in the January transfer window. He was a decent footballer but very, very shy – a bit of a loner. Eight or nine of us would be sitting in a hotel chatting and he'd walk past. You could see that he wasn't comfortable. I made an effort with him, but he never came out of his shell. What type of centre-half barely communicates? A problem off the field became one on it and he lasted four months before leaving.
It's usually the captain who will make a new signing welcome. He'll introduce him and maybe get him to sing a song on his first night out. The pre-season tour is a great chance to settle players in socially. I've only ever had one initiation involving alcohol, which involved downing a glass of Pernod laced with Worcestershire Sauce. I felt dreadful after that.
Leave out the ex
A new boy shouldn't go on about his old team. We had one who kept making comparisons. It was funny on the first day, but after two weeks, members of the canteen (who didn't make the finest Italian food compared to his old club) became offended. "If your old club is so great, why don't you f*** off back there?" queried a team-mate, to widespread approval.
The same player thought he was the main man from day one. He was at the front at training, being a smart-arse with the young players. That annoyed the senior players, some of whom had worked together for six or seven years. They didn't like him imposing himself, so they started sarcastically saying, "Oh, you'd get this at [insert name of his old club here]". He got the message, but people were always wary of him from then on.
New players will be judged on ability. At one club, I missed my first four shots in my first training session in front of everyone. I could feel them watching me and I felt under pressure.
"How much did we pay for you again?" asked a fellow forward. They all started laughing. With that, I relaxed.
Flaming Sambuca, boss?
Some new players can't do right for doing wrong. If a player is signed in my position then I'm not going to do my utmost to make him feel welcome – and the same if he's replacing my best mate at the club, who I don't want to leave. That's not fair, but nor is life. Overall, though, if a player is going to improve the team – and he has to prove that in matches – then he'll be welcomed.
It's not just players who need to settle in. One player asked the new manager if he was going to have a drink with the lads that night. The manager hesitated. He didn't want to socialise with his players, but he didn't want to appear aloof either.
So he agreed to one drink in the hotel reception. The players, though, insisted that it had to be their choice of drink. The manager relented and was soon trying to drink a flaming Sambuca – while it was on fire. The players found it hilarious. He burnt his mouth and was still suffering and drinking water in training the next day.
"I'm never having a drink with you lot again," he said, laughing. He'd broken the ice, showed he had a sense of humour and made the point that he wasn't going to socialise with the team from then on. Three birds with one stone.
Quizzes, features and footballing fun
Get the best features, fun and footballing frolics straight to your inbox every week.
Thank you for signing up to Four Four Two. You will receive a verification email shortly.
There was a problem. Please refresh the page and try again.