The Player: What it's like to be an out-of-contract footballer in the summer
Our insider explains what it's like when you're close to becoming a free agent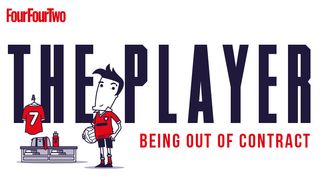 The Player has spent 15 years across all four divisions. He's played in the Premier League and for his country. Illustration by Spencer Wilson. 
Each week we'll bring you a column from our mole. Enjoy... 
It was mid-June when I opened the Daily Mail on the beach and went straight to the sport section. I didn't have a club, but had no plans to sign on the dole either. My contract ran out on July 1, but clubs have to pay you an extra month if you haven't found a new employer.
In the paper there was a 'Scrapheap XI' of the best footballers out of contract: some cracking players who'd been at the top of British football only a couple of years earlier. I was in the team.
I was livid and rang my agent. "I told them," he said. "All publicity is good publicity – it'll help you get a club. And I'm going to start linking you to every decent club I can."
I calmed down. I knew this was coming. The manager told me "We'll sort something" in November. He wanted to keep me happy, but really he was just palming me off. He didn't know if he'd still be in charge, nor what his budget would be for next season, and nor was the decision solely his.
Laying the groundwork
In February, as the manager was buttering me up, I started to put out feelers. When teams played at ours, I made myself busy before the match, purposely bumping into opposing coaches and managers in the tunnel and coming across as a decent lad (which I am!).
Managers are paranoid about buying the wrong type of player. Joey Barton would have had no trouble getting a good club if he was perceived to be a decent lad. Instead, he was viewed as a loose cannon and some managers steered clear. Me? I shake their hands and ask them how things are, planting a little seed in their mind that I'm 'all right'.
In April I went to the PFA annual dinner knowing that several managers would be there, and I spoke to a few, though I didn't push anything. It was the same theory as meeting them at the ground – a chance to creep onto their radar.
One asked me what had gone wrong. I told him I'd picked up a few injuries, but that I'd been fine for months and was back to full fitness. He liked what he heard, I think.
Getting the timing right
There was still no contract, though. A team-mate in a similar position was told in confidence by a journalist: "You're getting a new contract." The player told his wife, who was delighted. Yet no such offer appeared.
He wasn't prepared. I was. My agent told me not to worry; that there'd be interest in me. It's easier said than done, but he knows his stuff, and him pushing that information to the Daily Mail was part of his tactics.
Another player I know was in demand after finishing a season strongly. He was earning good money in the Premier League, but was offered even better money at another club closer to home in Manchester. He didn't give them an answer because he thought there would be more offers. There were none.
When he told them he'd like to join, the club – Bolton Wanderers – had bought a replacement and no longer wanted him. The player started to panic and was a bit embarrassed, as he didn't have a team. He ended up going on trial at a Championship club, where he earned a contract worth a quarter of what Bolton had offered. Timing is crucial in football, on and off the pitch.
Waiting and hoping
Football stops in June but agents are still about, and I rang one I know was close to a big-name manager. I didn't tell my agent this. If he brings me a deal then the business is his, but if he doesn't, I'm open to other options. We don't have an exclusive deal.
The other agent was interested, asked what kind of money I was looking for, and told me he'd pass the information on to the manager. I was putting myself out there discreetly and without appearing too desperate, and I saw no shame in this. Every player in football will be out of contract at some point.
THE PLAYER
Towards the end of June, the merry-go-round clicked in and I started to get sounded out. Some offers were dependent on other players moving – football's chain. And that chain is prone to collapse. I once drove to sign for a Premier League club, only to receive a call as I got to the motorway exit telling me to turn around as the manager had just been sacked. I continued to the club car park, checked things out, then drove home.
Then everything fell into place. Before the month was out I received an offer from a great club to make a verbal agreement with their manager. He told me not to speak to anyone else and I said that of course I wouldn't – but, flatteringly, other clubs kept calling. It felt very good indeed to be in demand, particularly as I'd been surplus to requirements a few weeks previously.
After all the uncertainty, I could afford to make the right decision for me and my family. The Blue Square Premier could wait.
Quizzes, features and footballing fun
Get the best features, fun and footballing frolics straight to your inbox every week.
Thank you for signing up to Four Four Two. You will receive a verification email shortly.
There was a problem. Please refresh the page and try again.