Quiz! Can you name Arsenal's 50 European opponents since 2008/09?
The Gunners are in action again on Thursday night – but who have they faced in either the Champions or Europa League over the last decade?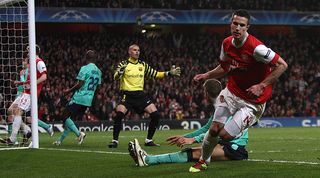 Five to six! An actual game of football being played in London at 17:55 pm. Arsenal fans in attendance might bear the capital's rush-hour traffic through gritted teeth, but at least they'll be back in time for Death In Paradise.
But paradise is not where the Gunners find themselves right now. Europe's secondary competition is taking them to glorious climes where it's too cold to let Mesut Ozil out of his box, and Alexandre Lacazette does dastardly things with his elbows.
Nonetheless, the Europa League is a competition that manager Unai Emery treats like a fat kid does cake, having won it three years running during his time as Sevilla boss. Arsenal are among the two favourites for this year's title alongside Chelsea, after reaching last year's semi-finals and blowing their big chance against Atletico Madrid.
But it wasn't always like this. Before last year, the north Londoners were Champions League ever-presents, and in 2008/09 – the furthest back we're going here – even reached the semi-finals.
So for today's quiz, we're after their opponents in Europe of the last 10 years, which handily comes to 50 teams. Of course, some of those crop up multiple times and will earn you points accordingly, but others will test your memories more.
You've got eight minutes to name as many as you can and then tell us your scores @FourFourTwo – we'll get you on our daily Twitter leaderboard if your score is strong. Good luck!
THEN READ… The 50 most exciting teenagers in English football
---
More time-killing football quizzes on FourFourTwo.com
Quizzes, features and footballing fun
Get the best features, fun and footballing frolics straight to your inbox every week.
Thank you for signing up to Four Four Two. You will receive a verification email shortly.
There was a problem. Please refresh the page and try again.