Rapier-wielding Allardyce hijacks Debuchy transfer
Cackling tactician in smash-and-grab raid for Villa-bound Frenchman, Back of the Net reveal..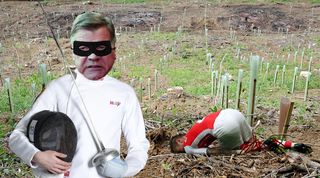 A black-clad Sam Allardyce has held up the carriage transporting Mathieu Debuchy to Aston Villa and made off with its precious cargo.
Allardyce, known to friends and foes alike as the Scarlet Pustule, waylaid Debuchy's coach as it made its way from London to Birmingham, and demanded that Villa officials stand and deliver.
After disarming the guards with a dazzling display of swordsmanship, the former West Ham boss tied up his hapless victims before blindfolding Debuchy and riding off with him atop his trusty horse, Kevin Nolan.
According to West Midlands police, Sunderland boss Allardyce left a single training bib at the scene of the crime, embroidered with his emblem, a Dairylea lunchable.
Telltale sign
An Aston Villa footman said: "I knew at once it was the Pustule, because of his cape and his mask, and because he had crumbs on his chin.
"He also carved the shape of a rough 4-4-2 formation into a tree trunk while complaining that he never got as much credit as the foreign highwaymen with their lace handkerchiefs and their fancy velvet capes."
Allardyce is understood to have taken Debuchy to his hideout in the lawless north-east, where he will imprison him in a flat back four alongside Younes Kaboul and force him to punt balls at Jermain Defoe for the next four months.
Aggrieved Aston Villa boss Remi Garde said: "I'd see him left to a bayonet squad for this, if only I could trust any of my players to actually hit the target properly."
Please note: This satirical news story is not real. But you knew that already, right?
RECOMMENDED Manchester United to punish Van Gaal with new contract
Quizzes, features and footballing fun
Get the best features, fun and footballing frolics straight to your inbox every week.
Thank you for signing up to Four Four Two. You will receive a verification email shortly.
There was a problem. Please refresh the page and try again.