Remembered: The moment that changed Portuguese football forever
Once upon a time, Porto were huge underdogs. And, as they prepare to face rivals Benfica desperately needing victory, Michael Yokhin remembers when it all came together for them – and changed a footballing landscape…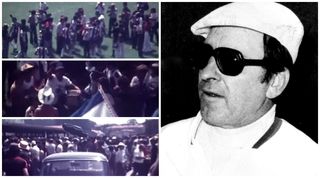 Jose Maria Pedroto could hardly sleep before the big game against Benfica on May 27, 1978. The Porto coach woke his assistant, Antonio Morais, and told him: "I have a dreadful feeling. Something bad is going to happen to us in the opening minutes." Nothing could possibly change his mind.
It was easy to understand the fear: Porto's previous championship title was achieved back in 1959, with the legendary Bela Guttmann in charge, when Pedroto himself was still a player.
Guttmann moved over to Benfica that summer, the Eagles signed Eusebio in 1960, and Lisbon ruled the league in Portugal for nearly two decades. Benfica won 14 titles, while Sporting had four.
Porto became the perennial losers. Pedroto understood that better than anyone, because he missed out on the title in 1969 by a mere two points during his first spell as a coach. Even signing the great Peruvian star Teofilo Cubillas didn't change anything, and he left in 1977 after three years.
RECOMMENDED Guttmann's ghastly pledge and more: 10 of football's oddest streaks and hoodoos
Losing battle
Could that possibly be different this time without him? Pedroto returned to Porto in 1976 after two highly successful years at city rivals Boavista, and immediately won the cup. Now, in the 1977/78 season, he had a massive opportunity to break the curse and bring the long-awaited league title to northern Portugal, but the gut feeling was negative in the extreme.
The coach was convinced that everything was destined to fall apart.
That was a truly remarkable season. Porto lost to little Estoril on the second matchday, and Pedroto promised: "This won't happen again." He was true to his word, and they went undefeated in the Primeira Liga again.
The Dragons scored a whopping 76 goals in the first 27 matches, winning 21 of them, and proudly led the table ahead of the clash with the big rivals.
Young striker Fernando Gomes, on his way to becoming a legend, got countless quality balls from midfield maestro Antonio Oliveira and couldn't stop finding the net. His brace in the 3-2 win at Sporting was majestic, and overall the team was simply a joy to watch.
RECOMMENDED More Retro features on FFT.com
Veteran Manchester United fans will remember the Red Devils getting thrashed 4-0 by Porto in the Cup Winners' Cup second round, and even the 5-2 win at Old Trafford in the return leg didn't help. The Portuguese eventually went out in the quarter-finals, succumbing to Anderlecht.
Stingy stoppers
Benfica, though, were not ready to lose their crown. While Porto entertained in attack, the Eagles were successful thanks to their phenomenal defence under the guidance of former Chelsea centre-back John Mortimer, who easily won the title in his first season as Benfica coach in 1977.
In the first 27 matches of 1977/78, they only conceded nine goals. Not surprisingly, they were undefeated. With 19 wins and eight draws, they only trailed Porto by a single point.
And so the stage was set for the most crucial game at the old Estadio dos Antas. The previous meeting in Lisbon ended goalless, and Porto fans knew that another draw would be enough, but – used to losing when it matters most – shared the fear of their beloved coach.
It was the ultimate case of hoping for the best but expecting the worst. Even the suspension of Manuel Bento, Benfica's brilliant goalkeeper in the form of his life, didn't change the mood.
The first moments were of immense importance, as Pedroto predicted disaster. He was absolutely right.
With just three minutes on the clock, the inevitable happened. Carlos Simoes, the leader in central defence, was the tragic figure, arriving poorly to a routine cross. He mis-hit the ball completely, and watched helplessly as it flew into the net over the head of Joao Fonseca.
The crowd went silent. They might have felt something bad in the air, but such a clumsy own goal was way too much even by Porto standards.
Give us a sign
Now Porto had to score against a team that simply didn't concede, and luck seemed to have deserted them.
An exquisite Antonio Oliveira free-kick hit the bar. Fernando Gomes wasn't given any space at all. Trailing 1-0 at half-time, the players desperately needed encouraging words from Pedroto, but the coach was also distraught.
Looking for a sign from above, Porto got it when Benfica star Humberto Coelho missed a glorious opportunity to make it 2-0. His ball was miraculously saved by Joao Fonseca, bounced off the bar and was cleared away.
Suddenly, the hope returned, and the whole stadium was behind the team in a search of equalising goal – but time was running out.
With just seven minutes remaining, Porto were awarded a dangerous free-kick. Carlos Simoes ran forward to Brazilian substitute Ademir Vieira and asked him to be ready for a rebound.
He must have felt something. Antonio Oliveira's cross was cleared by the Benfica defence straight to Ademir who hit it with a precise first touch.
It was a thunderbolt, but for Porto players it felt like eternity before the ball kissed the net. 1-1.
Arise, Porto
Ademir was the most unlikely hero imaginable. He arrived at Porto in 1975, but was benched for two seasons because his position was taken by Cubillas and Oliveira.
Finally, he got some playing time in 1977/78, but his relations with the coach were not ideal to put it mildly. "Working with Pedroto was not easy, because we had opposite ways of thinking," the Brazilian said. That's why he signed for Boavista before the season was over.
Had Porto lost the title, he would have been forgotten in a second. Instead, he scored one of the most important goals in the club's history.
One could even claim that it was the most important goal of them all – more so than the Rabah Madjer backheel in the 1987 European Cup Final against Bayern Munich – because Porto would never have reached that final but for Ademir.
RECOMMENDED 7 of the best backheels ever – and 3 more who shouldn't have bothered
That single moment on May 28, 1978, had been revolutionary. From that minute on, the curse was over. Porto the ultimate losers ceased to exist.
Porto the great winners rose in their place.
The shift
After a goalless draw at Academica, Porto had to win at home against Braga to lift the title, but nobody seemed to be worried this time. They easily demolished the opponents 4-0, and finished ahead of Benfica on goal difference, even though the Eagles remained unbeaten.
The whole city celebrated wildly, and every Porto fan who was lucky enough to witness that moment hasn't forgotten it.
At the time, it was only Porto's sixth title, while Benfica had 23 and Sporting had 14.
Now, almost 38 years later, Benfica are still leading with 34 trophies, but Porto are closing in with 27, far away from Sporting who are stuck at 18. The Dragons also lifted the European Cup in 1987 and won the Champions League in 2004.
Whatever the circumstances, Porto feel that they are able to move mountains ahead of them, and that will be their attitude when they face Benfica at Estadio da Luz on Friday.
"The goal was a unique moment that I will remember all my life," Ademir once said. "I keep watching it on video. It had changed my career."
But the meaning was far more significant than his personal fate. He changed the whole of Portuguese football forever.
Thank you for reading 5 articles this month* Join now for unlimited access
Enjoy your first month for just £1 / $1 / €1
*Read 5 free articles per month without a subscription
Join now for unlimited access
Try first month for just £1 / $1 / €1
Get FourFourTwo Newsletter
The best features, fun and footballing quizzes, straight to your inbox every week.