7 of the best backheels ever – and 3 more who shouldn't have bothered
Move over Andre Ayew, step aside Emre Can. Crispin Andrews introduces the real masters (and a few novices) of everyone's favourite flick...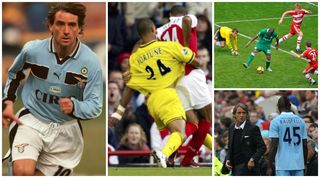 1. Grafite
Wolfsburg 5-1 Bayern Munich; April 4, 2009
Before they became a sublime footballing machine under Pep Guardiola, Bayern Munich were a Teutonic juggernaut under Jupp Heynckes.
But not long before that, with Jürgen Klinsmann at the helm, they were just rubbish – as demonstrated by this 5-1 defeat to Wolfsburg in which Brazilian striker Grafite ran rings around Andreas Ottl, Christian Lell and goalkeeper Michael Rensing, before backheeling the ball into the Bayern net.
It was one of 28 goals Grafite grabbed that season alongside Edin Dzeko as the Wolves romped to the title. Not a bad effort for someone who only eight years earlier was selling bin bags for a living. 
2. Martin Hansen
ADO Den Haag 2-2 PSV; August 11, 2015
Peter Schmeichel got a few goals coming up for corners in the dying minutes of games, yes. But nothing like this flying backheel from Schmeichel's fellow Dane, Martin Hansen. In August this season, the ADO Den Haag keeper's acrobatic effort snatched a 2-2 draw against Dutch champions PSV in the 94th minute. To think that some so-called top keepers struggle to pass a ball 20 metres to their outfield team-mates...
3. Rene Higuita
England 0-0 Colombia; September 6, 1995
Technically this isn't really a backheel. But Higuita's scorpion kick clearance is so cool that we had to include it; the Colombian loon's acrobatics, the blatant posing and the bare-faced cheek of even thinking about doing something this outrageous. Not to mention football's best mullet this side of Diamond Lights. This is so good it even makes up for the feeble half-cross, half-shot from Jamie Redknapp that set it all up. (The linesman had already flagged for offside, but Rene wasn't to know.)
4. Thierry Henry
Arsenal 4-0 Charlton; October 3, 2004
Henry was the man when it came to eking out goals from impossible angles. Here against Charlton, he fired in a cheeky backheel past a hapless Dean Kiely while holding off centre-back Jonathan Fortune, who was admittedly more David Luiz than Claudio Gentile where man-marking was concerned. 
5. Thierry Henry pt. II
Houston Dynamo 2-2 New York Red Bulls, July 5, 2014
Henry didn't just backheel 'em in, he could also provide a pretty nifty assist with the rear of his right boot, too. Playing for New York Red Bulls against Houston Dynamo, a cross came over from left to right, Henry flicked it back goalwards brilliantly, and Tim Cahill's volley hit the post. Dang.
A special mention must go to Houston's Winston Bogarde lookalike who made the whole thing possible, sauntering around at right-back and seemingly oblivious to Henry's presence.
6. Roberto Mancini
Parma 1-3 Lazio; January 17, 1999
Mancini was one fine footballer – as he neatly demonstrated here playing for Lazio against Parma. Moving away from goal and surrounded by defenders, the Italian took (now-Milan manager) Sinisa Mihajlovic's whipped-in corner on the full and flicked a beauty past a helpless Gigi Buffon. 
7. Zlatan Ibrahimovic
Maybe that's where Zlatan learned how to do these: Mancini was Ibra's boss at Inter from 2006-08. 
And three that wish they hadn't bothered...
8. Mario Balotelli
Manchester City 1-1 LA Galaxy; July 24, 2011
Mancini wasn't too impressed when Balotelli tried his own little reverse dink in a pre-season friendly for Manchester City against LA Galaxy, though. Balotelli was clean through on goal. And missed.
Mancini substituted Balotelli immediately, accusing his striker of being disrespectful to the opposition and his team-mates. James Milner came on, didn't try any backheels, but ran around the pitch a lot. 
9. Awana Diab
United Arab Emirates 6-2 Lebanon; July 17, 2011
You're 5-2 up, and you really want to rub it into your opponents; after all, you're playing for the mighty United Arab Emirates against lowly Lebanon. So, when you get a penalty, you put it in the net with a deft backheel. What could possible go wrong? UAE manager, the former Yugoslav hard man Srecko Katanec, wasn't amused despite the fact that Diab did find the net. The player was substituted, despite having only been on the field for 10 minutes. Tragically, Diab died two months later in a car crash aged 21. 
10. Peruvian referee
Sporting Cristal 3-2 Juan Aurich; Oct 25, 2015
It's 2-2 in a top-of-the-table clash between Peruvian league leaders Sporting Cristal and rivals Juan Aurich. The Aurich keeper collects a high cross and kicks the ball out, only for it to rebound off the back of the referee's foot... straight into the path of Sporting striker Irven Avila. You can guess the rest. 
Quizzes, features and footballing fun
Get the best features, fun and footballing frolics straight to your inbox every week.
Thank you for signing up to Four Four Two. You will receive a verification email shortly.
There was a problem. Please refresh the page and try again.