Report card: Arsenal burn brightly but fade away to familiar darkness
Nick Ames assesses another top-four finish for the Gunners, who may yet end their nine-year wait for silverware with the FA Cup...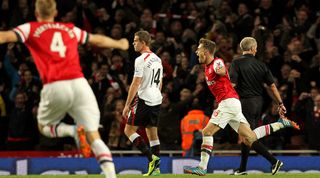 The lowdown
"Plus ça change…" as Arsène Wenger probably isn't fond of saying. The Gunners once again pulled fourth place out of the fire just as things were starting to look hairy, fending off an Everton challenge that dipped puzzlingly after the Toffees' 3-0 win against Wenger's team at Goodison Park. But this season could have been so much more than the usual mixed bag.
Not that the picture is all negative. If Arsenal beat Hull in the FA Cup Final, there's reason to believe that a first trophy in nine years will relieve the pressure that's been building since 2005. Perhaps it could even open the floodgates. But it won't completely negate the gnawing regret that the Gunners slipped so far behind the leaders after occupying top spot for much of what was, for many clubs, a transitional season.
A 3-1 home defeat to Aston Villa on the opening day – back in a more innocent time when Antonio Luna seemed like the signing of the summer – was played out amid a poisonous Emirates Stadium atmosphere, but that was only league defeat Arsenal would suffer in N5.
The arrival of Mesut Ozil sparked a feelgood factor rarely seen since the move from Highbury and, while the German's impact varied in its depth, the team embarked upon a superb run – topping the table at the turn of the year and thriving on the contributions of, among others, a reborn Aaron Ramsey. The Welshman would miss a large chunk of the winter and spring and, with his absence forming just part of an interminable injury list, Arsenal fell away.
There had been a warning sign on December 14, when a visit to Manchester City ended in a 6-3 reverse. At the time some explained it away as a freak result, the consequence of a ding-dong between two attacking teams, but the ease with which City helped themselves to goals was matched on several further occasions against the division's better teams.
Perhaps an injury-free Arsenal would have lasted the course – they competed well in the Champions League against Napoli and Borussia Dortmund with a full-ish roster before falling short against Bayern Munich. But the overall impression was of a side that, while capable of swatting away the Premier League's lesser lights, remains ill-equipped to cope with the power and organisation of those at the very top.
Would they have taken this in August?
Probably not, but fourth place has proved a handy fall-back in recent years.
Would they have taken this in January?
Certainly not. Arsenal were still top three days from the end of the month. Three wins from their next 11 after that did all the damage.
High point
On the pitch, the bewildering interplay that created Jack Wilshere's much-lauded team goal against Norwich was as good as it gets – if relatively rare in a home campaign that was efficient rather than exciting. Off it, few will forget September 2, and the culmination of 24 hours' worth of rumours and mounting excitement that had barely been paralleled even in these Twitter-addled times. Ozil's arrival seemed to have provided the impetus for Arsenal to return to the very top table – and may, in time, still do exactly that.
Low point
It should have been the way in which Liverpool eviscerated Wenger's side in the opening 20 minutes at Anfield, scoring four times and threatening more. Embarrassing though that was, true humiliation came at Stamford Bridge six weeks later. Surely Arsenal couldn't make the same mistakes twice? Yet they did, and the fact that a Chelsea side decidedly more workmanlike than Brendan Rodgers' Anfiled outfit could take such devastating advantage inflicted wounds that will take some time to heal.
Hero of the season
Per Mertesacker has a claim, his gamble on Kieran Gibbs' miscue saving Arsenal from an end-of-days scenario against Wigan at Wembley. But Lukasz Fabianski, the Gunners' second- or third-choice keeper of almost seven years, deserved his day in the sun for saving Gary Caldwell and Jack Collison's spot-kicks in the resulting shootout, guaranteeing his side a crack at its first trophy since 2005. A moment like this had been long overdue for the Pole – and someone, somewhere, will be getting a very good goalkeeper next season.
Villain of the season
Wenger has gamely absorbed plenty of flak in recent years, much of it unfair. This season, though, a big opportunity was squandered. Pulling off the Ozil deal, one which may bear more fruit next year, was to his credit, but any kind of support up top for the hugely overworked Olivier Giroud would have surely brought Arsenal a number of extra points. The extraordinarily open way in which he set his side up for those beatings at Anfield and Stamford Bridge also suggested a level of dogmatism incompatible with what was needed to land a title.
The season in microcosm
The first 45 minutes against Bayern Munich at the Emirates Stadium had a familiar ring to them. Arsenal tore into Pep Guardiola's favourites from the off, winning a penalty when Ozil fooled Jerome Boateng. Ozil's limp spot-kick was saved by Manuel Neuer, and their woes were compounded when Wojciech Szczesny clattered Arjen Robben in the box. Off went the Pole and, although David Alaba missed too, the Gunners' impetus was ceded – and their lack of nerve at either end against top-quality opponents was laid bare once more.
FFT grade
C. A season that promised plenty ended with much more of the same. Victory against Hull at Wembley would raise this mark a notch, but Arsenal still can't find a consistent way to perform against the sides they consider to be their peers.
SEE ALSO Read FFT's report cards for the other 19 Premier League teams
Thank you for reading 5 articles this month* Join now for unlimited access
Enjoy your first month for just £1 / $1 / €1
*Read 5 free articles per month without a subscription
Join now for unlimited access
Try first month for just £1 / $1 / €1
Get FourFourTwo Newsletter
The best features, fun and footballing quizzes, straight to your inbox every week.