Sanchez and Ozil showing all the signs of a blossoming relationship to come
Arsenal's two biggest ever signings have taken time to find their groove with one another, but now Arsene Wenger's side are reaping the rewards, writes Thore Haugstad...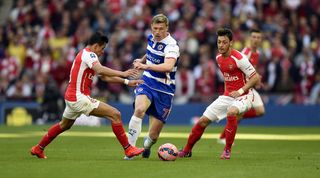 Great teams are often characterised by dynamic partnerships, and there are signs that Arsenal are in the process of developing one. In recent weeks, German playmaker Mesut Ozil and Alexis Sanchez appear to have built an intuitive understanding in the final third, with Ozil adopting a tendency to gravitate towards wherever the Chilean operates.
The connection has evolved amid a run of nine straight wins that have put Arsenal in the FA Cup final and 10 points off league leaders Chelsea, who they face at the Emirates Stadium on Sunday.
Since losing 2-0 at Southampton in January, Arsene Wenger's men have won 17 out of 19 games. That month also signalled the return of Ozil, who has enjoyed his best spell since arriving in north London.
More recently, Sanchez has recaptured his early-season form, having scored only once in 10 club appearances across February and March. With the summer signing sparkling on the left, Wenger has moved Santi Cazorla into a deeper position to give Ozil his favoured No.10 role, while Aaron Ramsey has taken Theo Walcott's place on the right. This 4-2-3-1 recipe has particularly paid off in the last three matches: Ozil has scored one and assisted three; Sanchez has hit three and set up one.
ALSO ON FFT
Breaking habits
A notion of telepathy between his two most expensive signings will delight Wenger, who acquired the 26-year-olds at La Liga garage sales. It has taken time, though, and their understanding has only started to crystalise over the last few weeks. An example of how things used to be came in the slick 3-0 win over West Ham at the Emirates on March 14. The dynamics in attack seemed normal. Starting in his central role, Ozil drifted towards the right flank by habit, where Walcott was granted a rare appearance. This meant Ozil spent less time close to Sanchez, who attacked from the left.
This has always made sense for Ozil. His game is not about crossing or dribbling, but about playing incisive passes, often to reverse runners. Taking up positions on the right lets him cut inside onto his deft left foot and creates better angles for passes. In the West Ham game, most of his deliveries came from that side.
In the next fixture, away to Monaco, things were somewhat different. With Sanchez playing on the right and Danny Welbeck on the left, Ozil orchestrated a fluid team display in which both wingers roamed freely. Ozil himself oscillated between the two flanks, but the patterns of his combination play were distinct.
Up until the 72nd minute, when Welbeck was taken off, he exchanged passes far more often with Sanchez than the England forward (although Sanchez was also generally more involved).
While this said little about Ozil's change of movement, it denoted a strong link between the side's right winger and the No.10. This all but disappeared away at Newcastle, which Ozil missed because of illness. Stand-in performer Cazorla passed to Sanchez only twice, before both were substituted on 71 minutes.
Congenial Chilean
When Ozil returned for the next match, the partnership continued to evolve. The victims were Liverpool. In a 4-1 rout, Sanchez switched to the left and Ramsey went right. Now Ozil spent more time on the left, playing cute passes to Sanchez. Sanchez reciprocated, finding Ozil 6 times, more than any other team-mate.
This movement sacrificed Ozil's positional advantage on the right, but it made sense from a different perspective. Unlike Ramsey, who is more of a classic central midfielder, Sanchez is a flying winger with pace, agility and varied movement. Any No.10 playmaker needs an intelligent runner for his sense of vision to surface. This is particularly true of Ozil, who is not an individualist, but a combination player.
The change also benefited Sanchez. Ozil dictates much of Arsenal's play, and his presence often attracts the ball. Supplied with possession, Sanchez took up favourable positions near the edge of the penalty area from which he challenged defenders and sought opportunities to test the goalkeeper.
Ozil's behaviour was replicated a week later in the drab 1-0 win at Burnley, in which the three attacking midfielders held the same positions. He continued to seek out Sanchez on the left, and the duo's combinations had a more defined pattern than those between Ozil and Ramsey.
The switch now seems permanent. Ozil's movement in the West Ham game appears to be the exception rather than the norm. He now makes more passes on the left, and his deliveries into the box originate from the zone close to Sanchez, like in their last Premier League outing at Turf Moor.
Twin attacks
The connection between the two decided last weekend's FA Cup semi-final game against Reading at Wembley, which Arsenal won 2-1 after extra-time thanks to a brace by Sanchez.
Both goals were assisted by Ozil. For the first, the German received the ball 35 yards out and immediately spotted his colleague. The floated pass over the top sailed into the path of Sanchez, who slotted home.
The second assist underpinned the importance of Ozil drifting towards Sanchez's zone. He picked up possession close to the halfway line and carried it down the left flank. On the edge of the 18-yard box he fed Sanchez, who cut inside to squeeze the ball through the legs of a hapless Adam Federici.
It was no aesthetic masterpiece, but those might be about to come. The technique and intelligence of Ozil and Sanchez make the prospect of a blossoming partnership ominous for Arsenal's rivals, especially with the rest of the side demonstrating a new sense of balance and stability. Whatever Wenger's men do next season, the duo's depredations are likely to be at the heart of it. More imminently, this Sunday afternoon offers another chance for their understanding to grow. Chelsea would be wise to beware.
Quizzes, features and footballing fun
Get the best features, fun and footballing frolics straight to your inbox every week.
Thank you for signing up to Four Four Two. You will receive a verification email shortly.
There was a problem. Please refresh the page and try again.