The insider secret to how Liverpool fuel their intense Champions League away days
A game at the weekend, and then a trip away in midweek – how do clubs ensure their players' performances don't dip? From Champions League to non-league, it's all about nutrition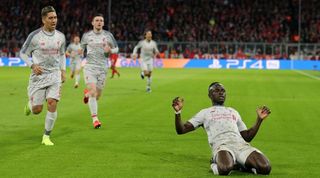 One of the most significant changes in professional football has been the move to performance diets. Where once fish and chips washed down with a pint of Guinness ruled, now it's all about the macronutrients, water and sub-10% body fats. Key to this nutritional evolution has been the increased pace of the game; in fact, a study by Paul Bradley of Liverpool John Moores University revealed that the amount of high-intensity running – defined as between 19.8km/hr and 25.1km/hr – increased in the Premier League by 30% between 2006/07 and 2012/13, from 890m to 1,151m a match.
(Anecdotally, that figure has grown again since, which is cited as one of the reasons behind the increase in hamstring injuries.)
Hitting repeated top speeds is impossible if you're carrying extra luggage – sorry Micky Quinn, today's game would have left you behind – but lightness must be married with a full tank for optimum efforts on the pitch. Players need enough fuel to see them through 90 minutes of play and two blocks of injury time – an average of 1,106 calories, according to research undertaken with Serie A players. To ensure that players are fully fuelled takes significant planning and resources, especially for away games when you consider that a first team might transport 16 to 18 players to a match.
"We're lucky enough to have separate teams of home and away chefs, and that includes two away teams – one for European matches and one for domestic away matches," explains Mona Nemmer, Liverpool's head of nutrition and one of Jurgen Klopp's most important signings. "You need this, really, to achieve some form of work–life balance. Take a Wednesday Champions League game. The chefs fly out on Monday, preparing to feed the players who arrive on the Tuesday. They'll feed them again on Wednesday, the matchday, but with the evening kick-off, inevitably the chefs don't fly back until Thursday. If you're then playing away on the Sunday, you'd be driving off again on Saturday and that's too much. So the domestic away team take over."
Feeding players on long flights is one of the many logistical hurdles for the support team. "We have influence over the plane's catering, but we can't physically prepare the food," says Nemmer. "But we don't need to, as they know what standards we have."
With all the money swilling around the upper echelons of professional football, the world's best tend to charter private jets decorated in the club's livery rather than use scheduled flights. Since 2011, Manchester City have flown in a specially decorated A330-200, while Arsenal travel to European away matches aboard an Emirates Airbus A380 plastered with images of Mesut Ozil & Co. Within the aircraft, each player has a bed, an alcohol-free mini-bar and personalised media console, and there are even on-board showers.
Most clubs playing abroad rely on the designated hotel to source players' food even if, like Liverpool, they bring their own chefs. Again, that doesn't come without issues – particularly when it comes to the origins of meat.
"Legislation for use of hormones in cattle-rearing varies by country," says nutritionist Peter Hespel, who works with the Belgian national team. "That's how a hormone like clenbuterol, which is banned by WADA [World Anti-Doping Agency], gets into the food chain. It's not a problem for meat produced in the EU, where any hormonal treatment is forbidden. But if the meat has come from, say, a South American country, there could be a problem."
Clenbuterol is used in livestock to increase lean mass and raise the overall yield of production. Its muscle-building properties explain why it is classified as a performance-enhancing drug. So endemic is clenbuterol in South America's food chain that at the 2011 Under-17 World Cup held in Mexico, where Liverpool's Mona Nemmer was working with the German team, over 100 players tested positive for the banned drug. That same year, five senior players of Mexico's national team also tested positive for clenbuterol before the Concacaf Cup. (Mexican cattle ranchers are actually banned from using clenbuterol as a growth enhancer, but reports suggest it's still used widely.)
FIFA ordered meat samples to be collected from team hotels and 30% of those showed the presence of clenbuterol. "It's why we're particularly diligent in some countries we play in pre-season," says Nemmer, possibly alluding to China, where clenbuterol is also used.
Liverpool visited the Far East during the 2017 pre-season. "I'll contact the hotels where we're staying six to eight weeks beforehand to pin down food sourcing," she continues. "One oversight could damage both my career and the players'."
Lower-league clubs may not need to worry about South American clenbuterol, but their less exotic away trips present different challenges – such as how to apply nutritional best practice when you lack the resources of the world's top teams.
Bristol Rovers play in England's League One and are on something of a high after gaining two promotions in the past four seasons. Although their owner – Wael al-Qadi, from the family that founded the Arab Jordan Investment Bank – is wealthy, his favoured hashtag of 'evolution not revolution' makes it clear that he's clutching tightly to those purse strings.
"When we played away, we tended to eat pizza on the bus before the match," says Rovers' former head of medical services, Keith Graham. "The players didn't particularly enjoy it – they found it boring – but if you can tell me what company can provide 28 hot meals, which their employees can eat with their hands at exactly the right time on a Saturday, unless you have your own staff ... well, you can't."
Hopefully, the Bristol Rovers players' pre-match pizza is a margherita made with white flour: it's common practice to refrain from eating too much fibre shortly before a match to prevent gastric – and very public – distress. That means wholemeal rice will be replaced with white rice, and brown pasta with white pasta, with an emphasis on high-carbohydrate feeding.
"Our main pre-match meal works back around three to four hours before kick-off," says professor Asker Jeukendrup, an expert on carbohydrate feeding who works for RB Salzburg and formerly worked for Barcelona. "That's where you'll top up your glycogen stores in the liver. I say liver because the glycogen stores in your muscle should be high from the previous evening's meal. Physiologically, this is because liver usually grabs the glucose first to store as glycogen. Anything left over goes to the muscle, and that stays there unless it's used."
So, unless Leipzig players are vigorously sleepwalking around Saxony the night before a match, their muscle glycogen levels should be relatively stable and sufficient to sustain 11-13km of running? Not necessarily, according to Jeukendrup. "When you sleep, the brain uses up a lot of glycogen, which is released from the liver. That leaves little in the liver. This must be replenished, but to achieve the full 80-90g capacity you're looking to consume 200g carbs, because much of the carbohydrate will bypass the liver and be stored in other tissue."
As decision-making is inhibited when brain glucose levels are low, you can see the importance of this pre-match feeding. "It's not all about the liver though," adds Jeukendrup. "At very high intensities, players will burn through muscle glycogen at a high rate – maybe 3-5g of carbs per minute." That's where sports nutrition enters the matchday larder.
Once lunch has been consumed and as the match approaches, players will often sip on an energy drink or ingest an energy gel. These moderately viscous sachets of energy have proved popular over the past few years... as they've actually become palatable, that is. Years ago, squeezing out an energy gel was akin to mangling that last nodule of toothpaste. Now, manufacturers like SiS – former partners to Liverpool – produce more isotonic gels, which have a higher water content and are digested far more easily.
Each gel contains around 20-30g fast-releasing carbs and will often be consumed during a warm-up on the pitch about half an hour before kick-off. "They don't always need a gel before the start of the match," says Liverpool's Nemmer. "If the tactics are to play in a pressing, high-intensity style from the outset, they might need one, yes. But often it's more for the head than anything else as they should be well fuelled by now."
At half-time they might consume another gel of chew on caffeine gum. And once that final whistle goes, either to the tune of triumph or a chorus of contempt, it's into the changing room and time to refill the muscles with glycogen to repair and rebuild damaged tissue. "I'd say like every club, I give the players a carbohydrate and protein shake after the game," says Jeukendrup. "It gives me peace of mind that whatever the players do, they've had a certain amount of protein and carbohydrate."
How much a player should consume is open to debate. There's evidence that glycogen in fast-twitch type IIa and type IIb muscle fibres, used heavily in high-intensity running, takes longer to replenish than glycogen in slow-twitch fibres used for walking and jogging. No one is certain why, but it could be down to the increased number of micro-tears in the muscle after intense exercise.
Jeukendrup aims for around 70g of carbs per player – maybe more for bigger players, less for smaller – and 30g protein. "Timing is key, so after the shake we'll serve the players food while they're still in the changing room. Something nutritious and easy to consume with a spoon, like chicken risotto, which the chefs will have prepared and brought with them. After that, if they played at home, they'll probably go to the VIP area, spending time with family and friends and have another meal that's focused on carbohydrates and protein, all within around 90 minutes of the match finishing." If a team's playing away, often they'll eat on the team bus.
And then it's up and down the motorway, delivering the players back to the home stadium for their drive home. In their Bentleys and Ferraris, they're advised to continue sipping water and snack on a high protein food like biltong. Then it's bed and sleep, which is vital for recovery and repair.
Training Secrets of the World's Greatest Footballers by James Witts (opens in new tab) is published by Bloomsbury and available now
While you're here, why not take advantage of our brilliant subscribers' offer? Get the game's greatest stories and best journalism direct to your door for only £9.50 every quarter (opens in new tab). Cheers!
NOW READ…
COLUMN Don't buy into the fantasy: why there's no Raheem Sterling redemption story
QUIZ Can you name the 51 all-time top scorers in the Champions League?
GUIDE Champions League live stream best VPN: how to watch every game from anywhere in the world
Thank you for reading 5 articles this month* Join now for unlimited access
Enjoy your first month for just £1 / $1 / €1
*Read 5 free articles per month without a subscription
Join now for unlimited access
Try first month for just £1 / $1 / €1
Get FourFourTwo Newsletter
The best features, fun and footballing quizzes, straight to your inbox every week.