Secret to winning games is not managing Cardiff, says Solskjaer
The Norwegian identifies key difference between unsuccessful 2014 spell and now, Back of the Net reveal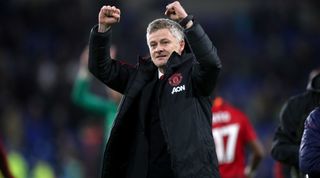 Ole Gunnar Solskjaer has identified the key ingredient in his approach to being Manchester United manager: not being Cardiff City manager.
The Norwegian, widely known as the 'baby-faced assassin' since he faced down an assassin while a baby, is credited with restoring United's traditions of winning games with incredibly late and impossibly spawny goals.
He has also been praised for lifting the mood after he succeeded José Mourinho, the only time 'Mourinho' and 'succeeded' have been used in the same sentence without being closely followed by the word 'antagonising'.
The secret to success
However, it is a far cry from Solskjaer's previous spell in the Premier League as Cardiff City manager in 2014, when he seemed to be held back by having to pick players who were contracted to Cardiff City.
Solskjaer said: "I think the biggest change between 2014 and now is that before, I was picking Cardiff City players, but now I can pick Manchester United players.
"I tried to pick Manchester United players at Cardiff, but every time I put Robin van Persie or David de Gea on the teamsheet, they told me I wasn't allowed to do that and I had to pick Fraizer Campbell instead."
A lesson learned
"But I've grown a lot as a manager since then. There's no way I'd send out a team full of Cardiff players today. I wouldn't even send out a team of Molde players any more. Now I make sure that the team I send out is always the Manchester United team, and I think that makes all the difference.
"If Neil Warnock stopped picking Cardiff players and started picking Marcus Rashford, I think he'd be doing a lot better."
A Manchester United player, who did not wish to be named, said: "I'm enjoying my football for the first time since I scored in the World Cup final."
NOW READ... Following legends, rebuilding empires: how Unai Emery became the anti-Moyes at Arsenal
Quizzes, features and footballing fun
Get the best features, fun and footballing frolics straight to your inbox every week.
Thank you for signing up to Four Four Two. You will receive a verification email shortly.
There was a problem. Please refresh the page and try again.