Shaqiri dragged back to Stoke for third time
Swiss star made offer he can't refuse, report Back of the Net...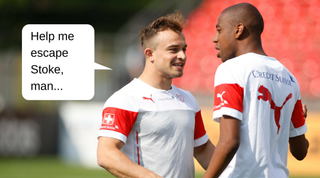 Promising that the third time was a charm and that he would not get away again, Stoke City have finally announced the capture and imminent signing of Xherdan Shaqiri.
Shaqiri had twice resisted a move to the Potteries, leaping through a first-floor window to safety in January and escaping from Fortress Britannia disguised as a washerwoman back in July. But thanks to hard work behind the scenes, mostly by a shadowy figure known only as Dangerous Ron, the former Bayern Munich star looks to have been tied down to a long-term deal.
"Shaqiri is literally in the bag," said Ron, or one of his gravel-voiced associates, aiming a kick at a large sack, which twitched and whimpered. "Stick a contract in there and when it comes out signed — and only then — we might consider unveiling him."
Stoke City sources declared themselves delighted that the pursuit of Shaqiri had finally paid off, for the price of just £12 million, much of which was surveillance equipment that could easily be reused.
Sparky delighted
Manager Mark Hughes said: "I'm delighted to welcome Xherdan to Stoke. I'm sure he can achieve all his ambitions here, from challenging for honours to not being thrown into the snake pit.
"For the moment he'll be staying with Bojan Krkic, in our luxury welcome oubliette. His every need will be listened to and carefully noted down for future reference."
Commenting on the move, Shaqiri said through a gag: "They got me. They got me. Tell my parents I love them."
The 23-year-old is unlikely to be fit for next weekend's clash with Tottenham, as he is reportedly suffering from dehydration and rope burns.
Quizzes, features and footballing fun
Get the best features, fun and footballing frolics straight to your inbox every week.
Thank you for signing up to Four Four Two. You will receive a verification email shortly.
There was a problem. Please refresh the page and try again.