Surprise is that there is no surprise, says Van Gaal
Manchester United's much-anticipated surprise signing is the lack of any such signing, Back of the Net can reveal.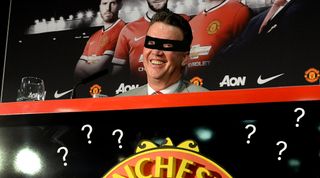 Louis van Gaal's remarks about a surprise transfer at Manchester United last week sent the rumour mill into overdrive, its gossip spokes churning out fine-grained chunks of hearsay straight onto back page columns.
"Do I have a surprise for you!" the 63-year-old Dutch manager told assembled journalists. "You won't believe it when you get a load of this surprise! It's incredibly surprising!"
United were variously linked with Cristiano Ronaldo, Thomas Müller and Pedro Rodriguez, before Van Gaal specified that the surprise was "not a striker," adding that it was "even more surprising, and funny, than the funny surprise you get when you sit on a whoopee cushion".
Links quickly surfaced with Nicolas Otamendi, Sergio Ramos and Jasper Cillessen, who was just as quickly dismissed after pundits agreed that signing the goalkeeper would be less surprising than the surprise you get when you sit on a whoopee cushion.
Press conference called
On Monday morning, United called a press conference to reveal the nature of the surprise, presenting journalists with a figure covered in a sheet emblazoned with question marks while chief executive Ed Woodward played suspenseful music on a hand organ.
As journalists shouted out names like 'Zlatan Ibrahimovic' and 'Edinson Cavani', assistant manager Ryan Giggs whipped off the sheet to reveal Van Gaal himself, who shouted "Ta-da! There is no surprise! Are you not surprised now?" before doubling over with laughter.
"I, Louis van Gaal, have fooled you all once again," he said, upon recovering his composure. "This is why I am the best of the managers."
Journalists agreed that although they had indeed been hoodwinked by Van Gaal's wily bait-and-switch, it was still a better story than the time United pretended that signing up Swissquote as their Official Global Online Financial Trading Partner was worth five seconds of anyone's time.
Quizzes, features and footballing fun
Get the best features, fun and footballing frolics straight to your inbox every week.
Thank you for signing up to Four Four Two. You will receive a verification email shortly.
There was a problem. Please refresh the page and try again.