Shkodran Mustafi: Meet Arsenal's new World Cup-winning stopper
He's played in three countries, won a World Cup and is only 24 years old. Here's everything you need to know about Arsenal's new defender, courtesy of Jonathan Harding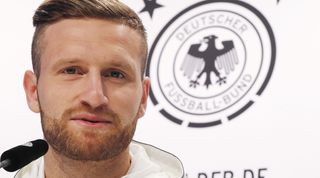 The 60-second story
FACT FILE
Date of birth: April 17, 1992
Place of birth: Bad Hersfeld, Germany
Position: Centre-back
Club: Valencia (80 apps, 6 goals)
Former club(s): Everton, Sampdoria
International: Germany (12 caps, 1 goals)
Born in Germany to Albanian parents from Macedonia, Shkodran Mustafi is both proud of his roots and grateful for his surroundings. Having started as a striker, the 24-year-old eventually moved further back into defence and by the age of 14 opted for Hamburg's academy despite having offers from Bayern Munich, Borussia Dortmund and Schalke.
After eventually realising football was going to be his life, Mustafi chose the Premier League – Everton, specifically – aged 17, in the hope of realising his dream. His time in England became more of a nightmare, though, and his breakthrough never came. Mustafi left for Sampdoria after two-and-a-half fruitless years at Goodison Park, yearning for regular gametime and better food. He got both, eventually, and although Italy lacked the organisation he might have been used to, it was the start he needed.
After two promising years in Serie A, Mustafi was invited to Germany's 2014 World Cup training camp, then sent home, only to be called back after Marco Reus's injury. The centre-back was then brought on in the first game, injured himself against Algeria, won the World Cup and then moved to Valencia.
Mustafi eased into los Che's first XI in Spain, but unlike many of his Germany team-mates, didn't suffer from a Brazilian hangover. After Nicolas Otamendi's departure, he remained one of the most impressive defenders in La Liga – and did enough to stay in Joachim Low's thoughts. Now, after further improvement at Euro 2016 this summer, Mustafi's rise continues with what looks like a return to the Premier League.
Why you need to know him
In an era of hyper development, Mustafi is a refreshing example of gradual progression. A grounded man who has battled the burden of increased expectation, the young defender has remained under the radar for longer than expected.
But at 24, given the experience he's collected while playing across Europe, Mustafi can become one of the leading defenders in the game if his development continues at its current rate. Having learned his trade in Germany, he developed it in Italy and then Spain, and now plays internationally with one of the best defenders in the world, Jerome Boateng. Match that with his attitude, and Mustafi seems like both the player and character you want in your team.
Strengths
Mustafi is strong and scampers around, hunting to win the ball back or throw himself in the way of incoming shots. He's got the energy you'd expect from a central midfielder and is better in the air than expected – he won more aerial duels than Laurent Koscielny last season.
Having been tactically sharpened in Italy, the increased pace of the game in Spain helped develop him further. The interjected doses of Low add an extra element to Mustafi's quality.
He has over 100 top-flight appearances in European leagues to his name now, and with Low's Germany team his time in both Brazil and France means Mustaf isi a 24-year-old with more experience of high-pressure situations than most.
His mentality also appears strong. In an interview with 11 Freunde, he said: "At the end of it all, I'm a person like any other who is on the Earth to strive for paradise. That's my task and if I play a crap game today, it's not the end of the world."
It's less care-free and more scare-free. Mustafi is well-rounded in a way that most modern footballers aren't. A high-profile move seems like the next logical step for a man calm in mind, quick to laugh and determined to improve.
Weaknesses
He's not as tall as Arsenal's Per Mertesacker and, as was seen at Euro 2016, can sometimes be prised out of position. He is also nurturing a talent to emulate Boateng's quarterback-like passing, but hasn't quite got there yet.
He has done well to snuff out nervous moments when in possession, but they do creep in now and again. In short, Arsene Wenger would love tweaking the small aspects because the foundation of his game is very solid indeed.
They said…
"He's a real character and very mature for his age. He can lead and take responsibility, anticipates the game well and makes few mistakes," said Germany U21 head coach Horst Hrubesch two years ago. If that was two years ago…
Did you know?
A Germany fan said he would name his son after Die Mannschaft's first scorer at Euro 2016. He even went as far as saying he wouldn't have to call his child Shkodran because the defender was so unlikely to score... but of course, that's exactly what Mustafi did.
Afterwards, Mustafi heard of the news and said he would buy the "little Shkodran" an ice cream if the newborn was indeed named after him.
MORE TALENTSPOTTERS
What happens next?
Reports before and since the weekend have suggested that Arsenal have made Mustafi one of their top targets for the summer.
If the Gunners get their man, fans should be pleased too. After winning the World Cup, Mustafi said it took time to keep his feet on the ground, and regular visits to Albania were necessary reminders to him of how fortunate he was to be in his privileged position.
Mustafi's character is a rare one in modern football. Driven by the desire to improve but not hindered by the fear of failure, he is already very good. Now, the Germany man has the chance to be outstanding and that alone should excite Arsenal fans.
New features every day on FFT.com • More Talentspotters
Thank you for reading 5 articles this month* Join now for unlimited access
Enjoy your first month for just £1 / $1 / €1
*Read 5 free articles per month without a subscription
Join now for unlimited access
Try first month for just £1 / $1 / €1
Get FourFourTwo Newsletter
The best features, fun and footballing quizzes, straight to your inbox every week.