Soccernomics: Does sacking the manager actually make a difference?
Simon Kuper examines the data: to chop the head off the snake or not?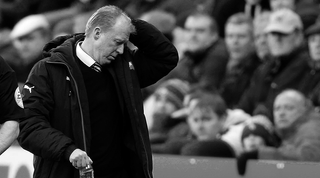 Chelsea are now out of Europe, but Guus Hiddink is still being credited with the team's almost inevitable bounce after the sacking of Jose Mourinho. The Dutchman is undefeated in his first 12 league games, and the Daily Mail is hailing him for having 'steered' the team from 15th place when he took over to tenth now. This is only the latest retelling of an ancient football myth: the new manager as Messiah.
Sacking the manager is a ritual, football's version of the Aztecan human sacrifice. When the team does badly, he goes.
As it happens, after the manager is sacrificed, a team's performance does tend to improve briefly. Sue Bridgewater, professor at Warwick Business School, analysed sackings in the Premier League from 1992 to 2008 and found that "there is a boost for a short honeymoon period." For instance, after Manchester City sacked Mark Hughes at Christmas 2009, they won their first four games under Roberto Mancini. Inevitably Mancini was credited with City's short honeymoon. "Mancini really is magic," proclaimed The Sun newspaper, and people began to whisper that the Italian might win that season's Premier League.
Honeymoon statistics
In fact, new managers cannot work magic. The short honeymoon after the new man takes over is easy to explain. Typically, the average club earns 1.3 points a match. Typically, Bridgewater found, a club sacks its manager when it averages only 1 point a match—that is, at a low point in the cycle.
Any statistician can predict what should happen after a low point: whether or not the club sacks its manager, or changes its brand of teacakes, its performance will probably "regress to the mean" – or in ordinary language, return to normal. Simply put, from a low point you are always likely to improve. The club may have hit the low due to bad luck, or injuries, or a tough run of fixtures, or—as perhaps in Manchester City's case in 2009—the time it takes for a largely new team to gel. Whatever the reason for hitting a low, things will almost inevitably improve afterward.
Incoming: Benitez replaces McClaren
We're now seeing that at Chelsea. Mourinho was sacked at the low point. A team with players as good as Chelsea's can't really fall much below 15th. From that point, recovery was almost inevitable. An out-of-form star like Diego Costa returns to his normal level. Luck stops going against the team. The pendulum swings back. The recovery would most likely have happened to a greater or lesser degree if Mourinho had stayed in charge.
Return to normal
The new manager doesn't usually cause the swing. He's just its beneficiary. Perhaps some players do briefly work harder to impress him, though on that logic clubs should sack managers even more often.
Eventually results return to normal. Bridgewater found that three months after a sacking, the typical club averaged the standard 1.3 points a game. Chelsea could simply have stuck with Mourinho and waited for results to rebound, but in a business as public as football, doing nothing is often the hardest thing. (And not just in business. Harold Macmillan, British prime minister during the Cuban missile crisis of 1962, mused then "on the frightful desire to do something, with the knowledge that not to do anything . . . was prob. the right answer.")
Mourinho may well have benefitted from an upturn in results
Hiddink is now being praised for exuding the calm that Mourinho signally lacks. Did his calm cause Chelsea's good results? Well, perhaps. On the other hand, when Hiddink failed in his previous jobs as manager of Turkey and Holland, he was castigated as lazy, disengaged and inattentive to detail.
Pay high to win
In both victory and defeat, the manager's role is overestimated. (Hiddink himself doesn't make that mistake. He doesn't take himself too seriously.) Managers simply don't matter that much. Players do. By far the best predictor of where a team will finish in the table is its wage bill: the team with the highest wages generally finishes top, and the team with the lowest wages bottom.
On the long term, under a new manager a team returns to its usual average performance. In 2010 under Mancini, City didn't get close to winning the league. They finished fifth.
Yet clubs continue to sack managers. It's a pretty expensive hobby. In the 2010-2011 season alone, English clubs spent an estimated £99 million sacrificing their managers, if you add up the cost of compensation, legal fees, and 'double contracts' (paying the old and new manager at the same time), according to the League Managers Association. All this money could have been more usefully spent on players' wage bills or on improving stadiums. Football's human sacrifice is a sign that the sport still isn't very clever.
This passage is an edited extract from Soccernomics (opens in new tab), coauthored by Simon Kuper and Stefan Szymanski.
Thank you for reading 5 articles this month* Join now for unlimited access
Enjoy your first month for just £1 / $1 / €1
*Read 5 free articles per month without a subscription
Join now for unlimited access
Try first month for just £1 / $1 / €1
Get the best features, fun and footballing quizzes, straight to your inbox every week.
Get the best features, fun and footballing quizzes, straight to your inbox every week.
Thank you for signing up to Four Four Two. You will receive a verification email shortly.
There was a problem. Please refresh the page and try again.