Stoke's Shaqiri bid was 'squillion pounds', exaggerated significance of Watney Cup
Stoke City were beaten to the signature of Xherdan Shaqiri and Back of the Net can exclusively reveal the details of the Potters' offer...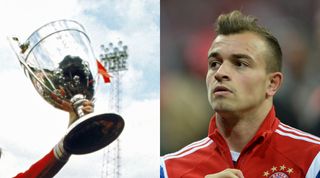 In a shock move, Swiss international Xherdan Shaqiri has opted to sign for Italian side Inter rather than Liverpool, Arsenal or Stoke.
The reasons behind the Bayern Munich man's decision to snub Stoke in favour of a transfer to the San Siro are unclear, but they may lie in the details of the bid faxed in from the Britannia Stadium.
It is believed that Inter will end up paying around £12 million for Shaqiri after an initial loan spell, whereas Stoke's offer appears to include less solid financial promises such as 'a squillion pounds' and a cut of the profit generated by Mark Hughes' forthcoming swing album, due in 2016.
The second and third pages of the faxed offer contained child-like crayon drawings of Shaqiri in a Stoke shirt winning the Champions League and the 'Universe Cup' both seemingly against Olympiacos, while the fourth and fifth sheets simply consisted of the words 'pretty please' repeated again and again.
"I had my doubts when we faxed the offer over," a Stoke City source confided in FourFourTwo.
"I just couldn't see a Bayern Munich player being excited by the promise of being Ryan Shawcross' bestest friend on page six. Plus, we all know Hughesey's album is relying heavily on workmanlike covers.
"And the club overview kept referring to us as 'Watney Cup holders Stoke' which it says is 'the pinnacle of the club game in England', but even I don't know what the Watney Cup is and I have to polish it every six months."
While Stoke's bid seemed far-fetched, they did manage to lure Bojan with the as yet undelivered promise of 'a zillion pounds' and the chance to carpool in Phil Bardsley's Skoda Octavia.
The club have refused to comment on reports that they are mounting a bid for Lionel Messi, but our source was overheard asking what amount was larger than a squazillion.
Quizzes, features and footballing fun
Get the best features, fun and footballing frolics straight to your inbox every week.
Thank you for signing up to Four Four Two. You will receive a verification email shortly.
There was a problem. Please refresh the page and try again.