Tranmere Rovers season preview 2023/24: Why Rovers could be in for an uninspiring campaign
FourFourTwo's Tranmere Rovers season preview 2023/24 - can Ian Dawes prove his doubters wrong and get Tranmere towards the top-end of the table?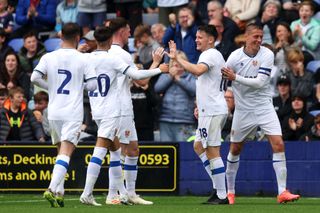 (Image credit: Getty Images)
The Tranmere Rovers season preview 2023/24 highlights a club set for mid-table mediocrity, unfortunately.
After a disappointing mid-table finish last term, Tranmere Rovers need inspiration.
New faces Regan Hendry in midfield, plus poachers Dennis and Luke Norris, may provide it with their promotion-winning know-how, but internally-appointed gaffer Ian Dawes will have to prove himself in League Two before anyone starts singing his praises.
Tranmere Rovers season preview 2023/24, the fan's view: Sam Robinson
Last season was just boring. We were never really in the promotion race, nor in danger of going down. It felt from mid-February as though everyone was going through the motions.
The big talking point is the decision to hire Ian Dawes as manager, after three caretaker spells, and Nigel Adkins as technical director. It wouldn't surprise me if Adkins was in the dugout before the New Year.
Our key player will be new signing Kristian Dennis. His 20 goals helped Carlisle to promotion and he could be the striker we've been crying out for, though we do lack the creativity to give him the service that he needs.
The opposition player I'd love here is Elliot Watt, who registered 16 assists from Salford's midfield last season.
The pantomime villain will be league newcomers Wrexham, won't it? Plenty expect them to breeze through League Two, which puts a target on their back. They'll be used to it, though.
The one change I'd make would be to sell sponsorship naming rights to the stadium and reduce ticket prices. It's a chicken-and-egg situation – we need income to invest in the squad and meet rising costs, but charging £500 for a season ticket or £25 on the day in League Two is mad, particularly in a cost-of-living crisis.
I won't be happy unless we're pushing for the play-offs.
The fans' opinion of the gaffer is that he's the cheap option, which added to the discontent as we appeared to lack a plan once James Vaughan exited as sporting director last September, seven months into the role. In the owner's defence, he wouldn't do anything to put the club's future at risk, which can't be said of some chairmen.
If he left, he should be replaced by Luke Garrard, who has been doing great work at Boreham Wood for years without getting a Football League job.
We'll finish 12th.
Season previews for the Premier League, League One and League Two are all available HERE
Subscribe to FourFourTwo today! Guarantee the finest football stories and interviews dropping on your doorstep every month
The FourFourTwo Season Preview issue is available in shops now. Click here to order yours with free delivery
Thank you for reading 5 articles this month* Join now for unlimited access
Enjoy your first month for just £1 / $1 / €1
*Read 5 free articles per month without a subscription
Join now for unlimited access
Try first month for just £1 / $1 / €1