Verratti: "Some players my age have a problem, thinking they have arrived before they have"
From Serie B to PSG's team of A-listers, it's fair to say Marco Verratti likes a challenge. FourFourTwo talks pasta and pressure with Italy's great (and small) young midfield gem...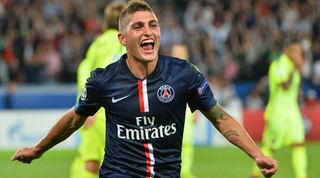 FACT FILE
Date of birth: November 5, 1992
Place of bith: Pescara, Italy
Height: 5ft 5in
Position: Central midfielder
Club: Paris Saint-Germain
Former club: Pescara (70 apps, 2 goals)
National: Italy
Marco Verratti is visibly relieved. "Oh, it's so nice to finally hear someone speaking Italian," the Paris Saint-Germain midfielder says to FourFourTwo, as we greet him in a photography studio in the heart of the French capital, a short walk from the Arc de Triomphe. He's here to promote PUMA's latest range of boots and is consequently being asked to perform all manner of acrobatics for a future advertising campaign. At 22, Verratti is still coming to terms with his accelerated path to superstardom, but he's relaxed enough to take on every request with a smile on his face.
Having left hometown club Pescara – situated halfway down Italy's Adriatic coast – after helping them gain promotion to Serie A, he joined the Parisians for £24 million having never played a single top-flight game. The chance to reminisce in his native tongue offers a welcome reminder of home.
We're more than happy to oblige. That Verratti is an established first-teamer for club and country at the age of 22 shouldn't come as a surprise; he's always been a prodigious talent, more than making up for his lack of stature (he's only 5ft 5in) with superb technique to make his first-team debut for Pescara against Mezzocorona aged only 15. "Part of that Marco is still in me, but as time goes by, you grow up and try to improve," he says. "Nowadays you always have to prove your skills and this helps you to develop many aspects.
"At that time, I had just started to train with the first team. I was doing some specific training on tactics and on my technique. That was the moment when I realised that being a footballer was becoming a real job.
"In the past I was doing it for kicks. Training became more frequent, with players that were better than me and from whom I could learn."
And it wasn't just his team-mates who helped him. "My hero growing up was Alessandro Del Piero," admits the boyhood Juve fan. "Back then, he was one of the world's greatest, and to see him play really excited me.
"He always was one of my idols. He's a great person on and off the pitch. Alex transmitted serenity and calmness and has a radiant personality. Among midfielders, I also liked Zinedine Zidane. It really was a pleasure to watch him for Juventus."
"I was scared at first..."
Verratti's performances in helping the Delfini gain promotion to Calcio's top tier in 2012 under wily veteran coach Zdenek Zeman attracted the attention of Italy's top sides, including AC Milan. But once PSG, now backed by Qatar Sports Investments, entered the bidding, there was only one winner.
His move was part of a summer splurge that saw the club spend over £100m, with the arrival of established stars such as Thiago Silva, Javier Pastore, Ezequiel Lavezzi and a certain Zlatan Ibrahimovic – intimidating dressing-room company for a 20-year-old who couldn't speak the language.
"I was scared at first," he admits, "because it could have been a really big leap, but everything went well. I was also quite lucky. Now I find myself playing for a great club and that makes me really happy."
But while his big-money move came about earlier than expected, this did mean he missed out on playing in Serie A with Pescara. Is this something he regrets? "I'm not sad about not having played in Serie A, because I will always remember that season in Serie B," he says. "No one expected Pescara could become such a strong team, capable of winning the second division." Having moved from a relatively small club where he was the team's fulcrum to a cosmopolitan collection of household names, there was a danger he wouldn't get into the team. But this held no fear for Verratti; he was confident in his ability.
"I did think about that," he says, "but football is wonderful for this reason, because you always have to prove yourself. In the summer of 2012, I arrived at the same time as many superstars, but every one of us wanted to help PSG in winning those titles that went missing for a long time.
At first it was a bit difficult but slowly I started to carve my place in the team and for this I will always thank Carlo Ancelotti and Leonardo, who brought me here to Paris.
"The first days were most difficult, because I did not speak French at all. My team-mates helped me, so I experienced the change of country and culture without any problems. I never thought I would feel so good".
After a patchy first season – although he did provide an assist on his home debut – Verratti excelled and was named Ligue 1's Young Player of the Year last term. "Every youngster has important room for improvement.
"It's up to every single guy to understand that arriving in a great team is a starting point and not the finish line. I always try to learn from my team-mates by listening to their advice. It was up to me to develop my playing skills. When you're part of a big club, if you're smart, you get better. There's always something to learn."
Away from the pitch, the transition has been equally serene. "My routine here is similar to back in Pescara. I love being here. But there are always small differences, like the food, obviously. I always try to eat Italian here. Italian cuisine is simply the best, I wouldn't change it for another. Sometimes I prepare it by myself. What's my secret recipe? Pasta in bianco! [plain boiled pasta with a touch of olive oil] I'm kidding, sometimes I just take the sauce from Italy, add some basil and that's it. The simple things are always the best!"
"Ibra asked Ancelotti: do you believe in Jesus?'"
He looks less confident when speaking about the Champions League. "This kind of competition is very difficult to plan. Every big team wants to win it, as it's the most important trophy for a club. Obviously, we also want to succeed. So we will try our best."
If PSG are to win the Champions League, they will have to get past Chelsea and Jose Mourinho, something Laurent Blanc's side failed to do last season, losing out on away goals thanks to a late Demba Ba strike.
Verratti is hopeful that he will be able to control the tie better this time; this is, after all, what he sees as his role in the side. "I love to play football, to create and start the action. I see myself as a deep-lying midfielder, in front of the defence, more than an attacking midfielder. "My biggest strengths? No one has ever given me anything for free, so with willpower and team spirit, I have achieved my goals.
"During a game, I like a vertical style of play so I try to move the ball forward quickly and provide assists for my team-mates. I would also say my calmness in possession is a big part of my game. I have weaknesses, though. I'm young and a bit small, physically speaking, so I'm building some muscle because sometimes I play against people twice my size. Offensively, I also could score more goals."
And speaking of scoring goals, nobody does that at PSG quite like Ibrahimovic. But what's he like to play with? "Feel free not to believe me, but we are starting to get used to the amazing goals he scores.
"Some of the plays you see him do during a match – they don't just happen. He works on everything. He has a co-ordination and creativity that very few players have. Even Ibra has got us used to his amazing goals!"
This probably explains why Ibrahimovic has bought into the cult of Zlatan, the larger-than-life public persona that combines über-confidence and self-parody. "Before winning the 2012/13 league title, we were getting ready to play against Lyon. Carlo Ancelotti was a bit tense, so Ibra approached him and asked him if he believed in Jesus. Ancelotti said yes, so Ibra told him: 'Good, so you believe in me. You can relax!' Zlatan is like this – he has a lot of self-confidence. This helps him to be a great player."
"A team like Italy cannot lose to Costa Rica"
At this point, Verratti is asked to begin getting ready for another shoot, this time modelling the new Italy kit. A perfect opportunity, it seems, to ask what went wrong at the World Cup for the Azzurri, despite Verratti being viewed as a rare bright spark. "For a team like Italy, to not go through the group stage is a failure.
"You can say many things, but maybe we weren't ready for it. We played very well against England [in what was Verratti's first competitive start for the Azzurri], then we lost against Costa Rica, so we found ourselves having to fight it out against Uruguay. If we were ready, we would have qualified for the next round without problems. With all due respect, a national team like Italy cannot lose to Costa Rica. That game affected our confidence."
Speaking of that game, what did Verratti make of Luis Suarez biting Giorgio Chiellini? "I didn't notice it from the bench," he says. "It was a game decided by the referee. We were one man down for no good reason [on the hour Claudio Marchisio was sent off, some say harshly]. If the referee saw the foul on Chiellini, then he should have given Suarez a red card. Referees can make mistakes – that happens."
Since that failure, injury has kept Verratti out of three of Italy's four Euro 2016 qualifiers, but new Azzurri manager Antonio Conte has raised concerns about the lack of young players coming through the system, something Verratti is well placed to address.
"We are a country that has always lived with great football and seen many great players grow," he says. "To see so many strangers in our league hurts, but it's also up to us guys to work more.
"Twenty years ago, young players had more will to break into a great team, while right now many think that they've made it, when that's not the case. If you're talented and you work hard, you play.
"I think it's a problem of players from my generation – players think they've arrived before they have." As hungry as ever despite two league titles in two years, complacency isn't a problem for this 22-year-old.
Italy international Marco Verratti wears PUMA's evoSPEED 1.3 football boots
Thank you for reading 5 articles this month* Join now for unlimited access
Enjoy your first month for just £1 / $1 / €1
*Read 5 free articles per month without a subscription
Join now for unlimited access
Try first month for just £1 / $1 / €1