What Brazil thinks of Neymar's move to PSG
Everyone's had their say on football's biggest-ever transfer – but what do the Seleção star's loyal subjects back home think of his record-shattering switch?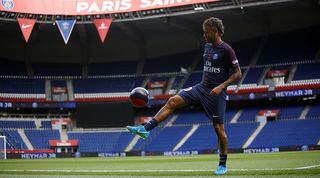 Of the many observations and jokes that did the rounds in the wake of Neymar's transfer to PSG last week, one stood out to followers of the Brazil national team.
Some wag had noted a correlation between the high-profile transfers of Brazilians to PSG and subsequent successes for the Seleção. In 1993, Raí moved to the French capital; a year later, Brazil won the World Cup. In 2001 it was Ronaldinho; 12 months on, he helped fire his country to glory in Japan and South Korea.
Then came a picture of Neymar and a portentous question mark.
It was a specious sequence, of course. PSG have signed 28 other Brazilians for a start, and there was no mention of Marquinhos or Lucas Moura, whose 2013 arrival clearly failed to have the desired causal effect the following summer. But there was nonetheless a kernel of a point, namely that the Parc des Princes has been a happy hunting ground for creative types in the past, occasionally to the benefit of Brazil.
Russia roulette
It is debatable whether moving to Ligue 1 at this stage in his career will improve Neymar's chances of shining at Russia 2018, but the possibility – rarely broached in the frenzied European reaction to his transfer – has at least had a good airing in his homeland.
"The important thing is to enjoy your football," Brazil coach Tite said. "I want him and those close to him to be happy. If he's happy, he'll do his job well."
Globo Esporte columnist Martin Fernandez was more explicit, invoking the freedom that any craque might reasonably expect to enjoy on any given weekend. "With the World Cup a year away," he wrote, "Neymar can now play in exactly the same way for his new club as he does for the Seleção: however he wants.
"He will be faced with a league that's a lot lighter than La Liga, where the referees were hostile towards him. He's surrounded by great players. He will feel affection on and off the pitch. Dani Alves is there, along with a colony of Brazilians. Neymar can cruise through the French league, fly in the Champions League and arrive at the World Cup in perfect shape."
Predictably, though, the coverage of the move hasn't been uniformly positive. As in the Spanish press, questions have been asked about the relative merits of PSG and Barça, and Neymar's putative desire to step out of Lionel Messi's shadow.
"I would never swap Barcelona, a global heavyweight, for a team that has no standing in Europe," seethed former Brazil forward Casagrande. "I don't think it's about the challenge: the challenge would have been to keep playing with Messi and be better than him.
"At the moment it's all a big party [with] friends; Daniel Alves, Thiago Silva. Everybody's happy. But his task is really difficult. The penny has to drop quickly because he's now playing for a team that wants to move up a level and the responsibility is all on him."
Economic angst
There has also been some harping (perhaps forgivable, given the economic crisis currently gripping Brazil) about the sheer scale of the transfer fee and Neymar's wages.
That line of attack was best exemplified on the front cover of Rio de Janeiro tabloid Meia Hora on August 3, which bore an image of Neymar with dollar signs superimposed upon his eyes. "In one night," read the headline, "Neymar will earn more than you do for six years of work."
The dissenting voices, however, have not been nearly as strident in Brazil as they have been in Europe, with many observers sympathetic to the forward's motivations.
O Globo's Carlos Eduardo Mansur called the transfer "a risky move" but suggested it was best understood as a realignment of career goals rather than in brute financial terms. "Neymar's decision to move to Paris shows that he has new ambitions in his career: to lead a project, to be the symbol of a club that intends to step up a level, to fight to be the best player in the world," he wrote.
"For idols like Neymar – a player bigger than PSG – the offer is more than just a lot of money. They are attracted by the opportunity of authorship, of the formation of a team in their image, with every movement geared to their specifications.
"It will be hard to get used to not seeing him in one of Europe's very best leagues. There is a gravitas that multiplies the value of each goal, each good bit of play at a club like Barcelona. But at PSG, there is almost a blank page, a history to construct."
Just like us
For others, like Antero Greco of O Estado de São Paulo, Neymar would be forgiven even if he was chasing the cash, football on this reading being no different to any other industry.
"We all have dreams of growing in our careers, of earning more, or having success or an easier life," Greco posted on his Facebook page. "That's normal. Neymar has been given that chance and is grabbing it. The difference is the money: because these are figures that most mortals will never see, the opinions and criticisms begin to appear.
"Did Neymar betray Barcelona when he was playing there? It didn't look like it. Did he dishonour the shirt, phone in his performances or become a bad professional? There has been nothing to discredit him like that. In other words, he was a good employee. Now he's going elsewhere, as we all do routinely in our own lives, anonymous or not."
LONG READ
Neymar – How boy became man... and the most expensive footballer of all time
Fernandez ended his robust defence of Neymar with an allusion to poetic justice, capturing the popular feeling that it's Barcelona, and not the departed Brazilian, who ought to be conducting a thorough post-mortem in the wake of last week's events.
"Neymar, his dad and his companies have the right to fill the coffers," Fernandez added. "It's curious that there is so much whinging in Catalonia, especially given the way Barcelona signed Neymar from Santos.
"It's always interesting to see the behaviour of those used to holding the chequebook when the chequebook – and the checkmate – is on the other side of the table."
Ouch.
Thank you for reading 5 articles this month* Join now for unlimited access
Enjoy your first month for just £1 / $1 / €1
*Read 5 free articles per month without a subscription
Join now for unlimited access
Try first month for just £1 / $1 / €1