What on earth has happened to James Rodríguez, then?
Once a World Cup golden boy and €80m player, the Colombian is struggling to get into Real Madrid's team for the matches that matter. Madrid-based Thore Haugstad looks at why…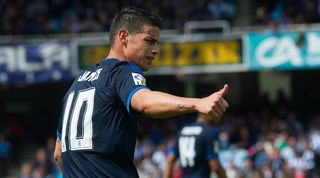 At Real Sociedad last Saturday, James Rodríguez delivered a display that seemed to summarise his troubled season so far. Within 20 minutes, he had lost a ball after 20 seconds, directed a simple crossfield pass straight out of touch and sliced a shot so badly that it had spun out for a throw.
Few were shocked when Zinédine Zidane swapped him for Isco on 73 minutes as Real Madrid chased the opening goal. Seven minutes later, they scored.
He was never a favourite under Rafa Benítez, but things have become even worse under Zidane. Reports are linking him away from the Santiago Bernabeu, and he has been benched for so many big games that Colombia legend Carlos Valderrama recently accused Zidane of not liking the 24-year-old.
"Carlo Ancelotti put him on and he played well, and then later with Benítez, but not with Zidane," Valderrama said. "So we do not understand what is happening with him."
Carlo required
So dark is the situation that it's worth recalling how good Rodríguez was under Ancelotti. Having arrived from Monaco for £63m after the 2014 World Cup, the left-footed playmaker recorded 13 goals and 13 assists in 29 league games.
Although Ancelotti initially used him in central midfield as part of a 4-3-3, the Italian later put him on the flank in a 4-4-2 that underpinned much of their 22-game winning run later that year. Particularly when Isco featured on the left and Rodríguez on the right, Madrid played with coherence and balance.
When Ancelotti was sacked in the summer, Rodríguez lost the tactical improvisator that had managed to shoehorn all the stars into a functional collective.
Benítez did not show that ability and, to make matters worse, the two got off to a bad start when Rodríguez joined the squad halfway through the pre-season tour to China and Australia.
The reason was to get some extra rest after the Copa América, but Benítez was apparently unimpressed. When Madrid kicked off their season at Sporting Gijón, Rodríguez was benched.
Their relationship still seemed repairable, however, and in the next game at home to Betis, Rodríguez scored a thunderous free-kick and a bicycle kick. But then a subsequent thigh injury sidelined him for seven weeks.
He did score on his return as a substitute in the 3-2 defeat at Sevilla, but looked easier to drop after starting in the 4-0 defeat to Barcelona, in which Benítez named a regrettably attacking line-up.
Speeding kills (seasons)
As Benítez came under increased pressure, media reports spoke of a falling-out. At that time, Rodríguez didn't help himself by getting caught speeding at 124mph in his Audi R8 on a Madrid motorway, before failing to stop when asked to do so by police.
By the time he reached the Valdebebas training complex, police had followed him for six kilometres.
Still, he could live with that as long as he got back into the team. But after Zidane replaced Benítez in early January, the Frenchman gave Isco the nod in his debut 5-0 win at home to Deportivo La Coruña. The Colombian didn't start until the fixture at Betis later that month, and while he did score, the result was only a 1-1 draw. He had also been accused of being out of shape.
Whatever was true of his professionalism, Zidane found it best not to use him. By early March, the coach – who favours a 4-3-3 – had come to appreciate the need for defensive solidity behind the extravagant 'BBC' forward trio, which led to ball-winning midfielder Casemiro featuring behind Luka Modrić and Toni Kroos. That excluded Isco and Rodríguez, but few fans complained when Madrid beat Barça 2-1 at the Camp Nou.
Benched for the big ones
Since then, Rodríguez has kept being overlooked for big games. He played no part at home to Wolfsburg or away to Manchester City, and when Zidane took off Kroos late on at the Etihad, it was Isco who got the call.
Starts were handed to him against Eibar and Getafe, but even though he scored against both, he returned to the substitutes' bench for games with Villarreal and Rayo Vallecano. That led Valderrama to make his comments.
Earlier that month, Rodríguez's dad, Wilson, had spoken about Ancelotti and Zidane. "They are two very different managers and the fact that he isn't playing at the moment doesn't mean anything," he told Marca. "But it's obvious that change of manager was bad for him."
Before Saturday's game at Real Sociedad, Diario AS noted that Rodríguez had played even less under Zidane than Benítez.
Before the managerial switch, he had featured in 56.5% of the minutes he could get; since then, the figure had dropped to 46%. That might be interlinked with his general statistics: he has seven goals and seven assists in 24 league games, which is nearly half as low as his tally from last season.
Some of this is clearly his own fault. The speeding incident was ill-advised and his form has clearly dropped. There was also an incident in the Champions League at Wolfsburg in which he was seen laughing while warming up on the touchline as Madrid were 2-0 down. "I'd like to avoid it," Zidane said later. "It's an episode that nobody likes, but we have to put it to one side... he has to learn from these things."
At the same time, some members of the Madrid press have acknowledged that the tactical setup has worked against him. The team need Casemiro, the BBC are undroppable, and Isco is there.
Besides, Madrid are playing well. They are one point off the league leaders, one game away from the Champions League final and have recorded 10 straight wins in La Liga.
Clearly, the situation could change in the summer. Right now, though, Rodríguez is giving Zidane no reason to change his mind.
Quizzes, features and footballing fun
Get the best features, fun and footballing frolics straight to your inbox every week.
Thank you for signing up to Four Four Two. You will receive a verification email shortly.
There was a problem. Please refresh the page and try again.