What's left for Fernando Torres? Out with a whimper or a fitting end for an Atletico legend?
Still loved and adored by the Rojiblancos' faithful, El Nino seemingly has four months left at the Vicente Calderon and will want to sign off in style with that elusive 100th goal, writes Lee Roden...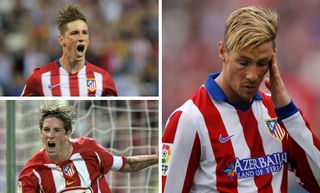 Atletico Madrid's €42 million sale of Jackson Martinez to Guangzhou Evergrande understandably dominated their January transfer business, yet one of the biggest developments at the Vicente Calderon wasn't what Atleti did in the market, but what they chose not to do.
Los Colchoneros decided against asking Milan to make Fernando Torres's move to the Spanish capital permanent, meaning that, as things stand, the former Liverpool and Chelsea man will return to Italy when his loan concludes at the end of the season.
With Atletico still susceptible to a transfer ban in the next window until their appeal is heard, they have effectively decided that the striker's future is uncertain enough to gamble on.
In truth, they have probably already decided that his future lies elsewhere. At least that's the line coming out of the club, with Diego Simeone having reportedly told the player that he doesn't consider him part of his long-term plans in the Spanish capital.
To understand the significance of that, it's important to grasp how big an Atletico icon Torres is. He's the only other person at the Calderon capable of rivalling Simeone in popularity and the supporters will always love him unconditionally, but his coach, who has more tangible variables to take into account, doesn't see him as being up to the high standards he requires these days.
That sets the stage for a sad end to El Niño's relationship with the red and white shirt – a far cry from what both parties expected when they reunited a year ago. There are still four months left for him to change the course of fate, though: so just what is left for Fernando to do in Madrid?
Get off 99
Convincing Simeone to change his mind may be beyond the forward's capabilities, but the way he could try to do that would still be of huge benefit for both him and his team. For starters, there is the fabled 100th goal to be scored, something that has eluded him since he last found the back of the net in September. Being stuck on 99 goals for months on end is an unfortunate but clear summary of the player's demise.
Hitting that benchmark is the minimum he needs to contribute if he wants his second chapter at Atletico to be remembered for more than just sentimental reasons. At the moment, his boyhood side are begging for goals, relying almost solely on Antoine Griezmann to win matches.
Finding that extra firepower could make or break their chances in both the league and Champions League, and Simeone knows it. It's for that reason, if you believe the Spanish press, that the coach launched an ambitious bid to bring Diego Costa back to Madrid in exchange for Martinez in January, before the Colombian was sent eastwards instead.
Does Torres have enough left to make one final push and solve part of the Rojiblancos' problem? If he does, it would go a long way towards finally earning his first piece of senior silverware for a club he joined way back in 1995. Understandably, that's on the player's mind.
On the day the January transfer window closed, he admitted that when he decided to return to Spain he specifically marked out the goal of winning with Atletico, adding that his most pressing plan for the immediate future is to "perform, score goals, and above all, win a trophy".
Shine on the big stage
A decisive contribution from the No.9 isn't as far-fetched as it may seem. One of the great contradictions of his second spell with Atleti is that, while he has only scored eight goals in 12 months, half of those came against the biggest teams. His first two goals after arriving on loan from Milan, for example, were scored at the Bernabeu, where his brace helped Atleti eliminate arch rivals Real Madrid from the Copa del Rey.
Nando nets against Real Madrid
Torres ran the opposition defence ragged that day, making Sergio Ramos and Pepe look like amateurs and finishing with a confidence and accuracy he hadn't shown for years. Two weeks later he delivered another impressive contribution against a top side, nutmegging Javier Mascherano then thumping the ball into the net from distance to open the scoring in the first minute of play against Barcelona.
Was El Niño back? Perhaps not yet, but he looked like he was getting there; three further goals between March and May, as well as a winning penalty in the Champions League, suggested there was cause for moderate optimism.
Shocking Barça at the Calderon
It proved to be a false dawn, however, and this season he has regressed to trying hard, but ultimately misfiring on most occasions. It is baffling to see how a player capable of producing the turn of pace and pinpoint accuracy he used to break the deadlock against Barça can then go on to shoot high, wide and horribly. There is clearly still some kind of talent in there, but it rears its head far too sporadically.
America calling?
Looking beyond his potential to make a short-term contribution to Atletico, Torres has other good reasons to try to prove he has something left. If he wants a dignified final few years in the game, an obvious next step would be MLS, but the U.S. league isn't going to altruistically hand him a spot for doing nothing.
Recent moves for younger players like Sebastian Giovinco and Javier Hernandez, both successful and otherwise, show a gradual step up in ambition when it comes to bringing new foreign talent to the country. If Torres has any desire to become one of the next bunch, he should take a leaf out of his old Spain partner David Villa's book, who proved that he was worth making a Designated Player and paying substantial wages to after an excellent final season in Europe with Atletico.
The fixtures remaining between now and the Champions League final will be huge in deciding the 31-year-old's future, be that at Atletico or elsewhere. It is hard to begrudge Torres a final chapter befitting of his earlier years in the Rojiblanco shirt. The hope is that he still has enough magic left to write it.
RECOMMENDED
Thank you for reading 5 articles this month* Join now for unlimited access
Enjoy your first month for just £1 / $1 / €1
*Read 5 free articles per month without a subscription
Join now for unlimited access
Try first month for just £1 / $1 / €1
Get FourFourTwo Newsletter
The best features, fun and footballing quizzes, straight to your inbox every week.