Why Antonio Conte is not to blame for the problems Chelsea are facing
The Blues boss is facing calls for his head, but Thore Haugstad argues that the Italian is a victim of his own success at Stamford Bridge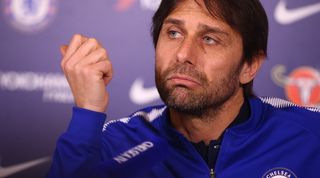 One of the biggest mistakes Antonio Conte made last year was winning the Premier League. Had he not, fewer would be calling for his head at a time when Chelsea sit two points off the top four with a game in hand.
In a way, the current season is the one Conte was meant to deliver a year ago. For a team that had finished 10th in 2015/16, the top four would have been a success. Perhaps unwisely, however, Conte hoisted Chelsea to the top immediately – in a season where luck, injuries and fixtures all fell in his favour.
Those conditions were never going to be repeated, which Conte knew and warned about as Chelsea uncorked the champagne. Now that the hangover is here, the title win portrays their form this season as a dramatic slump, instead of a regression towards the mean that always looked likely to happen.
Chelsea do have reasons to sack Conte, but results isn't one of them. Given his working conditions, he's actually doing pretty well.
Fixture shock
What can one reasonably expect of Chelsea this season? Demanding a title fight would be to ignore the advantages they had last year: no continental fixtures, less fatigue, fewer injuries. Throw in some luck and unsustainably efficient finishing, and you get a campaign that was essentially unrepeatable.
Two teams have enjoyed similar seasons in recent years. In 2014, Liverpool chased the title, unburdened by continental football. Knowing they needed a bigger squad for the Champions League, they signed players such as Adam Lallana, Dejan Lovren, Lazar Markovic, Mario Balotelli and Alberto Moreno. But an unsettled team fell to sixth and Brendan Rodgers soon got sacked.
Leicester won the title in 2016, a wild overachievement, with similar advantages. They too tried to widen the squad, signing Islam Slimani, Ahmed Musa, Wilfred Ndidi and Bartosz Kapustka. They hurtled towards the drop zone and Claudio Ranieri lost his job.
Chelsea have felt the same effects. They have made new recruitments and tried to prepare, but the shock of returning to a 'normal' schedule has proved tremendous.
From Sandro to Zappa
What might appear to make a Chelsea different case is that they have the means to build on their title win. For the other two, the 'freak' season did not portray their true squad depth and financial capacity. Liverpool's previous league finishes had been 7th, 8th, 6th, 7th; Leicester had barely survived.
Real title favourites would have splashed the cash on better players, and perhaps even kept the ones they lost: Luis Suarez and N'Golo Kante. But Liverpool and Leicester weren't and, without any special advantages, they returned to where they came from.
Yet are Chelsea really an exception here? It's been years since they were among the big spenders. As the Manchester clubs have opened their wallets, Roman Abramovich has tried to balance the books and spend smart. Chelsea last did so in 2014, when Diego Costa and Cesc Fabregas helped Jose Mourinho win the title, but the strategy is hard to sustain in such a brutal market.
That is what makes Conte's job so hard. The press has been full of names he would have liked. Chelsea seemed to chase Romelu Lukaku as a replacement for Costa, but then Manchester United came in, so they went for Alvaro Morata. Conte apparently wanted Arturo Vidal and Radja Nainggolan; he got Tiemoue Bakayoko and Danny Drinkwater. When Conte needed a wing-back, he identified Alex Sandro, then Alex Oxlade-Chamberlain. He ended up with Davide Zappacosta.
Talk about net spend
Even this January, Conte reportedly wanted Chelsea to revive the deals that had gone cold in summer: Alex Sandro, Alexis Sanchez and Virgil van Dijk. But the latter two went to Manchester United and Liverpool respectively, who offered wages and fees Chelsea have did not match. Conte instead got Emerson Palmieri, Olivier Giroud and Ross Barkley.
One can understand why Chelsea refuse to pay silly money, and want youngsters whose value can rise. Conte proposed some difficult deals. He could also have made better use of the club academy. Yet the coaches with whom he is expected to compete are rarely put in this situation. When Pep Guardiola and Jose Mourinho want a player, they usually get him. Conte has had to make do with second and third choices.
One argument is that Chelsea spent £230m in summer, but that ignores the sales of Costa, Nemanja Matic and others. The club's net spent under Conte has been about £70m, according to Transfermarkt, whereas City's have been £3.6 billion and United's £2.6 billion. As Gary Neville has said, Chelsea have stopped competing with their title rivals in the transfer market.
Best in London
All of this is why Conte should not be expected to fight for the title regularly, and certainly not in a season marred by injuries and squad upheaval. A realistic target would be the top four.
And that's where Chelsea have been for the majority of the season. Conte seems to be in crisis, fighting for his job, yet his team are two points outside of the top four with a game in hand. Win against 20th-placed West Brom and Chelsea will overtake Tottenham and sit only a point behind Liverpool. They're still in the FA Cup and the Champions League. At this horrible time when everything seems to be going wrong, Chelsea's season is still pretty much equal to that of any team in the country bar Manchester City.
Some will point to Chelsea's recent period, in which they won one in five league games, and lost 3-0 to Bournemouth and 4-1 to Watford. Yet fatigue tends to bite hard in winter, and any coach would struggle without a fit striker. Once players recover, you'd expect their form to improve.
According to many accounts, Chelsea will sack Antonio Conte anyway. They can refer to his complaints about transfers and his criticism of the board, and they'd be right; based on behaviour alone they could have fired him long ago.
The reason they haven't yet is perhaps that few coaches could do better with the same players under the same circumstances. In the league table, Conte has Chelsea more or less where they belong right now, even if their title win has made it look otherwise.
Quizzes, features and footballing fun
Get the best features, fun and footballing frolics straight to your inbox every week.
Thank you for signing up to Four Four Two. You will receive a verification email shortly.
There was a problem. Please refresh the page and try again.