Conte defends Chelsea's decision to take winter break this year
The Italian tactician insists his side are ahead of their time, Back of the Net reveals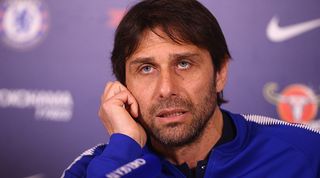 Antonio Conte has stood by his decision to make Chelsea the first Premier League side to take a winter break, despite the bold tactical move resulting in a 4-1 thrashing by Watford.
A number of foreign managers, including Pep Guardiola, have been vocal in their belief that English football should implement a winter break, but so far Conte is the only boss willing to take things a stage further.
Fans looked on in bemusement as the Italian repeatedly told his Chelsea players to sleep during the last 10 minutes of their game against Watford, and handed our water bottles filled with Ovaltine from the sidelines along with hot water bottles and copies of Roberto Bolano's dense crime novel 2666.
An increasingly irate Conte then began barking out lullabies and insisted that Gary Cahill curl up in the foetal position when defending a one-on-one.
"The Premier League may not be ready to call a winter break, but Chelsea Football Club has no intention of playing any football during January or February," Conte told FourFourTwo.
"We have to turn up to our fixtures, but I'll make damn sure my players cut lethargic and listless figures, stifling yawns and gradually losing interest in what's going on around them, while becoming steadily more hooked on events in the fictional city of Santa Teresa.
"Maybe we'll be 25 points behind the title pace and slipping down into mid-table, but my players will be so very rested – and isn't that the main thing?"
Squad support
Speaking from hammocks at Chelsea's training ground in Cobham, the players were fully supportive of their boss.
"I love football, but we have to do it loads and it's really cold," David Luiz told FourFourTwo. "Dad [Antonio Conte] lets us sit by a warm fire and eat fondue."
"I specifically joined Chelsea so I wouldn't have to play any football," Olivier Giroud explained.
"Plus I really want to know what happens to Benno von Archimbondi [in Robert Bolano's five-part masterwork 2666] who murdered all those women [in Robert Bolano's five-part masterwork 2666], and why the gaffer gave us this harrowing literary labyrinth."
Please note: This fictional story is not real. Incredible we have to say this, isn't it?
Quizzes, features and footballing fun
Get the best features, fun and footballing frolics straight to your inbox every week.
Thank you for signing up to Four Four Two. You will receive a verification email shortly.
There was a problem. Please refresh the page and try again.