Why Chelsea REALLY want to end Tottenham's title hopes on Monday
That's if they get the chance to, of course. There's a history of animosity between the clubs going back more than 50 years, explains Garry Hayes…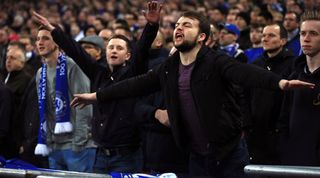 Who said Chelsea didn't have anything to play for this season? Guus Hiddink's men may well be out of the title race and the hunt for European qualification, but they can still play a big role in who finishes up as Premier League champions.
Indeed, win on Monday against bitter rivals Tottenham Hotspur and the Blues will gift-wrap the title for Leicester City if Claudio Ranieri's men haven't already beaten Manchester United.
That thought has sparked a social media frenzy, which Eden Hazard very kindly added to last weekend.
"The fans, the club, the players, we don't want Tottenham to win the Premier League," Hazard told the Match of the Day cameras. That his admission came with a grin just added to the furore.
Fifty years of hurt
But where does this dislike of Spurs come from? Why are Chelsea apparently so motivated to get one over on Mauricio Pochettino's men? As many Spurs fans have asked: what have they done to deserve this?
"This Tottenham-Chelsea thing came about in the sixties," Chelsea's official historian Rick Glanvill tells FFT.
"Firstly we lost a number of players to them – Jimmy Greaves, Terry Venables and Bobby Smith – and then mid-decade we seemed to just meet each other again and again. Players started to dislike each other, the supporters would get into fights a lot more and it reached a crescendo in the 1967 FA Cup Final. There were fights all over the place; it was absolute carnage."
It wasn't always that way. London derbies had been a fact of life for Chelsea since the early days of their existence. In fact, the first-ever game of its kind in the top flight was between the Blues and Arsenal at Stamford Bridge in November 1907, which Chelsea won 2-1 thanks to a George 'Gatling Gun' Hilsdon brace.
That sparked a rivalry with the Gunners that lasted right through to the 1960s, before Spurs became the focus.
"Older supporters I know still really dislike Arsenal more than any other club," Glanvill adds. "During the Second World War, the club had spotters on top of Stamford Bridge during matches to signal air raids. They always like to tell me that if they had seen a bomber, they would've redirected it over Highbury. Not White Hart Lane, Highbury! They were the big rivals."
Basement battle
On the back of Chelsea losing to Spurs in the 1967 FA Cup Final, the clubs' paths would cross at another vital stage in their respective histories.
After the swinging '60s, Chelsea and Spurs faced harsher times in the following decade. Come the end of the 1974/75 season, the pair faced each other in what has since been remembered as a relegation play-off at White Hart Lane.
In front of over 51,000 fans, Spurs won 2-0 and stayed up, while Chelsea dropped into the old Division Two.
Watching highlights from the game, some of the tackles show there was little love lost between the players. At one point, Spur's Alfie Conn even appears to use the international gesture for 'w**ker' after being clattered by Gary Locke.
"It's not true that Spurs relegated Chelsea that season, though," says Glanvill. "Chelsea drew their next two games [with Sheffield United and Everton] after losing to Spurs. Had they not done that, they would've had a good chance of staying up. More importantly, the fact Chelsea fans think that Spurs did relegate the club feeds into this feeling of inferiority toward them.
"Spurs won the Double in the '60s and then into the '80s had the likes of Glenn Hoddle. They had a bit of swagger with Gazza and others, so they were quite a glamorous team. Chelsea were a real yo-yo side during those periods and that feeling of inferiority grew. In more modern times, Chelsea have had to unlearn it all."
Changing fortunes
Glanvill's 'unlearning' refers to the dominance Chelsea have enjoyed over their London rivals that has seen Spurs go without a win at Stamford Bridge in any competition since Gary Lineker sealed a 2-1 victory there in February 1990. For context, that result pre-dates the inception of the Premier League. And speaking of goalscorers, Harry Kane wasn't even born.
Despite turning the tables and enjoying all this success, Chelsea fans continue to hold a grudge. Seldom does a game go by when they're not singing about John Terry winning the Double and how the club from the Lane has won "f**k all again".
Even when winning the Champions League in 2012 – undoubtedly the greatest achievement in Chelsea's history – that it came at the expense of Spurs qualifying for the competition the following season seemed of more importance.
"It was absolutely topped by the fact we ruined their season for the following year as we qualified and they didn't," CFCUK fanzine editor David Johnstone tells FFT. "Knocking them out of it was better than winning the European Cup."
Now as Spurs attempt to make a bit of history of their own, Chelsea stand in their way. It's a fact that's as remarkable as it is fitting given the rivalry. Chelsea have been out of the title race since before Halloween, yet here they are expected to play a big part in it and still having to face Leicester on the final day.
"When we beat Liverpool to dent their title hopes in 2014, it was brilliant," Johnstone continues.
"It was Liverpool's best chance to win the title that year and this is the same for Spurs. If they don't win things, this team will be broken up in a couple of years. Chelsea have the chance to inflict some damage.
"The two biggest clubs in London are Chelsea and Arsenal. We're both extremely happy to see Tottenham finishing below either one of us. I'd much prefer to see Arsenal above Tottenham as it'll upset their fans. I like anything that upsets Spurs supporters."
And there will be nothing quite like Chelsea killing their title dream at Stamford Bridge on Monday.
More features every day on FFT.com • More Chelsea • More Spurs
Quizzes, features and footballing fun
Get the best features, fun and footballing frolics straight to your inbox every week.
Thank you for signing up to Four Four Two. You will receive a verification email shortly.
There was a problem. Please refresh the page and try again.