Why derbies really matter to us – and always will
They're the games we pick out on fixtures day, and keep us engaged throughout entire seasons. But why do we really care that much? Paul Simpson explains…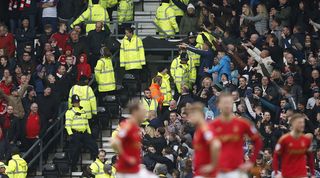 Derbies can do your head in – whether you're a fan, coach or a player. In Montevideo in October 1949, with a dominant Penarol leading local rivals Nacional 2-0 at half-time, the losing side flatly refused to come out for the second half.
Such cowardice remains unprecedented in the history of the longest-running derby outside the British Isles (the teams first met in 1900). Victorious Penarol fans gleefully dubbed it the 'Clasico de la Fuga' (the derby when they ran away). Alcides Ghiggia, the Penarol midfielder who would score the World Cup-winning goal in 1950, always felt the result was divinely blessed: "It rained constantly that day but no sooner did the referee award us the game than the sun came out."
Passion reigns
Derbies are like that – the alchemy of football. I still remember the joyful nostalgia with which my father, normally exceptionally level-headed, talked of the derbies he watched as a boy in the 1950s. Such was his passion, he might have been recalling Barcelona vs Real Madrid – or Arsenal v Spurs – but he was actually remembering Nuneaton Borough vs Bedworth United, two sides then languishing on adjacent rungs of the non-league ladder.
The emotive power of a derby can even astound professionals who are steeped in the game. In March 1992, the then-Celtic manager Liam Brady admitted: "I couldn't have imagined the intensity of feeling in this city… The shock of how big the thing [Celtic vs Rangers] is, of how everyday it is, is hard to overcome."
The majority view is that derbies are named after Lord Derby, a racehorse-owning aristocrat who gave his name to the first race at Epsom on May 4, 1780. For years, 'derby' was a catch-all term for an important sporting event. As contests between neighbouring teams were, by definition, important, they were known as 'local derbies'.
Over time, we dropped 'local'. The minority view is that the term derives from the Shrove Tuesday football game played in Ashbourne, which is not in Derby but is in Derbyshire. The world's oldest derby is usually said to be on Trentside: the first match between Nottingham Forest and Notts County, played on March 23, 1866, probably ended 0-0.
The moments that matter
Over 150 years later, derbies still matter deeply to us as fans, but they are marketed as media events with a remorseless, industrialised urgency designed to convince us that each forthcoming fixture will be as thrilling as the next episode of Game of Thrones.
Honed over decades, refined and amplified in an age of 24/7 sports broadcasting, the media marketing drive follows a familiar formula. To get our mouths watering, we are presented with a clip of some sublime – or history-making – skill. Think Lionel Messi weaving through Real Madrid's defence in the 2011 Champions League Semi-Final, or Wayne Rooney's overhead kick for Manchester United against Manchester City three months earlier.
Record-breaking victories and defeats are showcased. Milan's 6-0 defeat of Inter in 2001 still scars Nerazzurri fans. Such results are used to justify the joke that they only beat Milan when a Pope dies (an Italian phrase for 'very rarely indeed'). In fact, Inter have won 77 and lost 75. Yet the Rossoneri seem to win when it matters. The derby defeat that really did Inter fans' heads in was losing the 2003 Champions League Semi-Final on away goals at their own stadium, San Siro.
The Nerazzurri Ultras might be better off emulating the combative, reality-defying stance of Sir Alex Ferguson who, after United lost 6-1 to City in October 2011 at Old Trafford, growled: "We battered them for 40 minutes of that game. Absolutely battered them."
Any fan with a painted face is all but guaranteed screen time. Each derby's supporters are invariably the most passionate you can imagine – until the next derby. Although there is no objective, scientific method of quantifying passion, it's hard to see how anyone could outdo Boca Juniors fans who, in May 2015, were so inflamed by a third derby against River Plate in 11 days that they disrupted their Copa Libertadores clash by spraying four opposing players with a homemade spray of pepper and acid.
SEE ALSO Why Boca Juniors vs River Plate is the biggest derby in the world (opens in new tab)
The cliché that fans would rather win this match than a trophy is often invoked, although even in the cauldron that is Lazio vs Roma it may no longer be true. As John Foot notes in Calcio: "Many fans from both teams will say they prefer to win that game than the scudetto and some actually believe it."

Derby-dazed veterans are hauled into the studios to share their wisdom. Reflecting on Liverpool's 3-0 defeat to Everton in 2006, Jamie Carragher admitted being so desperate to play he lied about his fitness – and endured the worst humiliation of his career. "I had to put up with stick from Evertonians for six months," he said. "In the next derby, I kicked anything that moved."
Demi-gods... and pigs
Derbies create heroes as often as they make villains. Hearts' Scottish striker John Robertson will forever be known as the Hammer of Hibs after scoring 27 goals against them in the 1980s and 1990s. For Notts County fans, February 12 will always be Charlie Palmer Day, in honour of the defender who scored the late winner against Forest in their last league meeting on February 12, 1994.
Despite an indifferent record as Galatasaray coach, Graeme Souness remains a legend to fans for having the moxie to plant the club's flag in the centre of the Fenerbahce pitch after Cim Bom had won the 1996 Turkish Cup.
READ THIS Top 10 maddest-ever derby moments: Souey's flag, Jens' late show and furious Fergie (opens in new tab)
Arguably the most unlikely derby hero of all is Rex, the German police dog, idolised by the Borussia Dortmund faithful. In the September 1969 Ruhr derby, possibly incensed by Schalke's over-enthusiastic goal celebrations, Rex ran onto the pitch and bit Konigsblauen defender Friedrich Rausch. The victim recalled: "I turned around and saw a dog sink his teeth in my backside." After a half-time tetanus shot, he played on. Rausch still bears a 4cm-long scar.
Past incidents and controversies are rewound, retold and re-evaluated. The pageantry of the Manchester derby includes Roy Keane's brutal assault on Alf-Inge Haaland in 2001.
Before every derby d'Italia, Juventus vs Inter, the media recalls the penalty that wasn't given after a Juve foul on Ronaldo in April 1998 as both sides vied for the Scudetto. The incident inspired such fury in the Italian Parliament that right-wing MP Domenico Gramazio had to be physically restrained by ushers after trying to attack left-wing MP Massimo Mauro, a former Juventus player, who kept calling him a clown.
Similarly, no coverage of the Derby della Capitale is complete without reference to Paolo Di Canio's fascist salute after scoring for Lazio in 2007.
Luis Figo may have pipped Zidane to the Ballon d'Or in 2000 but, outside Portugal, he is in serious danger of being most famous as the bloke who had the head of a suckling pig thrown at him in November 2002, by Barça fans disgusted by his 'betrayal' in leaving them to join Real Madrid.
BIG INTERVIEW Luis Figo – "Barça weren't treating me properly – it was too late when they did, so I joined Real Madrid" (opens in new tab)
Us vs Them
The pig points to the enduring resonance of derbies. At heart, these rivalries are all about 'us' against 'them'. In a society where so many other loyalties have been compromised, derbies give us a rare, welcome opportunity to define our identity by uniting against a common enemy.
The distinction between 'us' and 'them' varies immensely. Rangers vs Celtic pits Protestant vs Catholic. Barcelona vs Real Madrid can be traced back at least as far as the tragic history of the Spanish Civil War. In Vienna, Austria and Rapid's rivalry was inspired by class.
In the 1920s, Austria were middle class. A professor or a doctor usually ran their team of intellectuals, students and merchants – and they perfected their football philosophy in cafes. When the club now known as Rapid Vienna was founded in 1898, it emphasised its political allegiance by calling itself the First Vienna Workers Soccer Club, only changing its name after governmental pressure.
In Tallinn, Flora vs Levadia is fuelled by nationalism. Flora fans, mostly Estonian and often quite right-wing, regard Levadia as a foreign club – it has traditionally featured many Russian players, is supported by the country's Russian minority and owned by Ukrainian businessman Viktor Levada.
Has the animosity deepened because Flora have 11 league titles and Levadia nine? Or is it just that Flora fans love to hate? They also sneer at Nömme Kalju for winning new fans with slick marketing campaigns. Kalju supporters call themselves the Pink Panthers and, at one encounter, Flora fans threw stuffed pink rats onto the pitch.
Some rivalries are truly mysterious. Liverpool vs Everton is intense but, to the chagrin of football hipsters everywhere, has no convincing ethnic, social, ideological or religious subtext. The north of the city is predominantly blue and the south red but, until the 1970s, many fans went to Anfield one week and Goodison Park the next. For better or worse, that would be unthinkable today.
Traditionally, Inter fans were deemed to be wealthier than working-class Rossoneri supporters yet research has found little social or – despite Silvio Berlusconi's ownership of Milan – political difference between both sets of fans. The Distance Derby, between Australia's Perth Glory and New Zealand's Wellington Phoenix, 3,270 miles away, started as a joke but turned serious when they vied for third in the A-League in 2011/12. (Glory won 3-2 and went on to become champions.)
READ THIS How Silvio Berlusconi's 30-year Milan reign has shaped modern football
Battle for authenticity
In some derbies, one club will seek moral superiority by claiming they are the city's real 'home team'. The once-Everton manager David Moyes memorably described the Toffees as "the people's club" and the same claim has been advanced, with varying degrees of credibility, on behalf of Manchester City, Sheffield United and Dundee.
While 'us' remains constant, 'them' can vary with the vagaries of fate and fortune. The Trentside derby is usually overlooked partly because Forest and County seldom play each other. Forest's ire is now aimed at Derby County, in a fixture infused by the ghost of their most famous former manager Brian Clough.
The fate of Germany's oldest derby, in Munich, is stranger still. Bayern first played 1860 in 1902 but today this rivalry survives mainly as a contest between their reserve sides in Germany's third and fourth tiers. Barely noticed outside Munich, these meetings still generate 11,000+ crowds at the legendary Gruenwalder Strasse ground in the heart of the city.
The rivalry between Ruch Chorzow and AKS Chorzow, so fierce in 1930s Poland that it was dubbed 'The Silesian holy war', is all but extinguished: the latter merged with another club in 1990 and has sunk into the seventh tier. Ruch Chorzow have filled the void, with the 'Great Silesian Derby' pitting themselves against Gornik Zabrze.
Tradition rules
The truth is we need derbies. Without getting too Desmond Morris about it all, they fulfil a useful emotional, psychological and social function. They also help us to ignore the inconvenient truth that a significant percentage of the games we watch our team play are, as a critic once said of TV, "chewing gum for the eyes".
In a society where so many of us leave home in search of love, money or decent weather, derbies reassure us that we have not lost touch with our roots. We reaffirm this connection with rituals – Roy Hattersley, the Sheffield Wednesday-supporting politician, knew one Owls fan who wouldn't eat bacon because the colours reminded him of United.
If you don't have a derby, you can always do what Adelaide United and Melbourne Victory did and invent one. The 'Cross-Border' derby, as it has become known, is infused by the fierce, historic antagonism between South Australia (the state United called home) and Victoria (where Victory play). Yet the rivalry only really ignited in 2006 when Adelaide's outspoken coach John Kosmina grabbed Melbourne skipper Kevin Muscat by the throat after the player had knocked Kosmina off his chair while trying to retrieve the ball.
The incident is immortalised by the award of a Kosmina-Muscat Cup to the best team in their league encounters. Player and coach apologised but Kosmina took a kind of rueful pride in the event, saying: "The game has history but it doesn't have enough tradition and we've really got to start to build some tradition.
"It would be great to come back here when I'm 80, if I live that long, and still shake hands with 'Muskie' and see someone trying to kick lumps off the other guy to win the trophy that night."
Thank you for reading 5 articles this month* Join now for unlimited access
Enjoy your first month for just £1 / $1 / €1
*Read 5 free articles per month without a subscription
Join now for unlimited access
Try first month for just £1 / $1 / €1