Why Kaka didn't join Manchester City in 2009 – in his own words: "The situation messed me up..."
By Kaka published
The Brazilian's proposed £100m move from Milan to nouveau-riche City was set to be one of the most sensational transfers ever – until it all fell through at the last minute. Here, the man himself reveals what really happened...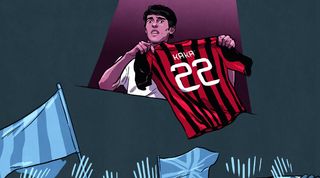 Illustration: David Buisan (opens in new tab)
I was sat at home when the telephone rang – I can still remember it clearly. It was my father and he seemed nervously excited. Then he told me a team in England, Manchester City, had made Milan a huge offer for me. Before I could even react, he added that Milan were prepared to accept the bid. I'd had absolutely no idea that Manchester City were interested in signing me until they'd actually made their official offer to Milan.
The process had been really different to how these things often work. City didn't talk to my father – who also acted as my agent – first. They'd gone straight to Milan and made their intention clear. Very clear in fact. They made Milan an offer for me, then sat back and asked, 'What do you think?'
Milan's directors then called my dad and explained to him what had happened. At that time, Milan weren't the kind of club you expected to sell its best players. Their philosophy was to sell only those who really wanted to leave the club, and I wasn't a player who really wanted to leave the club. However, when Adriano Galliani, the club's vice-chairman, spoke to my father, he told him: 'You know, for the first time, we are actually keen to do this deal – it is a huge amount of money and we will accept their offer.'
I didn't know what to think.
An offer from nowhere
I have always had a really close relationship with my father and we talk openly about pretty much everything. Together, we came to the conclusion that we should consider moving to England. We thought that if Milan were willing to negotiate with another club, something that was very rare, then we should seriously consider our options. It looked like a new, exciting challenge and a new chapter for me, but it had all come out of nowhere, and very quickly. Soon I started to feel confused and anxious. The situation messed me up.
I was quite agitated and emotionally shaken. I remember playing in a home game against Fiorentina at San Siro right in the middle of the negotiation period, and the whole situation being on my mind during the game. I couldn't focus at all and my performance on the pitch was bad because of that. I can remember the Milan supporters screaming at me, 'Don't sell yourself, Kaka. Don't sell yourself, Kaka.'
That was a really difficult match for me on an emotional level, and it summed up how much I was struggling throughout that period – it was anything but easy. The negotiations impacted a lot on my mood and my life as well. Which way should I go? Should I move abroad to Manchester and start an exciting new adventure in another country, or should I stay at Milan, the club I loved? It was more complicated because there were many different things to consider – so I reached out to a few people for advice.
In particular, I shared all of my thoughts and anxieties about this unexpected scenario with Galliani and Leonardo, who was Milan's technical director back then. They were the two guys at the club with whom I talked about it most.
Of course, my family was very important, as always, in supporting me and keeping me in the right frame of mind to make such a big choice. I talked about it with Caroline, who was my wife at the time. We discussed the subject over and over for days on end. My parents and brother also knew what was going on and they played a key role in me coming to my decision.
I can't deny that I hadn't expected to be living through this kind of situation. I was massively surprised by City's offer, especially as it had come during the January transfer window when it's far less common for big transfers to take place. If it had happened during the summer, when we have proper holidays and there's time for the finer details to be ironed out, perhaps it would have proved an easier thing to have dealt with and my choice would have been clearer. I would have had more time to think away from the club and the city – and, of course, it wouldn't have been happening right in the middle of the season.
But the bid came in January, and once we'd heard from Milan that they were happy with Manchester City's bid, my staff and I were free to negotiate the personal terms of the deal. We were very intrigued to hear exactly what this project was all about. My father travelled over to England to meet with City's manager, Mark Hughes, and some of the club's directors a few times.
Carlo Ancelotti was the manager of Milan. He was obviously aware of what was going on with me, but he never said anything that could be seen as an attempt to persuade me one way or the other. He never suggested I should stay or leave the club – he would just come and politely ask how I was feeling, whether things were going well and whether I needed any help or guidance – those kind of things.
Carlo showed he had the compassion and personality to not only help me deal with such emotions, but at the same time control the situation in order to ensure it wouldn't affect the team. In football, the team is always the priority – it has to be, and this is something I have always understood well and respected.
A settled family
It's important to make clear that I was feeling very settled in Italy back then. I was happy, completely happy, not only at the club but also in the city and the country. I had been there for nearly six years and I felt really at home in my surroundings. My time in Italy was great in every sense – on the football pitch and in my personal life.
I honestly wasn't thinking of going anywhere else. The club, the city, the country, its people – there wasn't a single problem with my life.
People will naturally read that and wonder: 'So why even consider moving to England?' The answer is simply because Milan accepted an offer for me. When that happens, it changes everything. If Milan had rejected that bid, it would have been the end of the matter. And if the club had released a statement saying something along the lines of: 'Kaka is not for sale. No money in the world would convince us to sell him,' then it would have been all over and there would be no room for speculation. I would never have stormed into the Milan boardroom to demand a transfer. I wouldn't even have politely asked them to let me go. No chance. I was fine. I was happy.
But if your own club is saying, 'Why not?' then your thinking starts to change. And that's exactly what happened with me. Hearing that Milan were prepared to sell me obviously made me contemplate my future there. Even if my relationship with the club and the fans had always been great, they were saying that I could go, weren't they? It was a pretty clear indication that perhaps my time there had come to an end. After six years, it's only natural for these things to happen.
The only thing I was sure about was that the timing of the situation was bad for all parties. For clubs, it's not the best time to sign or sell a player in January. For a player, it's also far from ideal changing clubs then, especially in this fashion – moving to a very different league in another country with a new language and culture. Being part of an ambitious project that the whole football world was talking about was intriguing, but it wasn't ideal in January.
I can't say I knew too much about Manchester City at that time, to be honest. I only really knew the basic information about the club. I was aware of Sheikh Mansour's takeover of the club and had been told of his intentions to re-build the entire team and buy the best players in the world. A few months earlier they had bought Robinho. From that point, I obviously knew City were becoming a big club in England and I watched several of their games on TV.
At that stage, Manchester City were not the Manchester City we all know today. They were still at the beginning of this journey towards becoming one of the best and most powerful clubs in world football. The project of building a squad capable of fighting for the big trophies both in England and in Europe had yet to fully develop. I was one of the first players they wanted to sign in order to establish their name. From my own perspective, it was something I considered particularly flattering, but I was still very uncertain.
Those discussions with City were crucial because we were keen to understand the exact details of their offer, and we wanted to make sure all of the details of this special project were clear to everyone. How exactly were they intending to put their very ambitious plan of becoming one of the world's best football clubs into action? Who else was taking part in the project? Which other players were interested in joining the squad? What were the short- and long-term targets?
The negotiations between City and I went very far indeed. It came to the point where all of the numbers and the finer details had been discussed. The offer was on the table. The only thing separating City and I was my final word. The wages I had been offered were much, much higher than what I was earning with Milan. In moments like those, you begin to picture how your future will look. It's only natural.
I found myself wondering what my life playing in England would be like, what my routine at this new club would be, how difficult it would be for my kids and my wife to move home. All of these thoughts were swirling around inside my head. I prayed many times during this period. Praying has always been something that has helped me find the right balance in my life. And, most importantly, find peace in my decisions.
In the final stages of the negotiations, my phone rang. Once again I was at home in Milan and, again, it was my father on the other end of the line. He was in yet another meeting with City's representatives.
At the same time, just outside of my window, there were hundreds of Milan supporters gathered in the street near my building. They realised it was time for the last ruling and they had come to tell me it was also a massive decision for them as well. It was just one of several displays of affection they showed me throughout the negotiation period with City.
Milan's fans loved me. They still love me, and it's mutual as I love them very much. I can't honestly say that if they hadn't been there in front of my apartment that my decision would have been any different, but it was still such an incredible feeling to witness the depth of their affection at that particular moment. It was nice to understand how much they cared about me and how much they wanted to continue our adventure together. They played a big part, they helped me. The fans were everywhere in the street, singing. I was on the phone with my dad. He explained to me the final breakdown of the contract that City were offering me. That was it. 'There's nowhere to run any more,' he said. 'It's up to you now.'
'Dad,' I said firmly. 'You can tell them that I'm not going for now. Tell them we'll see what happens in the future. My decision is to stay with Milan. That's my final call.'I'd finally come to the conclusion that it wasn't quite the right time for me to go to City, and the main reason was the uncertainty over the squad-building process that they were about to undertake. It wasn't clear to me how the squad would be reshaped and I wasn't too convinced it would work.
Nowadays, Manchester City is a much more solid club, so it would be an easier decision if I had to make it today. Anyone who receives an offer from them now won't suffer from the same headaches that I experienced nearly a decade ago. To put it simply, if my negotiations with them had taken place this year, my decision would have been very different, that's for sure.
Unfortunately, things were different back then. I was being asked to swap one of the most historical and successful clubs in Europe for a team who were only at the beginning of a completely new project, where I was supposed to be the first big player. Looking back, it was safer to stay at Milan, one of the leading clubs in Europe and a club regularly competing to win the Champions League – a place where I had become one of the key figures and was very much respected.
People always ask me about that famous scene where I leant out of the window of my home, happily waving my Milan shirt for all of the supporters down below to see. This was something I decided to do instinctively. It was a reaction to everything that had happened – to the confusion and pressure which I had suffered. After telling my father that I wasn't going anywhere, the next step was making Milan aware of my final decision.
The club, through its press officers, immediately made an official statement. Media outlets soon began running the story, and it wasn't long before the news reached the crowd gathered at the ground floor of my building. I could hear the fans celebrating, screaming and singing. I took my Milan shirt and joined the supporters in celebrating. They sang and danced for ages – there were even flares and smoke bombs. It was a wild celebration and I'd never seen anything quite like it.
Half an hour later, Leonardo arrived at my house. We spent the rest of the evening chatting about the process and my decision.
I don't regret my decision at all. Obviously everybody gets decisions wrong, but some people will spend an eternity discussing a decision without ever coming to a conclusion on whether to do one thing or the other. I'm pleased with the way my life and career have panned out since that moment.
I'm happy with the person I am now – both professionally and personally – and my decisions in life have helped to shape the person I am. I'm proud of what I've learned in Italy, in Spain and in America at Orlando City, as well as the other chapters in my life. Every moment was important to me ending up where I am today.
When I finally left Milan a few months later, I went to Real Madrid to make my dream come true. That was one thing that had always been quite clear in my head: if I had to go to another club after Milan, it would be Real Madrid. But life has its own ways and at that moment the offer came from Manchester City. I guess my decision to deny City's offer is proof that the money was never a priority in my decisions.
SEE ALSO
ACTION REPLAY Remembering Derby's 2007/08: the Premier League's worst ever season, told by the men who were there
FEATURE Why do so many footballers end up broke? FourFourTwo investigates...
After saying no to City, I knew other offers would come in June and July. Milan had opened the door to a move and I started considering it, too. I had it clear in my head that if Real Madrid showed any interest in me the following summer, I would love to play for them.
Looking back, I have no doubt that playing in the Premier League would have been a fantastic experience. I'm 35 years old now and it's easy to say at this moment. I already know what has happened in my career and the consequences of my choices. Saying it doesn't mean I regret any decision. Not at all. I'm proud of my career, but if I could have planned everything I would have considered playing in English football at some point.
You have to be calm and find peace in your decisions. And, at that moment, I found the peace in saying no to Manchester City. 'I don't want to go, but thank you.'
This feature originally appeared in the November 2017 issue of FourFourTwo. Subscribe! (opens in new tab)
Thank you for reading 5 articles this month* Join now for unlimited access
Enjoy your first month for just £1 / $1 / €1
*Read 5 free articles per month without a subscription
Join now for unlimited access
Try first month for just £1 / $1 / €1
Quizzes, features and footballing fun
Get the best features, fun and footballing frolics straight to your inbox every week.
Thank you for signing up to Four Four Two. You will receive a verification email shortly.
There was a problem. Please refresh the page and try again.