Why Mark Noble's new role has been crucial to West Ham's turnaround
Manuel Pellegrini endured a wretched start, but the manager altering his midfield – and his captain's responsibilities – has had a big impact, writes Daniel Storey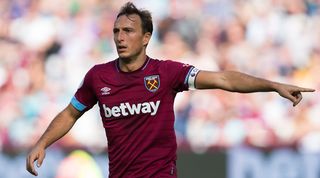 For Manuel Pellegrini, September's international break came at the perfect time. The importance of momentum is well established, if unquantifiable, but it's not always pretty. West Ham were on a downward spiral, in danger of falling once again into civil war. Sometimes you just need a little respite.
Had West Ham's fixtures continued at the same frequency without pause, Pellegrini may well already be out of a job. His team were wretched in their opening four matches, beaten in every one. The nadir came against Wolves, a late goal conceded as supporters were already streaming out of the London Stadium grumbling about a 0-0 draw.
Because this is 2018, Pellegrini's employment was called into serious question even then. West Ham's long-term appointment – the new manager had been able to select his own sporting director and thus had control over the summer transfers – had managed to last four weeks of the season before short-termism set in. Too good to go down, or too bad to stay up?
Break and repair
Pellegrini's strategy was to give the members of his squad not involved in internationals an extended three-day break, but tell them to come back to training ready to work on a plan that would arrest the club's slump and save his own skin. Those players reporting for training included all of the club's central midfielders: Jack Wilshere, Pedro Obiang, Carlos Sanchez, Declan Rice and Mark Noble.
Pellegrini's tactical plan centred on West Ham's midfield shape, and involved him ripping up his own claret-and-blueprint. In their first four matches, Pellegrini played a 4-2-3-1 with three attacking midfielders and West Ham were overrun in central midfield. Whichever combination was selected – Noble and Rice, Noble and Wilshere, Sanchez and Wilshere – contained insufficient steel. Pellegrini's side were picked off the counterattack by Liverpool, Bournemouth, Arsenal and Wolves.
By changing to a three-man central midfield (4-3-2-1 or 4-1-4-1), Pellegrini has accepted that his desire for attacking, attractive football relies upon West Ham first winning the midfield battle; there are no shortcuts. Expecting this team to stream forward at will and be successful is naive.
Instead, West Ham must soak up pressure and then counter at pace. The club's attacking weapons – Felipe Anderson, Andriy Yarmolenko, Michail Antonio, Marko Arnautovic – are all well suited to the tactic.
Finally, West Ham have a plan. Rice has been used as the defensive screen, and offered plenty enough evidence to suggest that he has a bright Premier League and international future ahead of him. Obiang has roamed around midfield like a lite version of N'Golo Kante, aiming to win possession in the opposition half and tucking in when required.
Noble effort
Yet the biggest change has come in captain Noble, whose first-team place was reportedly under threat in August when Pellegrini claimed that Wilshere could be West Ham's Andrea Pirlo. If that seemed faintly comical, the suggestion that Noble could carry out a similar role would have brought hearty laughter.
Being alleviated of responsibility is not a usual experience for Noble at West Ham. He is perhaps the Premier League's most obvious throwback midfielder, a one-club terrier notorious for his blood and thunder. When Noble is sweating, so the theory went, things were going well.
Yet it hasn't worked. Noble's form has declined badly over the last two years. A player renowned for doing everything is a short step from a jack of all trades but master of none, and Noble crossed that line. The 'Noble for England' calls from West Ham supporters became the albatross around his neck, eventually used more as a punchline than a plaudit.
However with Obiang tackling and Rice protecting, Noble's midfield responsibilities are diminished. Despite his passionate, fist-pumping demeanour, Noble is actually a better passer than a tackler. But playing in a two-man midfield where he was expected to break up play and act as the protection for an often floundering central defence, Noble would too often simply pass the ball sideways.
Licence to kill on the counter
In a three and with this newfound freedom, Noble is given licence to start counterattacks with probing forward passes rather than playing the ball safe and catching his breath. Against Manchester United, he completed seven passes to Arnautovic.
During the 3-1 win over Everton that kickstarted West Ham's season, no player received more passes from Noble than winger Yarmolenko. The players to receive the most passes from him in his first two games: Fabian Balbuena (centre-back) and Arthur Masuaku (left-back). A telling difference.
If Pellegrini's solution has given Noble's form a jolt in the right direction, it also indicates just how crucial a manager's tactics can be to a player's output. Last season, David Moyes revitalised Arnautovic by converting him into a central striker. Sometimes we are too quick to pin the blame on the player. Noble has played under eight different managers, each one tweaking his role and sometimes shifting it entirely. That must be suffocating.
Just as it was hasty to decry Pellegrini as unfit for West Ham purpose after four matches, so too would it be hasty to re-anoint Noble as West Ham's king. Wilshere's injury made Pellegrini's team selection simple, but four into three do not go. In this new forward passing role, Noble is more similar to West Ham's high-profile summer signing than he might care to admit.
But for now, Noble should enjoy the sunshine after the rain. A central midfielder who was drowning, surrounded by incompetence and tarred by the same brush, has a new role and a new start at West Ham. Just don't call him Andrea Pirlo yet.
Quizzes, features and footballing fun
Get the best features, fun and footballing frolics straight to your inbox every week.
Thank you for signing up to Four Four Two. You will receive a verification email shortly.
There was a problem. Please refresh the page and try again.