Why Rodgers is struggling – and where it has gone wrong for Liverpool
Rory Smith explains why it's fair to question the Liverpool boss – but not to question his immediate future at the club...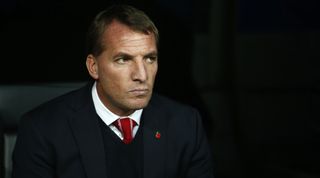 Brendan Rodgers said what any manager would say in the circumstances. He does a fine line in parables, the Liverpool manager; statements that verge on the mystic, all delivered in that very deliberate, meaningful whisper of his.
This time, though, there was no opportunity to talk about building an aircraft while flying, or training dogs, or living without hope. This time, he had no choice.
The printer ink was barely dry on the bizarre, mocked-up image of Luis Suarez in blaugrana that Barcelona released to celebrate the Uruguayan's £75 million arrival in Catalonia.
Liverpool were reeling from the loss of their shining light. So Rodgers had to offer encouragement. "If there is one thing history teaches us," he said, "it is that Liverpool is bigger than any individual." Five months on, Rodgers has been proved right. Liverpool is bigger than one individual. Just not in the sense he meant.
An easy game?
Football craves simplicity. It is a sport that is not only written in headlines, but thinks in them, too. Bill Shankly's famous axiom encapsulates the perception that unnecessary complexity is the root of all problems.
"Football," the former Liverpool manager said, "is a simple game, complicated by idiots." Keep things straightforward, in other words, and you won't go far wrong.
This attitude infests every aspect of the game. If a team is toiling for form, managers are urged to drop this player or that player – a surly Italian striker, for example – or to simplify their system. Get it down, get it wide, get it in the box. Keep it simple.
If none of that works, chairmen have their own universal, catch-all solution available. Sack the manager. Get rid of that one man, the one obstacle to your otherwise unfettered success, and all will surely be well.
It is a comforting belief – that you are only one step away from solving your problem – but the solace it offers is a false one. Problems tend to be more intractable, more tangled, more Gordian than they first appear. Liverpool's season so far is a case in point.
As Rodgers' side have stumbled from one setback to another, various issues have been identified as the source of their struggles. There has been – in no particular order - the loss of Suarez, the injury to Daniel Sturridge, Simon Mignolet's feet of clay, a porous defence, an ageing Steven Gerrard, a recruitment policy too focused on tomorrow, and not on today, and, of course, the many and varied facets of Mario Balotelli.
All have, at one point or another in the last three months, as Liverpool have stumbled from setback to setback, been presented as the unique problem Rodgers must solve before Liverpool are themselves again.
It is an appealing way to see the world. It is appealing to fans because it offers them hope. It is appealing to journalists because it is easy to write about. And it is appealing to Rodgers because it must make the challenge he has in front of him seem more manageable, less daunting.
Rodgers and the rest
And yet it is all false; all of it. Liverpool's failings this season, so far, do not have a single cause and they do not have a single solution. They are not easy to summarise, to codify. There are many strands behind what has happened at Anfield, and they are all entwined. And that is why Rodgers was right. Liverpool, this Liverpool, do seem to be bigger than one individual: him.
That applies in two senses. The first is that Liverpool are bigger than Rodgers and that, as such, blame for the current malaise must be apportioned appropriately. The issues at play are not uniquely his fault, which is what makes the bubbling undercurrent of discontent among supporters on social media so misdirected.
He has not been helped by an array of mitigating factors that explain – or excuse, depending on how sympathetic you are – the contrast between this season and last: the loss not just of Suarez but of Sturridge, too, the impact of the World Cup and an abbreviated summer on the likes of Raheem Sterling, the fact this is a club and a squad unaccustomed to competing on the twin fronts of Premier and Champions League.
But it must be remembered that because Liverpool is a modern club, not a relic of the 1950s, the manager is not omnipotent at Anfield.
Rodgers did not decree that the transfer policy should focus, pretty much exclusively, on younger players, or those undervalued in the market. He did not – or, to be certain, he alone did not – decide to spend the money received for Suarez on a clutch of players, replacing the aggregate rather than the individual.
Some of the responsibility for what looks a flawed process must go to the club's owners, Fenway Sports Group, and the individuals they have appointed to help them recruit players.
Not simply because their decision to buy in bulk always looked likely to exacerbate an existing issue: Liverpool were always going to have to get used to the demands of competing on two fronts this season, with the absence of training time that ensures. Trying to help eight new players bed in under those circumstances was simply adding an extra problem.
"Nobody comes out with great credit"
Of course, had they bought better, that task might have been substantially easier. As it is, there must be a question mark over the work of the club's transfer committee: not the fact that it exists, which seems to offend so many traditionalists, but the work that it has done.
Rodgers has spent more than £213 million since taking charge at Anfield. He, and the transfer committee, have signed 22 players. Though the eight brought in this summer must be afforded more time before they are judged, only two – Sturridge and Philippe Coutinho – of the previous 14 can be considered undoubted successes. Rodgers initially opposed the signing of both players, but with a hit rate like that, nobody involved comes out with great credit.
There is a second sense in which Liverpool appear to be bigger than Rodgers, and it is one that only he can fix. This is the first season in which his credentials to possess the job he has are under intense scrutiny. He had an almost free pass in his first campaign, and his second was a resounding success, the sort of season where pretty much everything went right, where his job was to let his players go out and do their stuff.
Now, though, Rodgers has to manage. He has to work out what is wrong with his side, find a way to fix it, and do it all as disgruntlement grows in the background.
So far, he has failed to do that. Make no mistake: responsibility for the defensive lapses rests squarely on his shoulders. So, too, his inability to finesse Balotelli into his system.
There has been something vaguely ham-fisted about the way he has handled the Italian, occasionally defending him, occasionally only appearing to do so.
His handling of Sterling has been strange, asking him to play 120 minutes of a Capital One Cup tie at a time when the Liverpool manager seemed to be aware that the youngster was tired; he has sidelined Mamadou Sakho, too, and seems to have given up on Rickie Lambert almost before he arrived.
It will be decided on Saturday whether his decision to rest so many senior players in Madrid was justified, but lose to Chelsea and it would add a little more weight to the argument that the problems – an admittedly complicated set – he has this season are beyond his reach, his solution.
That is not to say he is destined to fail. It is not to say the job is too big for him, or that he cannot turn it around. It is not, most certainly not, to indulge in that great fallacy that getting rid of one man would solve everything. But football, just occasionally, is a complicated game run by people with a taste for the simple. Rodgers must prove Liverpool is not bigger than him, or he could find that there is only one easy solution.
Quizzes, features and footballing fun
Get the best features, fun and footballing frolics straight to your inbox every week.
Thank you for signing up to Four Four Two. You will receive a verification email shortly.
There was a problem. Please refresh the page and try again.