Why Vichai Srivaddhanaprabha was so much more than a club owner to the city of Leicester
Football was just part of the appeal with a man who became an honorary citizen of the city he helped bring so much joy to, writes Foxes supporter David Bevan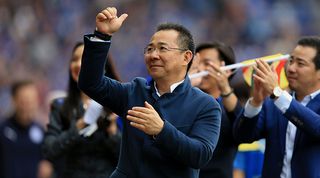 On Sunday, October 28, 2018, tens of thousands gathered on Belgrave Road in Leicester to see the city's annual Diwali lights switch-on and fireworks display. Leicester hosts the largest celebration of Diwali outside of India, but there was a sombre note to proceedings as a tribute to Leicester City owner Vichai Srivaddhanaprabha was read to the crowd. Twenty-four hours had passed since Vichai's helicopter crashed at the King Power Stadium and the city still awaited further news.
It had been an unsettling day for supporters. We were still coming to terms with what had happened. At first, the pictures didn't seem real. We refreshed our social media feeds for news, some still holding out hope for a miracle but most resigned to the horrible reality that we were preparing to mourn someone who had given us so much.
The news came later on Sunday night. Vichai had died in the accident along with two of his staff, Kaveporn Punpare and Nursara Suknamai, plus pilot Eric Swaffer, and his partner Izabela Roza Lechowicz.
Changed forever
Vichai's influence on Leicester City Football Club was enormous. He bought our football club which, even as a devoted lifelong fan, I can admit was unremarkable in many ways, and helped to make it a name known across the world.
We will always be known now. He helped us to experience things we could never have imagined: the greatest escape in 2015, the Premier League title in 2016, a Champions League quarter-final in 2017. Many of these occasions went beyond our wildest dreams.
Leicester City became a name we would see in all corners of the globe. Among the crowd gathered on a chilly Sunday night on Belgrave Road for Diwali, there were numerous children wearing Foxes hats and scarves. But it wasn't always like this.
In a landscape dominated by the biggest and richest clubs, Vichai's influence helped turn Leicester into an attractive proposition for top-class players and young supporters alike. When he took over, we were one of several Championship clubs whose fans felt we belonged in the top flight. That was easier said than done. We suffered setbacks at first, and even getting to the Premier League felt an almost impossible task.
Vichai was not a typical football club owner. He has always felt to me like a custodian; someone who was taking care of our club, which Leicester fans have always appreciated and have never taken for granted. For eight years, we haven't had any of the anxieties about our club's ownership that so many fans of other teams endure. We haven't had to worry where the club is headed. We have enjoyed success and stability.
Foxes family
In the tributes paid by players and supporters following confirmation of Vichai's death, one word appeared time and again: family. This was clearly Vichai's pride and priority.
He entrusted key business positions to his sons and daughters. He was proud to lead laps of honour, alongside his family, when the club achieved success. He also created an atmosphere in the club which made players feel part of something special, and his manner and generosity made fans feel part of it too.
We felt true warmth towards Vichai and his family from their very early days in charge. They have been mindful of the club's traditions, and the introduction of their own customs and culture have been treated with the same respect by Leicester supporters. As one of the most multicultural cities in Britain, Leicester is a place of tolerance and respect, which has certainly contributed to the strong bond between owners and fans.
NEWS "You literally made my dreams come true" - Schmeichel's emotional letter to late chairman in full (opens in new tab)
Vichai kept a sensible distance for the most part, but he revelled in the success that he helped to create. On our Champions League adventures in Europe, there were numerous pictures of Vichai with Leicester fans – all wearing wide smiles. This wasn't someone we ever called to stand down. He was someone we were proud to stand alongside.
Vichai will always be synonymous with the club's Premier League title win in 2016. Yet, despite the enormous wealth at his disposal, that title wasn't earned through pouring money into the club. It was a staggering achievement earned through hard work, skill and a series of brilliant decisions on and off the pitch. Vichai remained sensible and responsible with his spending. When we spent big, it was because we had earned it on the pitch.
Before and after
That year felt like a line in the sand for Leicester fans. There was a pre-2016 world and a post-2016 world. We know we will never reach such heights again but we will be eternally grateful for such a wonderful experience. Everyone connected with Leicester City Football Club – staff, players, supporters – who lived through that year felt something special. Like all of us who care deeply about the club, Vichai felt it too and his calm, confident leadership helped to bind us all together.
Football was just a part of it. What really set Vichai apart was his contribution to the city of Leicester. His £2 million donation to the city's hospital struck a real chord with fans, and it was a special moment to see him awarded an honorary doctorate by the university. He was, in effect, an honorary citizen of Leicester who forged a connection with the place and its people through his generosity.
This tragedy will affect Leicester as a city, not just a football club, for a long time to come – especially for this to happen so close to the place we call home. I've seen a lot of friends and acquaintances struggle to comprehend the news and the pictures we saw.
As fans, we're still coming to terms with it all because of the effect Vichai had on us and our club. My heart goes out to his family, and the families of all those affected. We have become used to seeing Vichai and his son, Top, with beaming smiles at the King Power after a victory. It really makes me sad beyond words to think they have been separated in this way.
One thing I can assure the Srivaddhanaprabha family on behalf of Leicester City supporters everywhere: we will remember Vichai with the same warmth and grace that he afforded us.
NOW READ FourFourTwo's 50 Best Football Managers in the World 2018 (opens in new tab)
Thank you for reading 5 articles this month* Join now for unlimited access
Enjoy your first month for just £1 / $1 / €1
*Read 5 free articles per month without a subscription
Join now for unlimited access
Try first month for just £1 / $1 / €1