World Cup icons: Geoff Hurst takes the opportunity of a lifetime (1966)
England's enduring triumph might have been different had it not been for an untimely injury to Jimmy Greaves. Steve Morgan remembers Ramsey's immortals of '66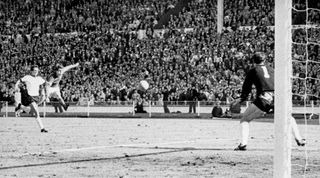 "No one could imagine Jimmy Greaves not playing."
So wrote Geoff Hurst of his friend and fellow England striker, reflecting on the selection dilemma facing Alf Ramsey ahead of the 1966 World Cup Final. "No one admired him more than I did. But to be honest, I wasn't going around saying, 'Poor Jimmy'. I was thinking to myself, 'Thank God I've got this chance'."
The inescapable truth – one which lends sport such captivating poignancy – is that for every winner there is a loser; every fairytale strut on the grand stage masks a what-might-have-been weep in the wings. Has any footballer grabbed an opportunity with greater aplomb than Hurst, the man whose Wembley hat-trick in the final against West Germany made good on Ramsey's winning pledge?
Hurst's entrance, for the quarter-final showdown with Argentina, was only his sixth international appearance. He had watched the group stage from the bench before replacing the stricken Greaves, injured in the third game, against France. Although he had been banging in the goals freely at club level – inspiring West Ham United to FA Cup and Cup Winners' Cup success over the previous two campaigns – the 24-year-old was by no means a shoo-in to keep his place, even after scoring the only goal in the ill-tempered last-eight tie with Argentina.
But the goal that propelled England to a semi-final meeting with Eusebio's Portugal changed everything in Ramsey's ever-whirring perception.
Straight off the Hammers' Chadwell Heath training ground, Martin Peters' perfectly weighted cross was met at the near post by Hurst's glancing header. The image is beautifully frozen on camera, Hurst's gaze tracing the ball's path as it arcs over the Argentine goalkeeper. "I knew where it would go," he recalled. "I was running to meet it before the defence could react."
Ironically, given the handwringing that had followed England's 6-3 Wembley savaging by Hungary 13 years earlier, this was a move that the innovative West Ham gaffer – and future Three Lions manager – Ron Greenwood had half-inched off the Mighty Magyars. And it was also Greenwood who'd painstakingly converted Hurst from a left-half into the muscular, combative striker who, despite his relative greenhorn status, had become a serious contender for Greaves's starting place alongside Roger Hunt. Full-back George Cohen noted that Hurst was the perfect foil for Hunt.
"[Roger] was a terrific, marvellous player, and terribly brave in those days when defenders didn't think twice about kicking forwards from behind," he explained. "When Geoff came in it worked beautifully – they worked off each other. Two strong boys, bloody effective."
Wingless Wonders
Ramsey had options: revert to the 4-3-3 with which he had begun the tournament, or proceed with the 4-4-2 'wingless wonders': Hurst and Hunt in front of Alan Ball and Peters, right and left respectively, with Nobby Stiles to sit and snarl in front of the backline and Bobby Charlton as the playmaker. Hurst duly retained his place for the 2-1 semi-final victory over Portugal – then the tournament favourites – and put in another solid performance, laying the ball off for Bobby Charlton's Howitzer of a second.
With Greaves restored to full health, the sweat was on as the clock ticked round to the eve of the game. "I remember wondering for two or three days whether I would be picked for the final," Hurst wrote in 1966 and All That. "Jimmy was fit again, and having scored 43 goals in 54 matches for England had every right to expect a recall. I think most of my most team-mates that day thought I was the one most likely to be left out."
The rest, as we know, is history. Hurst got the nod ahead of Greaves. With England behind after 12 minutes, another West Ham move led to the equaliser. Captain Bobby Moore, instinctively knowing where his club-mate would be, took a quick free-kick, finding Hurst with pinpoint accuracy to nod past Hans Tilkowski. With Germany playing only one genuine central defender – full-back Horst-Dieter Hottges had to mark Hurst – the forward was certain that his and Hunt's physicality would cause plenty of problems
Not only that, his intuitive awareness and movement – picked out by Jimmy Hill on Match of the Day two years earlier using a 15-minute montage of decoy runs, lay-offs and sprints – were a constant menace.
Premonition
Hurst's father-in-law had told him before the game that he would score a hat-trick. "Ridiculous, I thought," wrote the striker. "I'd scored two goals in my previous seven England games. A single goal would be an achievement but, essentially, I wanted to get through the 90 minutes without embarrassing myself. How different it turned out to be."
Hurst later recalled his first training session, at which Ramsey took him aside and said, "I've got no use for blushing violets – I've picked you for what I know you can do. It's now up to you."
Hurst completed his hat-trick in extra time, via that infamous shot off the underside of the bar and smack-it-anywhere screamer as Kenneth Wolstenholme delivered English football's most fabled line of commentary. For a player who thought his World Cup was 'all over' before it had even begun, Hurst did pretty well.
World Cup Wonderland: stories, interviews and more
Quizzes, features and footballing fun
Get the best features, fun and footballing frolics straight to your inbox every week.
Thank you for signing up to Four Four Two. You will receive a verification email shortly.
There was a problem. Please refresh the page and try again.