You're off! The fastest football red card dismissals
Get straight on, straight into the action and straight back off again... Zee Ko takes a look at some hilariously early red cards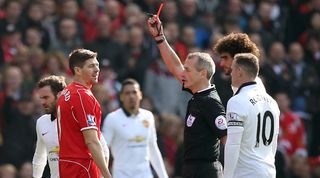 During Steven Gerrard's farewell tour of England, the visit of Manchester United to Anfield was supposed to be one of the highlights. Unwittingly, it was: held on the bench until half-time, the Liverpool skipper was unleashed at the break - and dismissed 38 seconds later, red-carded for a stamp on Anders Herrera (having already managed to string together four complete passes).
Others, however, haven't even had time to so much as bat an eyelid at the referee before being ordered to the showers. Here are some of the best (or worst, depending on which side you're on), in descending order of time on the pitch...
5. Jetro Willems (PSV Eindhoven vs NAC Breda), 29 seconds
The quickest red card in Eredivise history... wasn't a red card offence at all. PSV's Willems was given his marching orders after what looked like a harmless challenge on NAC midfielder Gill Swerts, but referee Kevin Blom was fooled by the Belgian's exaggerated dive and produced the red card after only 29 seconds.
Thankfully for PSV, the numerical disadvantage didn't seem to slow them down in any way as they picked up a 2-0 win. Blom also later had the dismissal overturned after seeing replays and admitting that he'd got the decision wrong. Cheers, ref.
NEXT: Fools lunge in 
4. Ruben Zadkovich (Perth Glory vs Wellington Phoenix), 17 seconds
As far as dismissals go, this one was pretty straightforward for the referee. Zadkovich came on for A-League side Perth Glory in the 61st minute of a 2014 game against Wellington Phoenix, as they looked to see out the game with a handy 2-0 lead. Not a time for any over-the-top risks, you'd think.
Alas, the former QPR and Derby County midfielder had other ideas, lunging in on Vince Lia before his substitution graphic had even faded on television screens. The two-footed challenge was as wild as it was high. Lia went flying, leaving the referee no choice but to order Zadkovich off the field.
NEXT: The seven-second debut
3. Serge Djiehoua (Gylfadas vs Olympiacos Volou), 7 seconds
The big Ivorian striker's debut for third-tier Greek football club Gylfadas in 2013 was memorable for all the wrong reasons. Djiehoua's coach was probably hoping for an instant impact when he threw him on in the 82nd minute with the team trailing 3-1 – and make the headlines he did.
The 30-year-old striker kicked off in the centre circle, muttered a quick prayer as he ran back into his own half before getting tangled with Athanasios Pindonis, who went down like a sack of potatoes. Out came the red card and off jogged Djiehoua, who at least found the incident funny enough to laugh at himself.
NEXT: Gone in 3.7 seconds
2. Matt McClure (Tranmere vs Wycombe), 3.7 seconds
Some red cards are given for vicious fouls that could potentially maim opponents. Others are for innocuous challenges lacking in intent but still red card offences according to the laws of the game.
McClure's blink-and-you'll-miss-it dismissal came in March of this year when he was thrown on in the 67th minute of a 2-1 League Two win at Tranmere. As a goal-kick was lumped downfield, the Wycombe striker went up for the ball with Tranmere's Adam Dugdale and was instantly shown a red card after his arm hit his opponent in the face.
"I think he's led with his arm but he hasn't meant to elbow the guy in any way," Wycombe manager Gareth Ainsworth moaned after the game. It's a 'record' that the club are happy to own, though, given the caption and witty headline on their own video below.
NEXT: The world record holder
1. Keith Gillespie (Reading vs Sheff United), 0 seconds
This is a record that will never be broken (or at least until they invent time travel). Coming on during a particularly heated Premier League match between Sheffield United and Reading in 2007, Gillespie somehow managed to get himself sent off before the game even restarted.
Gillespie came on for Derek Geary as the Blades prepared to take a second-half throw-in, but the substitute's red mist descended almost instantly as he elbowed Stephen Hunt in the face while the two were jockeying for position (fast forward to 3:10 in the video if you haven't got all day). Since play hadn't even been restarted yet, the referee's red card technically came zero seconds after Gillespie's injection into the game.
Quizzes, features and footballing fun
Get the best features, fun and footballing frolics straight to your inbox every week.