Anelka: I still love Arsenal
Chelsea striker Nicolas Anelka has revealed he did not celebrate his goal against former club Arsenal at the Emirates Stadium because he still loves the Gunners.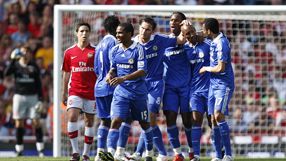 The Blues bounced back from their last-gasp Champions League semi-final exit to Barcelona by humiliating Arsene Wenger's side 4-1 in their own back yard, the North London outfit's heaviest defeat at their new stadium.
Anelka netted Chelsea's second of the game with a rasping long-range effort, his 18th league goal for the club since arriving from Bolton in January 2008.
However, the Frenchman chose not to celebrate his vicious strike, and has since revealed he did not wish to insult the fans of his former club, having made 65 league appearances for Arsenal from 1997-99 - scoring 23 times - before joining Real Madrid for £23 million.
"I still love the club, the people, even if they think I don't love them," he told Chelsea's official website.
"It is normal I don't celebrate."
Only a month ago, Anelka was revealing he still had a soft spot for another of his former English clubs, Liverpool, ahead of the Reds' Champions League quarter-final tie with Chelsea.
The striker spent five months on loan at Anfield in early 2002 from Paris Saint-Germain, scoring four league goals in 17 appearances.

"I played my best football at Liverpool. I played in my best position," he said.
NEWS: Anelka reveals soft spot for Liverpool
ARSENAL FANS! Check FourFourTwo.com's ever-expanding interviews archive for more stuff to read:
Web Exclusives Patrick Vieira, Cesc Fabregas
Q&A Theo Walcott, Cesc Fabregas
One on One Arsene Wenger, Thierry Henry, Ian Wright
Boy's A Bit Special Theo Walcott, Armand Traore
Perfect XI Ian Wright
What Happened Next? Gus Caesar, Peter Marinello
And Another Thing Being a Big Four fan
Plus! Rate Arsenal players (and others) on Talentspotter
CHELSEA FANS! Check FourFourTwo.com's ever-expandinginterviews archivefor more stuff to read:
Web Exclusives Kerry Dixon, Guus Hiddink
One on One Gianfranco Zola, Nicolas Anelka
Boy's A Bit Special Michael Mancienne, Scott Sinclair
Perfect XI Ruud Gullit, Marcel Desailly
Celebrity fans Vidal Sassoon
And Another Thing Being a Big Four fan
Thank you for reading 5 articles this month* Join now for unlimited access
Enjoy your first month for just £1 / $1 / €1
*Read 5 free articles per month without a subscription
Join now for unlimited access
Try first month for just £1 / $1 / €1