Cristiano Ronaldo aims to become Portugal's leading World Cup scorer in Qatar: "I think Eusebio will be wishing me luck to beat his own record"
Ronaldo is two goals behind legendary Portuguese forward Eusebio, who has nine World Cup goals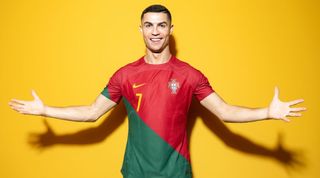 (Image credit: Getty Images)
Cristiano Ronaldo heads to World Cup 2022 looking to beat Eusebio's record of nine strikes at the finals for Portugal, as he continues to "dream all the time" about winning the tournament in Qatar.
Eusebio scored those nine goals in just six games, all at the 1966 World Cup when Portugal finished third in the tournament, while Ronaldo has managed just seven goals in four World Cup tournaments during his career so far.
Set to face South Korea, Ghana and Uruguay in Group H, Ronaldo will therefore need to be on top form if he is to surpass Eusebio's record, although the knockout stages will provide the forward with more opportunities to find the net, should Portugal progress.
Cristiano Ronaldo, Official Global Brand Ambassador for LiveScore (opens in new tab), said: "I have a lot of respect for Eusebio. All Portuguese football fans keep him in their hearts. He was an unbelievable person. But if I have the opportunity and if I have the chance, I think Eusebio will be happy in the sky and will be wishing me luck to beat his own record.
"The World Cup is the most difficult competition in the world. I'm dreaming of it. I know it will be tough, it will be difficult, but dreaming is free and I'm dreaming all the time. I joked with [Manchester United teammate] Casemiro that the final will be Portugal against Brazil - let's see.
"For me the most important thing is to be there, to compete and the rest? Let's see."
Despite the soaring temperatures in Qatar, though, Ronaldo isn't too concerned. The 37-year-old is confident he will perform better because of the weather, and is thoroughly relishing the opportunity to play in the tournament once again.
"The weather for me will not be an issue. We are prepared. As professional football players we are capable of playing in all conditions. In my opinion it will be good because I prefer warm weather, so it's not going to be a huge problem for me. I hope that it will be the best World Cup ever. I believe in that.
"To have this competition at the beginning of a season is different. In terms of physicality, all the teams will be fit. Younger players, older players, I think everyone will be in good shape. It's good to be part of the national team with a mix of young players and more mature player. This make up is part of the best teams in the world. It's a good thing to have different ages, different characters, different opinions, different approaches of the philosophy of game.
"In terms of the Portugal national team, I think we have a good team, a good coach. We have a combination of young and mature players so it will be an interesting competition."
Portugal are due to start their campaign on Thursday against Ghana, the lowest ranked team at the World Cup. A strong performance will only boost the mood in the Portuguese camp, which already has a positive spirit.
"The feeling is good. It will be different to play this kind of competition at the end of a year. It's interesting, it's a new challenge. We don't know what to expect as this has never happened before.
"But in my mind, I think it will be great. I'm looking forward to it, as are my teammates and the other players I've spoken to. They're all excited and I'm excited too. It will be my fifth World Cup and I'm really grateful for the chance to play in another World Cup."
Cristiano Ronaldo is the Official Global Brand Ambassador for LiveScore. The LiveScore iOS and Android app is available to download here. (opens in new tab)
Thank you for reading 5 articles this month* Join now for unlimited access
Enjoy your first month for just £1 / $1 / €1
*Read 5 free articles per month without a subscription
Join now for unlimited access
Try first month for just £1 / $1 / €1