Cristiano Ronaldo finally explains the meaning behind his iconic 'Siu' goal celebration
Every time he scores a goal, Ronaldo breaks out the celebration - but what does it really mean?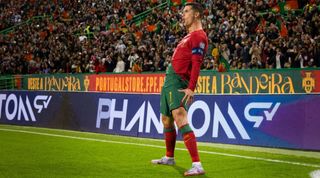 (Image credit: Getty Images)
Cristiano Ronaldo and his 'Siu' celebration has become something of an international phenomenon in recent years, with people adopting the shout at various points in random settings on a near-daily basis.
The Portuguese forward first screamed 'Siu' at the 2014 Ballon d'Or awards ceremony, and since then it has taken on a life of its own. Simply meaning 'yes' in Portuguese, Ronaldo previously explained it originated in a pre-season friendly against Chelsea in 2013.
Now, though, he has explained what he really thinks about the iconic celebration.
LiveScore Official Global Brand Ambassador Cristiano Ronaldo said: "It seems to have grown into its own global phenomenon - and I love when I see other players doing it, or people send me videos of people in other sports doing it or little kids doing it - it's great.
"It means yes - very simple but meaning it strongly!"
Now playing for Al-Nasrr in Saudi Arabia, Ronaldo is also excited for the future of football in the country, especially with the arrivals of players such as Karim Benzema and N'Golo Kante in recent weeks.
"It hasn't surprised me but it makes me really happy to see people all across the world now watching the Saudi Pro League. I believe the league will continue to develop and many more players from European leagues will come here to play.
"The fans here have been incredible to me welcoming me, and those that follow me to continue on this amazing journey. Every league and country is different and I am very proud to have experienced three different leagues in Europe (and won titles in them all).
"The biggest difference I have found in Saudi is obviously the heat and adapting schedules to train later in the day when it is cooler. But I have really gotten used to that now."
Cristiano Ronaldo was speaking as LiveScore's Official Global Brand Ambassador. LiveScore's iOS and Android app is available to download now: https://www.livescore.com/en/mobile/
Thank you for reading 5 articles this month* Join now for unlimited access
Enjoy your first month for just £1 / $1 / €1
*Read 5 free articles per month without a subscription
Join now for unlimited access
Try first month for just £1 / $1 / €1