Emmanuel Petit reveals why his wife made him leave Arsenal in 2000 - something he later regrets
The Frenchman admits he regrets swapping London for Barcelona, and gives advice for any players thinking of letting others try and influence their career...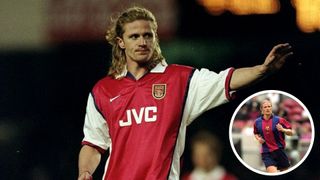 (Image credit: Getty Images)
Emmanuel Petit joined Arsenal in the summer of 1997 and instantly became a part of a side which went onto dominate English football that season, winning both the Premier League and FA Cup while playing alongside Patrick Vieira in the centre of midfield.
Despite his success across 118 Arsenal appearances, he'd spend only three seasons at Highbury. In the summer of 2000, Barcelona paid £7m to buy Petit, £4.5m more than what the Gunners spent to sign him from Monaco.
Despite the allure of Camp Nou and playing alongside players such as Rivaldo, Patrick Kluivert and Pep Guardiola, moving is something he regrets, as he describes to FourFourTwo.
"I was very happy at Arsenal, with the fans and my team-mates," he reflects. "I played well and we won the Double. But I could feel that Arsene was thinking of selling me.
"Maybe he wanted to sign other players, and he got it right in the end because they were invincible in the Premier League.
"But the main reason I decided to leave was my wife. Sure, there were sporting reasons – I wanted to win the Champions League – but my wife was tired of the rain and wanted to live in the sun, so I listened to her. If I have any advice for players now, it's: 'Don't let your wife decide where you go'."
His initial transfer to Arsenal would never have happened, though, had it not been for him rediscovering his spark in 1996 while still at Monaco.
"One day I woke up, took a shower, then tried to wipe the moisture off the bathroom mirror to look at myself," he says. "When I looked into my own eyes, it was quite a shock. I looked at myself with honesty and didn't hide any more. I thought, 'What the f**k are you doing, Manu? What do you want in life? What are you waiting for? You're like a ghost. Wake up! Wake up!'
"It was like someone had punched me in the face. That day, everything changed. I don't know why it happened that day. But it happened that day."
Perhaps Petit's moment of awakening was a result of the spiritual path he had taken.
"I read so many books, travelled around the world and met spiritual people, especially Buddhists," he says. "It helped me so much. Step by step, my mind became more and more structured, I got my motivation and passion back, and I regained confidence in myself. I became much stronger mentally and emotionally. I was like a caterpillar who had become a butterfly.
"I came back to the training ground feeling like a lion. I remember my team-mates said, 'Wow, what happened to you? You changed so much – you're not the same Manu. You're back!' I said, 'Yeah, you bet I'm back, and now you're going to see…'"
Thank you for reading 5 articles this month* Join now for unlimited access
Enjoy your first month for just £1 / $1 / €1
*Read 5 free articles per month without a subscription
Join now for unlimited access
Try first month for just £1 / $1 / €1