Former Arsenal captain SLAMS Kai Havertz: 'It was a mistake to sign him'
Arsenal star Kai Havertz has come under fire from an ex-captain of the Gunners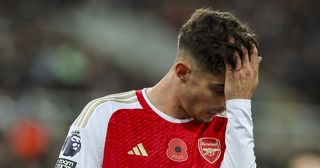 (Image credit: Alex Dodd - CameraSport via Getty Images)
Arsenal forward Kai Havertz is the subject of an extraordinary rant from a former Gunners star about his place in North London and his role for his country.
The German signed for Mikel Arteta's side over the summer from Chelsea in a £60 million deal and has failed to score in open play just yet. Having played as a No.9, on the left of a central midfield three and on the right, he has struggled to find consistency, as Arteta looks to settle on a lineup.
Most recently, Die Mannschaft boss Julian Nagelsmann used Havertz as a left-back against Turkey – and former Arsenal star William Gallas is less than impressed with the tactical switch.
"At 24, Kai Havertz is playing as a left-back for his country? Seriously? Something is very wrong," the bewildered Frenchman told Genting Casino. "I don't know what to say about this.
"For me, to make this decision, it seems like Nagelsmann doesn't respect Havertz as a player. Havertz has spent his entire career playing as an attacking player and then you put him in at left back?
"I'm trying to think about it from the player's point of view… this doesn't look good."
Gallas went even further, laying into the 24-year-old for his poor start in a red and white shirt, saying that his former side should never have even signed Havertz in the first place.
"I said at the beginning of the season that Kai Havertz would struggle for Arsenal… I don't want to sound like a broken record, but he is still struggling," Gallas affirmed. "I think it was always going to be difficult for Havertz to adapt to the way that Arsenal play and the way that Mikel Arteta wants to use him.
"I don't think he was the type of player that Arsenal needed to sign in the summer. When you look at the squad, in my opinion, there were different types of players that they should have prioritised. It looks like it was a mistake to sign him."
More Arsenal stories
Arsenal U18s' trip to Brighton was postponed – after the team bus drove to the wrong ground.
Meanwhile, the Gunners are being linked with a big move for a £52m-rated talent – and 'the new Erling Haaland' is also said to be on the North London club's radar.
Thank you for reading 5 articles this month* Join now for unlimited access
Enjoy your first month for just £1 / $1 / €1
*Read 5 free articles per month without a subscription
Join now for unlimited access
Try first month for just £1 / $1 / €1