Mind-boggling Manchester United valuation revealed as Glazers consider sale
Manchester United could be put up for sale by the unpopular American owners.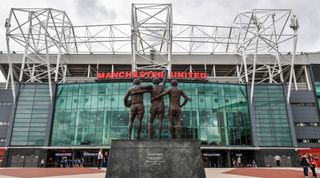 (Image credit: Anthony Devlin/Bloomberg via Getty Images)
The price required to buy Manchester United from the Glazers reportedly stands at £5 billion.
The Old Trafford club announced on Tuesday night that the unpopular American owners are considering a sale of the club (opens in new tab) after 17 years in charge.
But purchasing the Premier League giants would require an eye-watering outlay from any potential bidders.
According to Sky Sports (opens in new tab), the club is valued at £5 billion.
The report adds that if the English club is sold, it's likely to be to American investors.
The Glazers took over United in a £790m deal largely funded by debt in 2005, and a sale is not a given.
Their statement said: "As part of this process, the Board will consider all strategic alternatives, including new investment into the club, a sale, or other transactions involving the Company."
Manchester United have suffered a major on-field decline since Sir Alex Ferguson departed in 2013.
The decorated Scot left the club as Premier League champions, but they haven't won the title since, despite cycling through several managers in search of success.
Last season they failed to qualify for the Champions League, and on Tuesday Cristiano Ronaldo departed following an explosive interview with Piers Morgan in which he criticised the running of the club.
Ronaldo claimed there had been "no evolution" since Ferguson left.
"Nothing had changed," he said.
"I love Manchester United. I love the fans, they're always on my side. But if they want to do it different… they have to change many, many things.
"[Ferguson] knows better than anybody that the club is not on the path they deserve to be."
Thank you for reading 5 articles this month* Join now for unlimited access
Enjoy your first month for just £1 / $1 / €1
*Read 5 free articles per month without a subscription
Join now for unlimited access
Try first month for just £1 / $1 / €1