'Money has never been a motivation': Jordan Henderson hits back at claims he only moved to Saudi Arabia for cash
Jordan Henderson left Liverpool for Al-Ettifaq in July, and has now clarified his reasoning behind the decision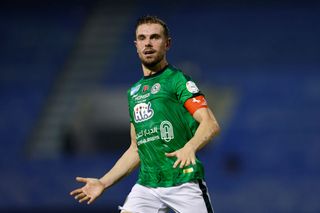 (Image credit: Getty Images)
Jordan Henderson has explained that he joined Al-Ettifaq in Saudi Arabia due to footballing reasons, rather than because of the offer of lucrative financial incentives.
Leaving Liverpool in July earlier this summer, Henderson linked back up with manager Steven Gerrard - his old captain at Liverpool a decade ago - in the Saudi Pro League.
In conversation with The Athletic, Henderson described how Liverpool boss Jurgen Klopp made it clear that he wouldn't have as many opportunities for minutes in the 2023/24 season as he looked to reshape the midfield. Wanting first-team minutes, the 33-year-old highlighted that Gerrard presented an enticing project in which they could build a successful club.
"Stevie never mentioned money," Henderson told The Athletic. "Everything I spoke to Stevie about was football and the project.
"And he actually said he didn't want to get involved in any of the money stuff. It was all about what we could do together to achieve something special and build a club and build the league."
For Henderson, moving to Al-Ettifaq had nothing to do with money. He is keen to stress that conversations revolved primarily around football, though he of course recognises that financial propositions can incentivise a deal, too.
VIDEO: Saudi Arabia run football now
"People will see this club come with loads of money and he's just gone, 'Yeah, I'm going.' When in reality that just wasn't the case at all," Henderson said. "People can believe me or not, but in my life and my career, money has never been a motivation. Ever.
"Don't get me wrong, when you move, the business deal has to be tight. You have to have financials, you have to feel wanted, you have to feel valued. And money is a part of that. But that wasn't the sole reason. And these possibilities came up before money was even mentioned."
Since joining Al-Ettifaq, Henderson has captained the side in four Saudi Pro League games. His side have won twice, drawn once and lost once with him playing, with England manager Gareth Southgate deeming his performances worthy of selection for the latest England squad.
More Jordan Henderson, Liverpool and England stories
Gay former Premier League star Thomas Hitzlsperger has claimed Henderson's 'brand is dead' following his move to Saudi Arabia.
The England squad for September internationals against Ukraine and Scotland has been announced, with Henderson included and a young duo receiving their first call-ups.
Liverpool manager Jurgen Klopp delivers update on Mohamed Salah transfer.
Thank you for reading 5 articles this month* Join now for unlimited access
Enjoy your first month for just £1 / $1 / €1
*Read 5 free articles per month without a subscription
Join now for unlimited access
Try first month for just £1 / $1 / €1