Pants! Burgers! Booze! Bonking! Superstitious fans will try them all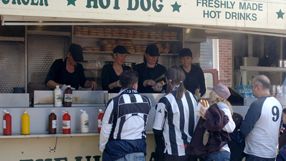 A new study has revealed that almost two million adult football fans have pre-match rituals designed to bring their teams luck.
While some fans put themselves through anything to help their heroes, a reassuringly large number of the rituals concern comforting habits such as food, booze… and sex.

In the study, commissioned by bankers MBNA (who are presumably crossing their fingers themselves in the current recession), more than a third of fans say they go for a "lucky" drink before the game, perhaps in a particular pub or even drinking left-handed. If their team loses, it doesn't seem to deter them from trying it again next week.

Many fans have a 'lucky' item of clothing: 21% wear the same scarves, socks or underpants that once brought the team good fortune. One in 10 fans eat a particular meal before the match, which may well be from a specific burger van. And one in 11 will ensure they take the same route to every game.

Others have more personal rituals. Of the 2,000 respondents, 3% claim they have sex before the game to bring the team luck. Extrapolated across the 20 million adult football fans in the UK, that's 60,000 fans getting jiggy pre-match – a figure which presumably rises above 100,000 when you include non-fanatical partners.

It's not just fans who have pre-match superstitions. England captain John Terry has lucky shinpads and listens to a particular CD before the game, Rio Ferdinand pours water down his face in the tunnel, and David Beckham wears some gleaming new boots every game.

It's not a new thing, either. Commenting on the survey, Matt Le Tissier explains that he had his own superstition. "Some years ago I was given a pair of Mr Blobby socks for Christmas," says Le Tiss. "I wore them the next day under my kit socks thinking they might bring me luck and sure enough, I scored! So then I wore the lucky Mr Blobby socks during every match for the next few months. I only stopped wearing them after we lost four games on the trot as I figured they had lost their magical Blobby powers.

"As a player I saw all sorts of things in the dressing room, including people getting really stressed because they had lost their lucky shin pads. The rituals tend to get more intense when it's a big game so I expect there will be a few odd things going on tonight in Munich just before they come on the pitch. It comes from a passion to support the team by any means possible."

Top 10 rituals:
1. Lucky drink before or during the game (35 percent)
2. Lucky clothing, from scarves to pants (21 percent)
3. Eating a particular meal or visiting a lucky burger van (10 percent)
4. Taking the same route to every game (9 percent)
5. Placing a bet before kick-off (4 percent)
6. Having sex before the game (3 percent)
7. Using the same parking spot on match day (3 percent)
8. Using a lucky toilet before the game starts (3 percent)
9. Praying (3 percent)
10. Listening to a particular piece of music (2 percent)
Check out our Ask A Silly Question archive to read about Le Tiss signing foreheads, eating burgers and being reincarnated as a cat.... plus much more
Thank you for reading 5 articles this month* Join now for unlimited access
Enjoy your first month for just £1 / $1 / €1
*Read 5 free articles per month without a subscription
Join now for unlimited access
Try first month for just £1 / $1 / €1
Get FourFourTwo Newsletter
The best features, fun and footballing quizzes, straight to your inbox every week.
Gary Parkinson is a freelance writer, editor, trainer, muso, singer, actor and coach. He spent 14 years at FourFourTwo as the Global Digital Editor and continues to regularly contribute to the magazine and website, including major features on Euro 96, Subbuteo, Robert Maxwell and the inside story of Liverpool's 1990 title win. He is also a Bolton Wanderers fan.