"Terrible idea": Why some club owners hate the government's idea for a football regulator – even though the EFL are in favour
The Premier League, EFL and some club owners have responded to the government's football white paper in very different ways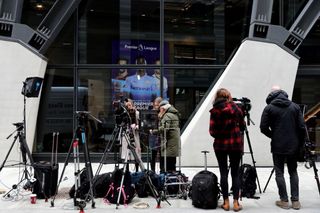 (Image credit: Getty Images)
English football could see a major overhaul after the UK government published its plans to revamp how the sport functions behind the scenes – but they have outraged some in the football world.
On Thursday, the government published its white paper – an official policy document that outlines a government's plans for new laws – on how to change football, following an independent fan-led review. These plans will be put forward to parliament and voted on by MPs before they can be enacted.
What are the government's plans for football?
Among the main changes for football are:
A new independent regulator, set up with the aim of stopping more clubs going bust
A new owners' and directors' test for EFL and Premier League clubs – with rules in place to ensure that owners
Fans being granted more say in the running of their club
English clubs will be stopped from joining breakaway competitions that threaten the integrity of domestic leagues – such as the failed European Super League proposal
While the news has been met positively by many fans, there have been a range of views from those involved in the running of football, including some who are more sceptical about the white paper's recommendations.
What has the Premier League said about the white paper?
Richard Masters, chief executive of the Premier League, struck a hesitant tone in an interview with BBC Sport. While he appeared to accept the introduction of a regulator as an inevitability, he seemed to warn against it being granted too many powers.
"Areas of the game that have been historically governed by the stakeholders, are going to be governed by a new government regulator," Masters said.
"We are the first major nation to have football as a government-regulated industry. I think that's a very important moment.
"The government's intentions are clearly to protect what is good about English football, and they make clear they want to support the successes of the Premier League and the wider pyramid, and we're comforted like that.
"But obviously, regulation brings with it challenges.
"This needs to be a very precise regulatory tool and not a sledgehammer, otherwise it might take football sidewards, or even backwards, rather than forwards."
He continued: "You have the ability of clubs to turn that interest [in the Premier League] into external investment and the ability of football owners to invest and take risks – measured risks – against a background of financial regulation to improve their squads and create a really competitive league.
That really is the basis of a successful Premier League... We don't want that to be choked out, to the point where it affects the quality of our competition.
"This regulator reports into the government, we need it to remain as independent as possible to stop football becoming the ultimate political football."
What did West Ham owner David Sullivan say about the government white paper?
In a quote to Sky Sports, West Ham owner David Sullivan blasted the proposals, saying football should be in the hands of "free enterprise, not government interference".
"A football regulator is a terrible idea. The government are terrible at running everything," he said.
"Look at the mess this country is in. We pay the highest taxes ever for the worst service from the worst government that I've seen in my lifetime.
"The regulator will have a huge staff that football will have to pay for. It will be a total waste of money. I bet it grows in size and cost every year.
"The Premier League is the best run and most successful league in the world.
"It gives more to the lower leagues, the PFA and grassroots than any other top league in the world. It's a fantastic export.
"Why does an incompetent government think it will improve things? In every area this government is involved in, it has added staff for a worse service.
"The government are doing this for a PR win. They think it will be good PR to be seen backing the ordinary football fan and smaller clubs.
"But I bet you it won't get them a single extra vote. I believe in free enterprise, not government interference."
What does the EFL think of the plans?
EFL chairman Rick Parry told the BBC that they "welcomed" the proposed changes/
"It is in line with our expectations. It is certainly in line with the fan-led review, which we welcomed," Parry said.
"So we are pleased. Our purpose is making clubs sustainable, which is all about financial redistribution and regulation - the two have to go hand-in-hand.
"We see this as a massive opportunity to have a proper reset and secure the financial health of our pyramid."
Parry called for changes to be implemented "as soon as we can".
"In many ways the game is in rude health," he added. "The problem from our perspective is that there is too big a gulf between top and bottom.
"The first year of the Premier League, 1993, the gap in turnover between the Premier League and the EFL was £11m, it's now £3bn.
"That's the disparity, it's getting wider all the time, and our goal, our mission, our purpose, is making clubs sustainable, long-term future, which means not making them wholly dependent on owner funding, and it means redistribution of revenues hand-in-hand with better regulation.
"So we're completely in favour of the changes."
Thank you for reading 5 articles this month* Join now for unlimited access
Enjoy your first month for just £1 / $1 / €1
*Read 5 free articles per month without a subscription
Join now for unlimited access
Try first month for just £1 / $1 / €1
Get FourFourTwo Newsletter
The best features, fun and footballing quizzes, straight to your inbox every week.
Conor Pope is the Online Editor of FourFourTwo, overseeing all digital content, and joined the team in February 2019. He plays football regularly, both on grass and artificial surfaces, and has a large, discerning and ever-growing collection of football shirts from around the world.
He supports Blackburn Rovers and holds a season ticket with south London non-league side Dulwich Hamlet. His main football passions include Tugay, the San Siro and only using a winter ball when it snows.