George Boyd: Thrive at a higher level
By Chris Flanagan published
Burnley's Mr Indefatigable tells you how to deal with a step up in class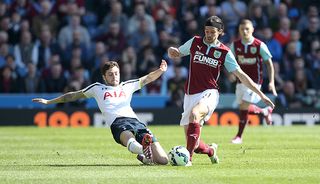 "The higher up you go, the more organised you have to be. The biggest difference is in the final third. Better players are ruthless, so you have to be switched on all the time. In the Championship you can occasionally make a mistake and the opposition won't score; in the Premier League you get punished straightaway.
Get your tactics right from the off and make sure you understand your role. It's got to be drilled into you on the training ground. Focus during sessions. Don't be afraid to ask questions, because just one error will 
cost you dear. You have to keep practising until it eventually becomes second nature. There can be 
a lot of information to take on, so listen to the experienced players and watch what they do.
Mentally it can be draining because you have to concentrate for the entire 90 minutes. Don't be disheartened if it takes time for you to adjust. 
Just make sure you learn from your mistakes, keep working hard and always believe in yourself."
For more football tips see:
Carl Jenkinson: Dealing with a step up in class
Tony Carr: Dealing with a step up in class
Jonjo Shelvey: Making a step up in class
Oxlade-Chamberlain: Making a step up in class
Thank you for reading 5 articles this month* Join now for unlimited access
Enjoy your first month for just £1 / $1 / €1
*Read 5 free articles per month without a subscription
Join now for unlimited access
Try first month for just £1 / $1 / €1
Chris joined FourFourTwo in 2015 and has reported from 20 countries, in places as varied as Jerusalem and the Arctic Circle. He's interviewed Pele, Zlatan and Santa Claus (it's a long story), as well as covering Euro 2020 and the Clasico. He previously spent 10 years as a newspaper journalist, and completed the 92 in 2017.
Quizzes, features and footballing fun
Get the best features, fun and footballing frolics straight to your inbox every week.
Thank you for signing up to Four Four Two. You will receive a verification email shortly.
There was a problem. Please refresh the page and try again.