5 ways to improve mental focus for football
Make sure you're prepared for the psychological strain of 90 minutes with these easy-to-follow tips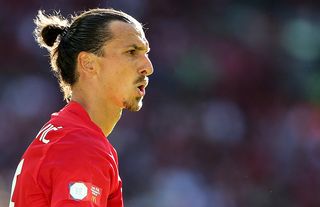 Spot the signs of fatigue
If you start hitting wayward passes and miscuing your shots (more than usual), take a break – it's a sign your football brain is running low on power.

A study in Australia on how players react to mental strain found technique suffered just as much as physical output. "Players' passing and shooting was found to be less accurate, and even their reactions and forward thinking were affected by their brains being tired," says Mitchell Smith of the University of Newcastle, Australia.

Related article: Burnout: what's it all about?

Keep it brief before kick-off
"Long and boring tasks are mentally fatiguing, which means prolonged team meetings and tactical sessions should be avoided in the immediate lead-up to a match," Smith advises.

Brentford's sports psychologist Tom Bates agrees, saying: "Players can be affected by 'analysis paralysis' when coaches make their team talks too complex before kick-off." So just keep the pre-match pep talk simple: "WIN!"
Have the family round
You might think locking yourself away in a dark room, away from your friends and family will help improve your focus ahead of a big game, but you'd be wrong. Take a break from training to see the people that matter most.
"In 2014, Brazil established an 'escape' marquee by their hotel where players spent time with their families," says Bates. "Taking time out from the pressure and restoring the normality of family life can be a bonus."

Related article: Positive mental attitude
Perk things up mid-game
Want to take your game to the next level? Just put the kettle on. "Caffeine is known to lower the negative impact of mental fatigue and enhance physical and mental performance," says Smith.
"Consuming caffeine at half-time may reduce tiredness and aid performance levels. It doesn't have to be coffee, either: caffeine can be consumed through gels, capsules or chewing gum."
Clear your mind
It's not very English, but we advise you to sit down with your teammates and ask: 'How are you feeling?' "Coaches should use 'self-report' scales on players," suggests Smith.
"If a player reports high levels of mental fatigue, then coaches could consider resting them in games that are of low importance. We're also looking into the effectiveness of 'brain training' for reducing fatigue and improving performance."
Learning to 'under burden' the mind through self-meditation can also help a player. All together now: 'ommm...'

Related article: How to build team spirit
Thank you for reading 5 articles this month* Join now for unlimited access
Enjoy your first month for just £1 / $1 / €1
*Read 5 free articles per month without a subscription
Join now for unlimited access
Try first month for just £1 / $1 / €1
Get FourFourTwo Newsletter
The best features, fun and footballing quizzes, straight to your inbox every week.