11 times ArsenalFanTV made regular supporters question everything they know about football... and life
It's the intriguing internet phenomenon that's been providing social media with weekly chuckles since 2012 – many of which you'll find right here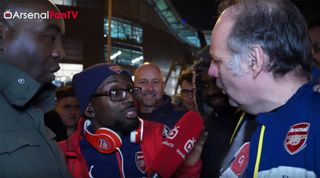 If the Gunners were top of the league, still in Europe and not stuck in a Groundhog Day-like cycle of repeated mediocrity, would ArsenalFanTV be enjoying the kind of national success it is now? 
Almost certainly not. Which begs the question: does owner and presenter Robbie quietly want his team to lose? If he does, he'll have been smiling a lot recently. (As one YouTube commenter noted recently: "He'll probably be on the Sunday Times Rich List soon.")
Arsenal's 5-1 humiliation at the hands of Bayern Munich (10-2 on aggregate) followed a 3-1 loss to Liverpool at the weekend in which Alexis Sanchez was dropped by Arsene Wenger. It's the latter who ArsenalFanTV regulars blame for European exits, stockpiling transfer funds and seemingly everything else from Donald Trump's election victory to global warming. They were probably frantically emailing Netflix to point the finger at the Frenchman during the Making a Murderer craze, too. 
Many supporters are embarrassed by the vocal 'Wenger Out' brigade, but for the rest of us it's essential post-Arsenal viewing. When the north Londoners go a few goals behind, the Michael Jackson popcorn GIFs come out and everyone knows there's a treat in store.
Hit if you're waiting for tonight's Arsenal Fan TV... March 7, 2017
1. Talk about net spend
Don't let the big money shelled out on Mesut Ozil, Alexis Sanchez, Shkodran Mustafi and Granit Xhaka fool you, people – because Moh has got it all worked out. It's not about transfer spend, after all, it's about NET spend. Award him the Nobel Prize for Economics already. Also, the YouTuber who added David Brent to the end of this clip gets full marks. 
2. When it all gets too much
Olivier Giroud starting up front and wearing a silly grin on his face was enough to bring tears from this fully-grown man. The French striker is unquestionably beautiful, so perhaps he once broke Anthony's heart – it's the only explanation.
3. ArsenalFanTV with the useless words removed
Every single word from Troopz's rant has been deleted bar the 'fams' and the 'bluds'. It's still 36 seconds long. The count is well over 100. 
4. Thinking the steward was the fourth official
This is perhaps the only time Wenger wasn't blamed for something. Ty, the Frenchman's only advocate on the channel, takes out his fury at a refereeing decision on a hapless steward - who quickly reminds him that he is, in fact, just a steward. 
5. We're going to win the quadruple!
We're back with Ty again. This time, his assertion that Arsenal have the ability to win all four major trophies puts presenter Robbie and the usually-furious Claude in fits of giggles. If you burgled Ty's house, he'd probably compliment you on your choice of trainers after finding the footprints. 
6. He's finished! 
If Ty is Captain Positive, Claude is the complete opposite. The pair came to verbal blows following a loss to Manchester City this season, with the elder man almost bursting into tears such were his frustrations at Wenger. If it's passionate and heartfelt rants you're after, look no further. "Don't swear at me..." 
7. We're gonna win the league! (Actually, we're f***ed...)
If ever a video sums up the reactionary nature of ArsenalFanTV, it's this one – squeezed into seven neat seconds. In December, Heavy D (who looks a bit like '90s wrestler Rikishi we feel) euphorically predicts a title win, before belatedly accepting what everyone already knew a few months later. It's Greek tragedy: a story of hope and loss with the inevitability of a sad ending.
8. Dennis Bergkamp, The Original Badman
This guy isn't a regular, but we don't know why because viewing figures would treble with him on every week. Perhaps it's because he just can't bear the Emirates anymore. Asked by Robbie who he'd choose to replace Wenger, his answer was firm: "Dennis Bergkamp: the original badman!"
"Why?" Robbie enquired. "Flair." Fair enough, pal.
1:51 will see you right
9. Bully's special insult
"How is it we crumble like this? Because we're shit" and "Theo Walcott is as much use as a chocolate teapot" are just two of the wonderful sound-bites from this Bully rant. Never without bandana or nose-ring, the iconic Gooner also managed one of the strangest metaphors of all time following a loss to Swansea last year: "We've got less backbone than a fossilised fucking snail..." Sorry?! 
10. After the first day of the season... 
Is it not a self-fulfilling prophecy if fans expect their team to fail before a ball has been kicked? Well nobody told DT, who admitted to screaming 'Wenger Out' following the opening-day defeat by Liverpool back in August.
He also claimed many of his fellow supporters were loudly advising the Frenchman to "spend some fucking money" during the match, while others apparently threw their programmes on the pitch in what sounds like a ferocious protest.
This clip ticks all the boxes: transfers, Wenger, spine, passion, leaders, transfers, Wenger. Job done.
11. Bad memories 
It seems harsh to pick on a teenager, but what the hell (he'll learn). This poor lad has only ever known Bad-Ish Arsenal in his life, aged 18 and therefore too young to remember the Gunners' last title win in 2003/04.
"I thought to myself before coming to the game, 'What is my earliest memory of Arsenal?' I don't have the memory of the Invincibles, so the first thing I could think of was 2004 when we lost to Barcelona in Paris. And then I thought to myself tonight, 'What has Arsene Wenger done?'" 
Scrambled your brain, perhaps? Two things: for starters that final was 2006, comfortably after the Invincibles in 2004. Arsene Wenger has 'done' three Premier League titles, six FA Cups and finished in the top four for 20 straight seasons. We appreciate the latter doesn't fall into whooping-and-hollering territory, but that's a fair bit.
"I don't know what to do anymore..."
To Wikipedia!  
Quizzes, features and footballing fun
Get the best features, fun and footballing frolics straight to your inbox every week.
Thank you for signing up to Four Four Two. You will receive a verification email shortly.
There was a problem. Please refresh the page and try again.