12 reasons why everybody hates… Manchester City
Manchester City fan Stephen Tudor has had his go; now Republik of Mancunia's Scott Patterson fights back in the red corner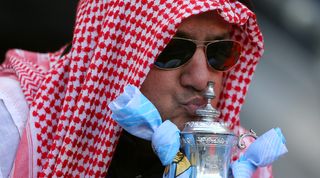 Please note: Manchester United's edition is here, so no, we aren't just picking on you. Oh, and the below doesn't necessarily represent the views of FourFourTwo. So, over to Scott…
1. Financial hypocrisy
They spent the past three decades moaning about the money Manchester United spent, and how many glory fans came along with it. Now they've become everything they used to hate.
Their sanctimonious stance to United spending money that the club had generated, only to then welcome a sugar daddy to buy them a trophy or two, is laughable. It's likely that supporters of all small clubs would do the same if they won the lottery, but that doesn't make it any less hypocritical.
2. Blue Moon
As far as anthems go, Blue Moon has to be up there as one of the worst – although the lyrics are appropriate. "Life was a bitter cup for the saddest of all men..."
1:16 for the sadness
3. Complacent supporters
Famed for their support when the club went down to the Second Division, their fanbase has become complacent now they've enjoyed success. City don't even sell out the big games, such as cup semi-finals and Champions League fixtures – even when the club flogs tickets on buy-one-get-one-free offers for European games.
In a recent match, Pep Guardiola tried to gee up the crowd... only to be met with silence.
But hey, they'll tell you that loads of people went to watch them play Stoke 80 years ago, so they must have top fans right?
4. The Gallagher brothers
Noel and Liam are a pair of prats who go to a game or two per season, usually when City are playing in London, then mouth off about how great City are and what top supporters they are.
The games that grown man Liam does bother to go to, he wears a replica shirt with 'Gallagher' on the back. When asked to list the 10 things he hated, he named United 10 times, perfectly encapsulating the bitter obsession City fans feel towards their city rivals.
5. Pants on fire, liars!
They perpetuate the myth that Mancunians are City fans, and for some reason people actually believe them. The notion that Mancunians would shun United in preference of City is baffling.
For what it's worth, United have had higher average attendances than City every single season since the Second World War, long before glory supporters and even when City were in the division above United.
When Old Trafford was bombed and Maine Road was their temporary home, more fans came to watch United than City. Even now City fans actually have success to cling on to, and glory supporters of their own, they still desperately push the lie that Manchester is blue.
6. 'Munichs'
Aside from doing aeroplane impressions and singing Munich chants – which have decreased over the past decade or so, admittedly – reference to the disaster is still too regular.
"Who put the ball in the Munichs net?" or "Carlos Tevez is a blue, he hates Munichs" didn't cause their fans to bat an eyelid. In 2000, United were even called 'Munichs' in City's official matchday programme, which they later apologised for.
7. Inflatables
Going to football games with inflatable bananas. The absolute state of them.
8. Pep Guardiola
Guardiola was supposed to be a genius who was revolutionising football. He inherited some of the best squads in world football at Barcelona and Bayern Munich, and was famed for the success he immediately enjoyed.
So after spending more money than any other Premier League club in the summer, the defence he's now afforded is that he can't be criticised because of the squad he inherited. Go figure.
9. Thaksin Shinawatra
Before Sheikh Mansour, the first rich owner hoping to reverse City's fortunes was Thaksin Shinawatra, the former Prime Minister of Thailand. Amnesty International was among the organisations to condemn his ownership and Human Rights Watch called him "a human rights abuser of the worst kind".
Were City fans bothered? Of course not. They hung a Thai flag with "Thaksin" splashed across it in their stadium. It's one thing selling your soul for success, but this?
10. Tick tock
When the money first came to City, there was plenty of chatter about the "blue moon rising" or "tick tock", as if United's time was up and City were set to replace them.
In the eight full seasons since City became the richest club in the world, they've won two Premier League titles, one FA Cup and two League Cups. In contrast, United have won three league titles, one FA Cup and two League Cups.
When you also consider United have been awful for three of those seasons, it makes you wonder what sort of return City are getting for their billions.
11. Blue ketchup
Shunning the traditional red sauce for blue. Cringe.
12. Mike Summerbee
Of all the bitter City fans out there – and there are a lot of them – Mike Summerbee has to be chief cheerleader. The former City player doesn't get invited to be a pundit these days after making a fool out of himself in the past.
The best example was probably following United's win over City in 2011, when Wayne Rooney scored that goal. He claimed City had more possession and more chances, before the match stats were shown and proved the opposite. "I'm not into stats," he huffed, after they'd shown him wrong.
Quizzes, features and footballing fun
Get the best features, fun and footballing frolics straight to your inbox every week.
Thank you for signing up to Four Four Two. You will receive a verification email shortly.
There was a problem. Please refresh the page and try again.