Bob Bradley trying to teach Swansea to play soccer, bemused players report
By Back of the Net published
There were some cultural clashes at Bradley's first training session, Back of the Net can reveal.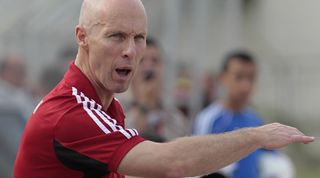 Swansea City's decision to appoint American coach Bob Bradley is already being questioned after the new boss insisted on playing soccer in his first training session.
Many were surprised by Swansea's decision to axe Francesco Guidolin and turn to a man from a nation that is completely unacquainted with the sport of association football.
And the cynics appear to have been proven correct as Bradley baffled Swansea players with his talk of 'soccer', immediately losing the dressing room within minutes of his first session.
"Bob gathered the players and gave a stirring speech about belief, commitment and dedication," a Swansea insider told FourFourTwo.
"But just as the lads started nodding along he said he wanted them to play 'simple soccer' and their faces went completely blank.
"Some of the players immediately wandered off believing they were in the wrong place, while Kyle [Naughton] collected up the balls, returned them to the dressing room, then brought out several reels of yarn and some knitting needles to await further instructions."
Culture shock
The players remained baffled as Bradley mentioned 'PKs', 'hitting the 18' and 'the upper 90' and repeatedly left the letter 'u' out of words like 'colour' and 'honour', rendering his usually effective drills pointless.
"With all due respect to Coach [the gaffer], some of the guys [lads] sure were pissed [pissed off] by the time we hit the showers [slunk back to the changing room]," Kyle Naughton told FourFourTwo.
"It sucks that Swansea City is now a soccer club."
However, other players have stressed the need to be patient with Bradley's methods, as his predecessor Guidolin spent nearly a year trying to get his team to play calcio before relenting and settling for football.
"It's too much to expect someone who has only coached in the United States, Egypt, France, Norway, at the Copa America and the World Cup to have any real understanding of football, but I'm sure he'll learn," Leon Britton told FourFourTwo.
"In the meantime though I'm happy to try to play soccer. It's not like we were much good at football, after all."
Please note: This satirical news story is not real. Obviously.
More Back of the Net • New features every day on FourFourTwo.com
Thank you for reading 5 articles this month* Join now for unlimited access
Enjoy your first month for just £1 / $1 / €1
*Read 5 free articles per month without a subscription
Join now for unlimited access
Try first month for just £1 / $1 / €1
Quizzes, features and footballing fun
Get the best features, fun and footballing frolics straight to your inbox every week.
Thank you for signing up to Four Four Two. You will receive a verification email shortly.
There was a problem. Please refresh the page and try again.