Charlie Austin's miraculous rise, by the managers who know him best
The Queens Park Rangers hitman is poised for his England debut and a summer of big-club speculation, but it didn't always look like this for the 25-year-old. Hugo Greenhalgh spoke to the men who've helped him on his way...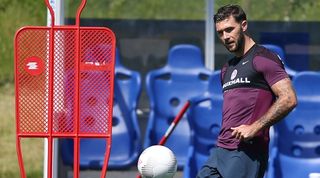 While Charlie Austin's goals weren't enough to save QPR from relegation, on a personal level his debut season in the Premier League was exceptional. Austin scored 18 goals, at a rate of one in two games, and finished the top flight campaign with a well-deserved call-up to the England squad.
Yet as we know, just six seasons ago he was still playing non-league football for Poole Town and moonlighting as a bricklayer. Austin's road to the top has been long and winding, but marked by one constant: the ability to score goals. David Gent was secretary of Newbury Primary Schools FA in Berkshire, where Austin played at under-10 level alongside Theo Walcott, and has fond memories of working with him as a youngster. "He was a very, very confident lad and comfortable in his own ability," Gent says. "He was never afraid to beat a player and always thought he could do it."
Gent took Austin and Walcott to the Jersey Football Festival, where they played together up front. The event has been taking place since 1974 and is the largest event of its type, bringing together schools from all over Britain to compete on the Channel Island. "We won everything in Jersey that year. We were undefeated – and we played a team who had been undefeated all season up until then," Gent recalls.
England's next game against Ireland on Sunday could be a momentous occasion for Newbury Schools, with the possibility of two former players lining up together. "To have another player in the England squad would be superb for us because we're a quite small, rural association. If Theo was playing out wide on the right and Charlie puts it in from his cross, that would be fantastic, wouldn't it?" Gent enthuses.
Down and up
As the boys developed, Walcott went to Southampton and Austin to Reading, but it wasn't long before their careers took very different paths. Walcott secured a move to Arsenal and a place in the England squad for the 2006 World Cup, after Austin had been released by Reading at the age of 15 and was adjusting to life in non-league football. Spells at local sides Kintbury Rangers and Hungerford Town showed glimpses of a promising striker, but it was really at Poole Town in the Wessex League Premier Division where Austin began to establish a reputation as a goal-machine. Tom Killick is manager at Poole and enjoyed a fruitful year-and-a-half with Austin, after his family relocated to the south coast. "The very first game he played for us was in pre-season at a place called Holt, which is a little village team near Wimborne," Killick says. "He looked reasonable, and I started getting quite positive that he'd be able to get into the team."
Once the season started properly, Killick began to see Austin's true worth. "Obviously he's big and strong, and he's good in the air, but his main attribute has always been getting in good positions and his finishing," his former boss noted. That finishing led to him ending the season with 48 goals in 43 games, a record which didn't go unnoticed in local quarters.
Bournemouth are the biggest club in Dorset, and manager Eddie Howe was keen to take a look at him. "I think what struck us immediately about Charlie was just his ability to score goals," he says.
"Whether we did a five-a-side, whether it was 11 vs 11, he would end up scoring within the game. When you see someone consistently do that it's more than just luck, and that's what drew us to him."
While Bournemouth were unable to sign their man due to a transfer embargo, that trial period helped Austin significantly. "The significant improvement I think came when he trained for a month with Eddie Howe at Bournemouth," says Poole boss Killick. "He really went from being a good player at a higher level and possibly someone who could've played slightly higher, to someone who looked very much like they could go into league football – which is obviously what happened."
Austin himself confirmed as much to FourFourTwo in December. "I've always said that if I didn't do those six weeks at Bournemouth then I wouldn't have been able to get a move to Swindon," he admitted. "When I went back to Poole I was four or five steps ahead of everyone else."
ALSO ON FFT.COM
Howe it's done
Killick was all too happy to see Austin make that step up and puts his rise down to a golden personality. "I can't take any credit for improving him as a player, I just think he liked the environment of playing for Poole," he says.
"I still keep in touch with him now and he comes down and supports functions that we have when possible. He supported a charity game that we had for a former player recently. He does an awful lot for the club still and he's got no need."
Austin went on trial at Swindon and scored a hat-trick in his first match for the club, against Swansea's reserves.
"He was always in a great position to get himself an opportunity to score and that's what really drove me towards him," says former Robins boss Danny Wilson. At this point, Austin still had a job as a bricklayer – an unusual situation for a wannabe professional footballer.
"Working on the building site, he'd get tired at all sorts of hours and he wasn't getting the chance to train," Wilson says. "Maybe once or twice a week if he was lucky. But I have to say he took to it like a duck to water, and it was really very simple for him. He was a great believer in his own ability and prowess in front of goal."
Austin left Swindon in January 2011, to be reunited with Howe at Burnley, and the young manager loved what he saw in his first signing for the Clarets: "He always displayed a good attitude to his work and whenever he's on the training pitch I would say he was fully focused. "I'm so pleased to see him do so well in the Premier League – no one deserves it more than someone who's done it the hard way coming up through the league. It's the hardest thing to do, so he deserves all the success he gets.
"I think you need an array of strikers who have different strengths, and Charlie is different to most other strikers in contention at England level when you consider his ability to attack crosses. He's as good as anyone I've worked with aerially. He's risen to the demands of League One, the Championship and the Premier League and, who knows, he might well do the same at international level."
The managers who know him think he's ready. Now it's over Austin to show he can lead the line for England.
Quizzes, features and footballing fun
Get the best features, fun and footballing frolics straight to your inbox every week.
Thank you for signing up to Four Four Two. You will receive a verification email shortly.
There was a problem. Please refresh the page and try again.