Full hearts, clear eyes, can't lose: 5 nations who punched above their weight
By Zee Ko published
Considering Iceland's tiny population, their feat of qualifying for Euro 2016 was nothing short of remarkable. FFT's Zee Ko takes a close look at them and several other small countries that defied expectations in years gone by...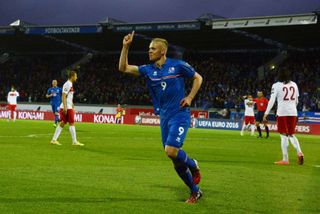 "I wouldn't say that I'm a hero," said Iceland coach Lars Lagerback on a rainy Sunday night in Reykjavik, moments after the tiny Nordic island nation qualified for the European Championship. "Martin Luther King, Nelson Mandela and people like that are real heroes."
The locals would surely beg to differ, though, after the Swede led his team to a 0-0 draw against Kazakhstan to ensure a memorable first-ever qualification to Europe's grandest football stage.
History was made too as Iceland became the smallest-ever nation to make it to the tournament proper.
The numbers have been bandied around plenty this week, but they are well worth repeating. Iceland is home to around 330,000 inhabitants, of which just 21,508 are registered footballers. Reaching Euro 2016 is an astonishing feat, without taking into account the fact they beat the Netherlands (twice!) to get there.
Iceland
Confederation: UEFA
Population: 330,000 (2015)
Qualified for: European Championship (France 2016)
Notable players
Gylfi Sigurdsson (Swansea City): The Premier League playmaker needs little introduction to fans who subsist on a regular diet of English football. Although he came through the Reading academy as a teenager in 2008, it was only after a move to Germany with Hoffenheim and subsequent loan to Swansea that he began to draw attention. While a big-money transfer to Tottenham didn't really work out, Spurs' loss was the Swans' gain as Sigurdsson rediscovered his form at the Liberty Stadium. A dead-ball specialist, the midfielder is capable of splitting defences as well as powering shots in from distance. He is also the first Icelandic player ever to be named Premier League Player of the Month.
Eidur Gudjohnsen (Shijiazhuang Ever Bright): Iceland's all-time top scorer is often regarded as one their greatest-ever players, having played at clubs like Chelsea and Barcelona, winning numerous league titles and the Champions League. While he is certainly in the twilight of his career now, the striker made a triumphant return to the national set-up in March after 18 months away, scoring in their 3-0 win over Kazakhstan. One would expect Gudjohnsen to be on the plane to France next year and even if he plays a supporting role, his team-mates will likely be glad to have his experience to draw upon.
Road to France
Iceland were drawn in a tough group that included European contenders Netherlands, Turkey and Czech Republic. While the Dutch were expected to clinch one of the two automatic qualifying spots, they now find themselves fighting for a play-off berth with Turkey. Part of the reason they are in this predicament is thanks to none other than Sigurdsson, who scored all three goals in Iceland's 2-0 and 1-0 wins over the World Cup third-place getters.
Iceland's only blip was a narrow 2-1 loss to the Czechs back in November, but they got their revenge by the same scoreline this June and can now take it easy with matches against Turkey and an already-eliminated Latvia to come.
READ ThisWelcome to Iceland: When FFT went to a 10pm top-flight tussle ... in broad daylight
Quotable
"I would give credit to the youth coaches in Iceland. They are probably among the best in the world." – Assistant coach Heimar Hallgrimsson after the 0-0 draw against Kazakhstan (opens in new tab).
Did you know?
When Lagerback took over as Iceland coach in 2011, the national team was coming off a demoralising Euro 2012 qualifying campaign, having won only once in eight games. The Swede was reported to have told Hallgrimsson that they would qualify for the 2014 World Cup. "I thought he was crazy," said Hallgrimsson, but Lagerback was almost proven right, with Iceland just missing out after an agonising two-leg playoff defeat to Croatia.
Trinidad and Tobago
Confederation: CONCACAF
Population: 1.3 million (2006)
Qualified for: World Cup (Germany 2006)
Notable players
Shaka Hislop (West Ham): The English-born goalkeeper was then in his second stint with West Ham United, having rejoined the London club after three years at Portsmouth. Despite stating a preference to play for England and sitting on the bench for a full international against Chile, Hislop ended up representing Trinidad and Tobago. Although he had announced his international retirement in 2004 after a dispute with the national team, the goalkeeper was coaxed back to aid the bid to qualify for the 2006 World Cup. It would prove a very good decision.
Stern John (Coventry City): It might come as a surprise to find out the striking great is still playing today – he scored on debut for Trinidadian club WASA FC after coming out of retirement a second time in 2014. John is Trinidad and Tobago's all-time leading goalscorer with 70 international goals to his name, which also makes him the 10th most productive international scorer ever. Prolific whenever he put on a Soca Warriors jersey, John played a huge part in helping his country reach their first World Cup with 12 goals in qualification.
Dwight Yorke (Sydney FC): Possibly the most famous name in Trinidadian football thanks to his time at Manchester United, the forward was, like close friend and team-mate Hislop, persuaded to return to the national side after retiring prematurely from international football in 2001. One of six Trinidad and Tobago squad members to play every minute of their World Cup campaign, captain Yorke won man-of-the-match honours in their opening 0-0 draw against Sweden.
Road to Germany
Trinidad and Tobago were in real trouble, bottom of their final qualifying group with only one point after three games. Their World Cup dream looked to be slipping away, after losses to the United States and Guatemala and a goalless draw with Costa Rica. Out went manager Bertille St. Clair and in came a cigar-chomping Leo Beenhakker. The wily Dutch coach was the shot in the arm the Soca Warriors badly needed, as he competely turned things around and led a charge back up the table. As the dust settled following the last round of games, Trinidad and Tobago were in fourth spot and set for a two-legged play-off showdown against Asian representatives Bahrain.
The resulting matches are now part of Soca Warriors folklore, as the team drew 1-1 at home and then came away with a 1-0 win in Manama to become the smallest country to qualify for the World Cup.
What happened afterwards?
Drawn in Group B together with Sweden, England and Paraguay, the Soca Warriors had their day in the sun when they clinched their first-ever World Cup point with that commendable 0-0 draw against Sweden, despite being reduced to 10 men in the second half. While they would go on to lose to the other two teams by 2-0 scorelines, it was a proud moment for the Caribbean twin island nation.
Quotable
"[Bahrain] didn't expect us to be as good as we were and they certainly didn't expect us to score. Once the final whistle went, it was just a case of timing your run to the middle of the pitch and out of range [from projectiles], and waiting for the madness to stop, which suited us just fine." - Hislop after the 1-0 win against Bahrain
Did you know?
Trinidad and Tobago fell only two points short of qualifying for the 1974 World Cup, but not for a lack of trying. A controversial game against Haiti was lost 2-1 after the referee disallowed an incredible five goals to the Soca Warriors. The match officials were later banned for life by FIFA, but it was scant consolation to the losers on the day.
Slovenia
Confederation: UEFA
Population: 1.99 million (2000)
Qualified for: European Championship (Belgium/Netherlands 2000)
Other achievements: World Cup (South Korea/Japan 2002)
Notable Players
Zlatko Zahovic (Olympiakos): It's hard to go past the mercurial talents of Zahovic, who was the star turn in this golden generation of Slovenian footballers. Although primarily an attacking midfielder, his bewitching dribbling skills and poacher's instinct resulted in a bucketload of goals for both club and country. Slovenia's charge to their first-ever major tournament appearance at Euro 2000 was built on the back of Zahovic's strikes, as he plundered nine goals in 15 games (second only to the legendary Raul from Spain).
Milenko Acimovic (Red Star Belgrade): A playmaker with a great passing range, Acimovic caught the eye of European scouts during Slovenia's exploits at Euro 2000 and the 2002 World Cup. It was his goal against Ukraine in the Euro 2000 play-off that made everyone sit up and take notice, though, after Zahovic had levelled scores at 1-1. With Ukrainian goalkeeper Oleksandr Shovkovskiy out of position, Acimovic netted from near the halfway line to spark comparisons with David Beckham. He would join Tottenham on the back of his international performances in 2002.
Road to Belgium/Netherlands
Despite a 3-0 loss to Norway and a 4-0 thrashing at the hands of Greece in their last two qualifying games, Slovenia had done enough to squeak through to the Euro 2000 play-offs at the expense of the Greeks. Next up was a challenging home-and-away tie against Ukraine, who were boasting the likes of Andriy Shevchenko, Sergei Rebrov and Oleg Luzhny. A 2-1 win in the first leg was secured thanks to Zahovic and Acimovic and despite Rebrov's opener in Kiev, Slovenia equalised through Miran Pavlin to progress to their first European Championship on aggregate.
What happened afterwards?
Zahovic continued his excellent scoring form at the Euros, netting twice in Slovenia's opener against Yugoslavia. Although they were 3-0 up against their opponents, Srecko Katanec's men could not hold on to their advantage and gave up three goals in the second half to at least gain their first point. Spain proved too strong in their second match, coming away with a 2-1 win (Zahovic scoring yet again), but the Slovenians exited the tournament with their heads held high after a final 0-0 draw against Norway.
Quotable
"Those who expect miracles might be disappointed, but they can count on us exhausting every atom throughout the 90 minutes." - Zahovic on Slovenia's chances ahead of their first European Championship (opens in new tab).
Did you know?
Despite all his undoubted talent, Zahovic was never far from controversy. After scoring four goals in qualifying to help Slovenia reach their first-ever World Cup tournament in 2002, the midfielder was substituted just over an hour into their first game against Spain in a 3-1 loss. Furious at being taken off, he insulted Katanec after the game and was banished from the team and sent home in disgrace. Shorn of their key player, Slovenia stumbled to two more losses and exited the tournament bottom of their table and with zero points to show for their efforts.
Kuwait
Confederation: AFC
Population: 1.5 million (1982)
Qualified for: World Cup (Spain 1982)
Other achievements: Asian Cup champions (Kuwait 1980)
Notable Players
Faisal Al-Dakhil (Qadsia SC): One half of a prolific strike partnership with club and international team-mate Jasem Yaqoub, Al-Dakhil averaged just under a goal every two games for Kuwait. The forward would make a name for himself at the World Cup, scoring Kuwait's historic first goal and the equaliser in their game against Czechoslovakia with a thumping shot from distance.
Ahmad Khodr Al-Tarabulsi (Kuwait SC): Despite being born in Lebanon, goalkeeper Al-Tarabulsi was granted Kuwaiti citizenship to play for their national team. Possessing quick reflexes and unafraid to come off his line when required, Al-Tarabulsi did not concede a single goal en route to Kuwait winning the 1974 Gulf Cup.
Road to Spain
Kuwait made short work of their initial qualifying group, scoring 12 goals and conceding none to top their group with maximum points. South Korea were the team to lose out on this occasion, though it should be noted that they have qualified for every World Cup since. The final qualifying group proved only slightly more difficult for Kuwait, their only blemish a loss to China and a draw with New Zealand as they topped their group once again to qualify outright for the World Cup.
What happened afterwards?
Czechoslovakia, England and France were to prove much tougher opponents for Kuwait in their World Cup group. Al-Dakhil allowed Kuwait fans to continue dreaming for a while more, but France brought them back down to earth with a thump in their very next game. While Abdullah Al-Buloushi scored their second World Cup goal in a 4-1 loss, the game is more famous these days for a goal that didn't count.
With Kuwait trailing 3-1 in the second half, French midfielder Alain Giresse broke for goal. Hearing a loud whistle from the crowd, the Kuwaiti defenders pulled up and watched on as Giresse slammed his shot into the back of the net. Although referee Miroslav Stupar initially awarded the goal to France, an incensed Prince Fahid, the Kuwaiti FA president, came down from the stands to argue the decision. Amazingly enough, Giresse's effort was then chalked off in an infamous incident that is now known as the "Disgrace of Gijón (opens in new tab)".
It hardly mattered, though, as France got a fourth goal to round things off before England beat Kuwait in the last game thanks to a Trevor Francis strike.
Did you know?
Kuwait's coach during their World Cup run was none other than Brazilian manager Carlos Alberto Parreira, who holds the joint record for most teams led to the World Cup. The other four teams he has coached at the tournament are Saudi Arabia, United Arab Emirates, South Africa and Brazil (twice).
Northern Ireland
Confederation: UEFA
Population: 1.4 million (1961)
Qualified for: World Cup (Sweden 1958)
Other achievements: World Cup (Spain 1982, Mexico 1986)
Notable Players
Harry Gregg (Manchester United): A survivor of the Munich air disaster in February 1958, Gregg was widely hailed as 'The Hero of Munich' after pulling many injured team-mates out of the burning plane. Four months later, he was starring in Northern Ireland's first-ever World Cup tournament as they embarked on a fairytale run. Gregg, already touted by many as one of the best custodians United ever had, received further endorsement of his abilities when he was voted goalkeeper of the tournament.
Danny Blanchflower (Tottenham Hotspur): Northern Ireland's captain was ever-present for them in their run up to and during their maiden World Cup campaign. Often ranked one of the best players to put on a Spurs kit, Blanchflower was the first Northern Irish player to reach a half-century of caps. The midfielder is also famous for his part in the 'Battle of Belfast' after an angry crowd invaded the pitch in response to rough play by their Italian opponents during a friendly encounter in 1958. Blanchflower helped calmed things down by ordering his team to escort their Italian counterparts off the field.
Road to Sweden
In an incredibly tight group consisting of Northern Ireland, Italy and Portugal, only one team would progress. To everyone's surprise, it was the Northern Irishmen who finished top of the group, with the Italians failing to qualify for the World Cup for the first and only time in their history. It was a true team effort, with six qualifying goals being scored by five different players.
What happened afterwards?
If Northern Ireland were hoping to take it easy henceforth, they were in for a rude shock as the World Cup group stage pitted them against powerhouses West Germany, Czechoslovakia and Argentina. Once again, the plucky first-timers upset the odds to make the knockout stages alongside the West Germans thanks to a play-off victory against Czechoslovakia. Striker Peter McParland was the toast of the dressing room, hitting a brace against the Czechoslovakians to add to his two group stage goals.
The quarter-finals was as far as they got, though, as France proceeded to beat them 4-0 with a certain Just Fontaine contributing a brace of his own.
Quotable
"In years to come, when we reflect with the judgement and enchantment that distance lends to these things, we may marvel at the almost impossible feats we achieved…" - Blanchflower reflecting on Northern Ireland's amazing World Cup run.
Did you know?
With Gregg injured for the play-offs against Czechoslovakia, it was left to back-up goalkeeper Norman Uprichard to step up between the sticks. Things did not get off to a good start though as the Portsmouth goalkeeper injured an ankle early on, with the trainer doing nothing more than pouring whisky over it – as you do. Disaster than struck in the second half, as Uprichard broke his hand and had to play on due to a lack of substitutes.
Incredibly enough, he somehow managed to keep his opponents at bay as Cezchoslovakia failed to find an equaliser.
Thank you for reading 5 articles this month* Join now for unlimited access
Enjoy your first month for just £1 / $1 / €1
*Read 5 free articles per month without a subscription
Join now for unlimited access
Try first month for just £1 / $1 / €1