George Green: Everton's 'next Gazza' on drugs, depression and self-destruction
The £2m schoolboy who was let go by Everton in 2015 is rebuilding his career at Chester after his life fell apart in a haze of addiction, as he tells Stephen Tudor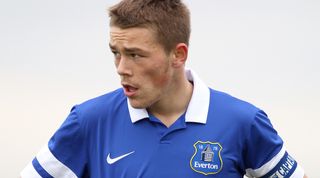 Earlier this summer, a 14-year-old prospect was rumoured to be moving from one Premier League club to another. A supporter of the buying club was quick to air his reservations on Twitter, alluding to the boy's alleged link to a 'knife gang'. "He's got George Green written all over him," was the damning conclusion.
There's no suggestion that former Toffee Green was ever involved in any criminal activities, but still: here he was being held up as a catch-all precedent for doomed youth. Worse yet, Green himself saw the tweet.
"I don't care that somebody wants to use me as an example," he tells FourFourTwo now. "Because the example was there that I was a failure. That's a fact of life. I was a failure. Everton did invest a lot of money into me and I failed."
In October 2011, when Green was 15 years old, Everton signed the attacking midfielder from Bradford for a fee that could have risen to £2m. He was given a £45,000 signing-on bonus – money that was quickly squandered – and a £2,000 weekly wage. The local press hyped him up as a next big thing, unhelpfully comparing him to a young Paul Gascoigne.
It was an awful lot of money and expectation for a boy. Not a man, but a 15-year-old schoolboy who was yet to play a senior game.
From England to rehab
After initially impressing in his first couple of years on Merseyside, Green was fast-tracked into Everton's under-21 side, which then led to England youth caps playing alongside Ross Barkley and Dele Alli. In a one-to-one discussion, Everton manager David Moyes mapped out Green's route to the first team.
But missing training started to become a habit, and each weekend Green would return to Yorkshire, blowing his wages "willy-nilly".
"Obviously I was the highest-paid player in my age group at the time, and when you're not achieving what they want you to achieve, that's when the pressure starts to creep in," he tells FourFourTwo. "It's not just from football or the fans, but friends and family as well. They want to know why you're not where you want to be. It was then that I got introduced to the wrong crowd."
In the three years after he signed for Everton, Green's life unravelled on and off the pitch.
"I went into rehab aged 18 and took five weeks out [to do that], but I was missing months before that because of drugs and alcohol," he says. "It was more drugs than alcohol – cocaine was my primary substance – but when they're in your system, they both intertwine. And psychologically, there are no worse drugs to take than party drugs. To be fair, I was quite open with the club. I told them I had a problem. They were aware."
A 2015 loan spell at Tranmere came to little, even if it did bring the 19-year-old Green his first league goal (an injury-time equaliser against AFC Wimbledon). Then, in June of that year, Everton cut their losses and released their troubled prodigy. Oldham took a chance on Green that summer but terminated his contract a few months later. Still a teenager – and just four short years after being likened to the most talented midfielder England has produced in modern times – Green found himself at non-league Ossett Albion trying to resurrect a flailing career.
Meanwhile, his personal life was imploding.
The blame game
"It's only through my recovery in the past few months that I've come to realise it was my arrogance and own behaviour that was causing me to lose relationships with everybody else," Green says wistfully. "I was borrowing money and never giving it back, abusing people's trust time and again. It took a toll and they walked away from me. Until recently, I blamed them for that."
By 'them', Green means his family and the few friends who had his best interests at heart. Thankfully, in recent times he has reconnected with them all while the 'wrong crowd' are now dismissed as an "old memory".
But Green wasn't out of the woods – far from it. A hat-trick in a trial for Burnley earned him a short-term contract in 2016, but a loan spell at Kilmarnock turned sour after manager Lee Clark accused him of turning up to training reeking of booze – a claim Green vehemently denies.
Eventually he wound up at ambitious Salford City in 2017 – and at first, the move was fruitful. The club's joint-managers Anthony Johnson and Bernard Morley believed in him, and with regular games in his legs, Green began to display his natural ability. But his demons were never far from the surface.
"I shit on them, basically," he sighs. "I met Gary Neville at his house and he spoke me through what could be done to help me. I was like: 'I don't know what you can do – I'm doing OK.' I wasn't OK, but I didn't want to let on to a fellow professional footballer that I was struggling. Then I didn't turn up for a match, so they sent me back to Burnley. I was on the sick at Burnley for about four months. I really wasn't well mentally."
His depression was now all-consuming, and his reckless lifestyle made for a dangerous combination. Every tale like this tends to have a rock-bottom moment and, in February of last year, it duly arrived.
"I took an overdose. There's an article saying that I tried to take my own life – but no, it was a massive cry for attention," Green reflects. "It came off the back of a massive drug and alcohol binge.
"I'd been out for four or five days and thought: 'Right, I'll take the tablets and hopefully people will forgive me for going out for five days, feel sorry for me and give me the help that I need.' I got admitted to hospital."
Summer restart
Green was released by Burnley in June 2017 and, after a brief stint with Viking in Norway last season, he reunited with Johnson and Morley at National League North side Chester this summer. More importantly, he has "found a light"; a road to recovery navigated with patient mentoring from former professional footballer Gary Charles and GCSports Care, a service that aims to help people with addictions.
Green is eight months clean and regularly attends Alcoholics Anonymous and Narcotics Anonymous. Just as encouragingly, he has learned to recognise the triggers that would have previously led him astray into a spiral of abuse and self-destruction. Crucially, he now acknowledges the importance of reaching out.
The day FFT speaks to him has been difficult up to this point for Green, with a hundred little things going awry. So earlier he took the unusual step of calling his brother to tell him about it.
"People don't mind if you do that: if you throw your problems at them," he says. "I wouldn't be ashamed now to cry over the phone."
Off the pitch Green, is sober and full of life. On it, he is determined not to get too far ahead of himself; to not attempt the impossible task of immediately restoring the reputation of his youth. He knows that only comes with time: taking things one step, one pass, one tackle at a time.
"The only way to make a living for my family is to get my head down for now and earn X-amount at Chester. I'm confident but I'm not arrogant. I've said in the past that I'm better than Dele Alli, but I didn't mean I was better. I meant I was on the same wavelength and that form is temporary but class is permanent.
Recommended
How Barcelona lost their touch with the world's best young players
Why do so many footballers end up broke? FourFourTwo investigates...
"I'm a big believer in that, and if I get back to a peak level of fitness and get game time, I could flourish and probably get back to League One or the Championship. Then I'll probably earn a good living again."
Green is still only 22 even now, and has resolved not to waste what might conceivably be the last of his chances on a football pitch.
But there is more to it than that. He wants to get involved in Chester's community projects and raise awareness for mental health issues; to help in the same manner that he's been helped. He wants to become an entirely different kind of example.
Quizzes, features and footballing fun
Get the best features, fun and footballing frolics straight to your inbox every week.
Thank you for signing up to Four Four Two. You will receive a verification email shortly.
There was a problem. Please refresh the page and try again.